I'm baaaack. Hello. Hi. It's Tori McElhaney again filling in for Scott Bair. He's on vacation somewhere in some mountains somewhere. I told him he was not allowed to talk to Kris Rhim or I while he was there and that he should enjoy a weekend away. The jury is still out in regards to him actually listening to me or not... we shall see.
Anyways, thanks for coming back for another edition of Bair Mail turned Tori Takeover... Mac Mail... Tori Talks... Tori's Stories... there have been a lot of suggestions thrown out there since Wednesday. I like it.
Let's get into the nitty-gritty of it, though, there's a lot to unpack here!
Anthony T. from Fort Mill, South Carolina
I'm wondering if Arthur Blank will be patient enough with Arthur Smith and Terry Fontenot to allow them to straighten things out from the mess the previous regime left the team in? The cap situation has really hamstrung the current regime. It will take at least another full year to get right with the cap. I think Arthur Blank has to take this into consideration.
Tori: If I am being completely honest, Anthony, I think more Falcons fans should have your way of thinking in regards to the Arthur Smith/Terry Fontenot era in Atlanta. You're absolutely right that it is going to take much longer than just last season to get the cap situation under control. It's because of this fact that Arthur Blank - I believe - has given Smith and Fontenot a longer leash than most new regimes have. The owner understood what he was asking a new general manager and head coach to inherit last offseason when they were searching for a new duo. The cap has increased league-wide, yes, but the Falcons still have a lot of really important maneuvering to do towards the cap in order for the organization to be in a much better position in 2023, 2024 and beyond. In order to get to that point, though, you're right that there has to be a certain level of patience. It's a patience I believe Arthur Blank has, but one I think is a tougher pill to swallow for the fan base that wants to see big moves and big wins now.
Listen, that Fowler contract was terrible before the ink dried - Tori summed it up perfectly, playing next to Aaron Donald is a very fast way to rack up double digit sacks and we only got Fowler, not Donald next to him.
As glad as a large section of the fan base is to see that off the books, it begs the question how does a team in dire need of a pass rush let go of their sacker from the previous year and get better?
Tori: The answer to this is simple: They think there is someone out there who can make them better. If Dante Fowler was the best option to upgrade this pass rush, the Falcons would have kept him. But they released him, indicating that he is not. And because of the way his contract was restructured last offseason, I think this regime always felt that he was not.
When it comes to the pass rush in Atlanta, this could be a long process and one that doesn't magically change because of one draft or one free agency signing. This is going to be a two- to three-year process in my mind to build this part of the defense up to where this staff wants it. So, while that's not a particularly sexy answer, I do think it is realistic based on how much work needs to be put in here.
Will S. from Summerville, Georgia
Hi Tori, good to meet ya. I remember reading, at some point this season, that Dean Pees said he had installed only 30 percent of his defense. This stuck with me as the season progressed. I even asked Scott about it but it didn't make the mailbag. Were his defenders just slow or dumb, without good instincts, or is his scheme so complicated that even guys like Deion Jones have a hard time with it? Thanks for your good work.
Tori: Will, I am so sorry Scott didn't include this question in any of his previous mailbags. He can be a real piece of work sometimes (lol just kidding, Scott is one of my favorite people). So, you picked the right person to ask a Dean Pees question to. Let's break this down:
No. These men are not slow.
No. These men are not dumb.
Yes. This defensive scheme is as complicated as many have gone on the record to say it is in previous years.
Some time after Pees' made those originally comments, he was asked if that was normal, to only have a small portion of his defense actually installed at that specific point in the season. He said it was actually relatively normal and that he never, ever gets close to installing 100 percent (or even 90 percent) of the defense because it's just that dense. More telling than the actual percentage of the install is - I think - that after the first game of the season Pees said he put too much on their plate too early and had to taper is back. There was also things Pees said he had to learn about the players he inherited. Essentially he had to fit his scheme to the players he had, and I think that played into a lot of the only-installing-a-small-portion-of-this-defense development that we later learned about.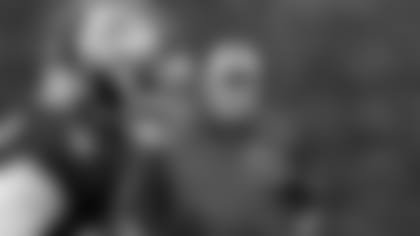 Joshua T. from Brunswick, Georgia
We all know we have a lot of needs but one thing I haven't seen in any mock drafts is the Falcons drafting a center. It's obvious we will address the OT position in the draft or FA but I watched every game this year and Hennessy constantly got blown up and he doesn't look like starter material. My question is what about maybe trading back a few spots and taking Linderbaum in the 1st? He's far and away the best center in the draft.
Tori: I hear you, Joshua. But I don't think I am quite ready to the pull the trigger on going after a center so early, not when there are so many other (more pressing) needs. If I am making the decisions, I am not going hard after a center in the first round of this year's draft, but that's just me.
Personally, I think it's fair to give Hennessy another season to continue to develop. I like to believe that Hennessy did improve as the season went on, and even though his pass blocking numbers weren't great, his run blocking grades were actually not too bad at all. Let's perhaps table this discussion for another year, giving Hennessy another go at it in 2022. If he takes a step back or there is little improvement seen then let's bring this question back around in the 2023 offseason. I just don't think we're there right now.
Dan G. from Suwanee, Georgia
Among the Editorial team, has Scott been given any good nicknames? Please elaborate.
Tori: So, no nicknames in particularly that I can think of but we do say quite often that Scott's EKG spikes. When he gets worked up it happens really quickly and - as Kris Rhim has pointed out many times - his face gets red. Like really red. We laugh about that a lot once Scott's EKG levels out.
The only nickname we have - as an editorial team - is "Baby Cakes." This is the name we have assigned Kris' girlfriend. Speaking of Kris, he's going to be taking over Bair Mail on Monday. Somebody - anybody - should ask him about this... *evil laugh*
Submit your questions here for inclusion in Monday's Bair Mail.
The Best Season Ticket Member Benefits are Back
We're offering our best season ticket benefits packages ever this year! Find the season ticket benefits that are most attractive to you.