Surpriiiiise! We've got a little PSA for you all:
For the next few days Bail Mail will not be run by Scott Bair, himself. Scott is going on vacation. Until he returns, I - Tori McElhaney - am in charge. (Insert evil laugh and maniacal looks here). I promised Scott I would keep Bair Mail afloat, but I didn't say anything about not running it into the ground (hehehe).
Nah, I am kidding. Between Kris Rhim and I, I am quite confident that we will keep AtlantaFalcons.com chugging right along. But if anyone tells Scott otherwise I will be severely disappointed and we will no longer be friends. You've been warned... But enough preamble!
Let's get into today's Mailbag! I am really looking forward to our discourse over the next few Bair Mail installments. Scott returns next week so in the meantime make sure you're submitting good questions for me (or at the bare minimum asking me about my favorite Atlanta coffee spots or my opinions on Baby Yoda or the Marvel Cinematic Universe. When I was with The Athletic, Mailbags were one of my favorite articles to put together. I really like hearing from you all, and one time someone asked me to assign a specific Avenger to each coach I was covering at the time. 'Twas a fun experiment, so make sure you're coming with all your creative juices flowing and I will make sure to do the same!)
David H. from Marshalltown, Iowa
As we look to the draft and FA to restock the defense, do you believe that an improved pass rush helps a pedestrian pass defense? Or does a strong secondary provide greater support for an average pass rush? I know we need both, but perhaps one has a greater influence over the other in terms of keep an offense off the field. I felt out secondary was better this year in light of an under performing pass rush.
Tori: Simply put? The best teams do have both. They have a pass rush that consistently gets a quarterback off his spot and a secondary that keeps him from finding open receivers easily. The Falcons should be working towards simultaneously building up both pass rush and their secondary. It's something Dean Pees made clear in his final press conference of the season, saying the 2022 offseason has to be about developing a pass rush and finding players who can be more productive in man coverage. So, it's both, and one's importance does not directly outweigh the other (in my mind at least). The Falcons need a cornerback to play opposite AJ Terrell. They need to find one nickel so they no longer have to rotate at the position. And - dear God - they need someone to get after the passer and take some of the pressure off Grady Jarrett.
Will S. from Summerville, Georgia
We all saw how the Rams pass rush smothered Burrow on the last drive. Raheem Morris dialed up everything right at the right time. How much does that speak to the quality players he now has, compared to what he had in Atlanta? And will he be a HC again?
Tori: It's really easy to draw something up when one of your primary pass rush pieces is Aaron Donald. The effects of playing with Donald (or in Raheem's case: scheming for Donald) is that at some point you're just going to let him go wreak his havoc. One thing about Donald, though, is that he makes the people beside him and around him look good, too. Think about Dante Fowler's sack numbers when he played with Donald? He had 11.5 sacks in 2019. Think about Leonard Floyd now. He had 10.5 sacks in 2020 and 9.5 in 2021. So, yes, having a player like Donald changes things for a defensive coordinator, without question.
As for Raheem's future, I really hope I see Raheem as a head coach again somewhere soon. I have a lot of respect for Raheem and I think he deserves a head coaching job. He would be the first to tell you that perhaps his head coaching stint in Tampa Bay came too early in his career, but he learned a lot from that experience. Now he's older, wiser and has a Super Bowl ring. This man deserves another shot at being a head coach. Period.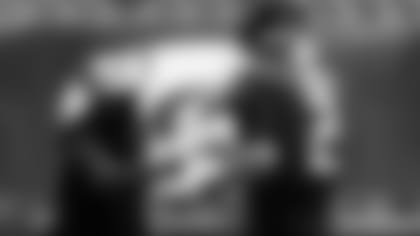 Charlie C. from Boulder, Colorado
What position groups do you think Arthur Smith, Dave Ragone, Terry Fontenot and his scouting staff were watching the most in Mobile at the Senior Bowl?
Bill W. from Killen, Alabama
How much money does Matt Ryan need to live comfortably for himself, his family, his kids and generations to come? Why does he not agree to a new contract that doesn't pay him as much? Maybe it could be conditioned on him getting to select who the Falcons get with the savings. He surely would like to finish his career with better protection from the offensive line.
Tori: I am so sorry, Bill, but your question actually made me laugh out loud in the coffee shop I am working from currently. Like a forceful enough laugh that I am still choking on my coffee. Think about it this way: What if you had worked really hard for a year, and had a productive year at that, and your boss came to you and said part of your paycheck (the money owed to you) was going to your partner who messed up a number of his tasks throughout the entire year, making it 10x harder on you to actually do your job. That's essentially what you're asking Matt Ryan to do.
And to be quite fair, Matt has actually done something close to what you're asking MULTIPLE TIMES. His contract has been restructured four times and he has not been paid what he was originally owed for years. The Falcons have continuously kicked the money owed him on his current contract down the road. He's been a team player and worked with the organization to restructure said contract numerous times in order for the Falcons to have more cap space to work with in years past. With two years left on that contract, he deserves to be paid out in full.
So, no. I don't think Matt Ryan would ever entertain what you are suggesting, and I absolutely don't think he should. Falcons Final Whistle | A Postgame Podcast
Break down the hottest topics surrounding the Atlanta Falcons and how they can impact the team's success with Atlanta Falcons Insiders Scott Bair, Tori McElhaney and Kris Rhim. Like and subscribe to join us for the lively debate on Falcons Final Whistle.
Welcome to Falcons Final Whistle – an Atlanta Falcons football postgame podcast during the season that shifts gears in the offseason to answer a pressing question about the team's future each week through free agency, the NFL Draft and the offseason program.