FLOWERY BRANCH – Michael Pitre's phone was flooded with congratulatory messages after he was named Falcons running backs coach.
Those within the industry know it's a good gig, with Pitre joining a staff looking to usher in a period of sustained success while working in a collaborative environment with Terry Fontenot's front office.
Those well-wishes also suggested that Pitre, his wife and two young daughters were moving to a spot they would enjoy.
"It's a new place, but we're excited about it," Pitre said in a recent interview with AtlantaFalcons.com. "I don't know how many texts I've gotten saying I'm going to love Atlanta. I know we will because, wherever we go, we always make it home."
That's a real plus for someone making his fifth stop in 10 years advancing his coaching career. So were the texts he received while researching Falcons head coach Arthur Smith.
"Knowing guys who have worked for him at other stops, the feedback on him has been so consistent," Pitre said. "They all speak to the quality person he is and how much fun I'll have on staff. The opportunity to grow as a coach, as well as personally, is huge. His family values, and those types of things, were also important."
So was a familiarity with Falcons schematics. It was not, however, Smith's strong commitment to the running game and a truly balanced offense. There's another factor, it turns out, that matters more.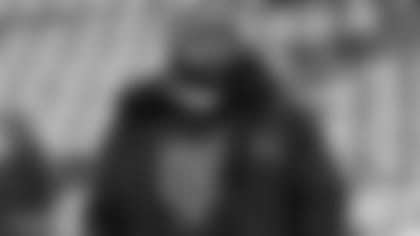 "The only stat is wins and losses," Pitre said. "If we run 50 times to win a game, let's do that. If we have to pass protect 50 times to win a game, let's do that. That's the selflessness required to be a productive organization. Is it intriguing that the head coach has a past of running the football? Yeah, but I guarantee you, if we were to ask him, that he runs the ball because that gives us the best chance to win.
"I want to be part of an organization committed to winning at a high level. That was the attraction, just seeing what Arthur has done in his coaching career, where the Falcons are at right now and the fact they have an opportunity to take a really big step."
It's a bit uncertain who Pitre will be working with in his new post. Cordarrelle Patterson is set for unrestricted free agency and Qadree Ollison is an exclusive rights free agent. Mike Davis and Keith Smith are in contract years. There could be significant movement within the position group, with offseason additions and subtractions as we move through the spring.
While we don't know which players he'll coach, we know how the running backs room will be, well, run.
"The philosophy comes down to your core values," said Pitre, who played fullback at UCLA (see photo below). "That comes down to trust, honesty and loyalty. Working with anybody, it all comes down to the relationship. Being able to build true and honest relationships with these guys, understanding what we're working towards, is going to be the most important thing. As a player, they need to know they're valued and appreciated. That's when you're able to maximize the talent in the room and get the most out of them, because they know you care about them more than just as a player. You care about the person, their family and what's going on in their life."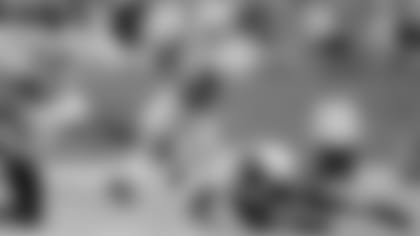 Pitre has found that to be productive method throughout his coaching stops in college and the pros. He also saw that philosophy work firsthand while in the Bill Walsh Diversity Coaching Fellowship, an invaluable period working he spent with the Kansas City Chiefs.
"It really helped me see elite teaching," Pitre said. "Not that I hadn't seen it before, but to see Andy Reid, [Matt] Nagy and some of the guys on that staff, to see them in that environment was really good for me as a young coach. The perception of coaching is that you run around and scream at guys, and to see how methodically they went about the process was really good. It was also helpful for me as a young coach to see the interactions with professional athletes, because it's different than working with a college kid.
"It was an unbelievable experience and opportunity for me to do that."
That experience, plus everything before and since, has shaped him into a trusted and respected position coach ready for this next challenge.
"I can be demanding, but you can be demanding without being demeaning," Pitre said. "You want to push people and hold guys accountable but, at the same time, you don't want them walking out of the facility feeling like they're less of a football player. Ultimately, that's not going to help them reach their full potential. There's a fine line between pushing them and encouraging them. That's going to be me on a daily, consistent basis." 2022 Season Tickets Now Available!
Our Longest & Most Flexible Ticket Payments
Instant Member Benefit Access
Best Available Seat Locations