FLOWERY BRANCH, Ga -- The Falcons have been notoriously slow starters the last few years, torpedoing seasons before the really had a chance to begin.
They started 1-4 in 2018 and 1-7 in 2019, digging massive holes they had to claw out of just to finish a semi-respectable 7-9.
Things also went south in a flash last year, with an 0-5 start that cost head coach Dan Quinn and general manager Thomas Dimitroff their jobs. That campaign ended at 4-12 and brought about the wholesale changes that charted this a new course.
Arthur Smith and Terry Fontenot certainly want to start their first season off right, with respectable play and positive results that are attainable considering the Falcons' relatively soft early schedule.
Outside a Week 2 divisional clash at Tampa, the Falcons start the season against four teams that finished below .500 a year ago. The Eagles, Giants and Jets are all featured in the first five weeks, and they all wrapped 2020 with double-digit losses.
The Falcons can't automatically put those victories in the bank. They won't secure wins with an overwhelming talent disparity, simply by getting off the bus. They must earn wins and build the positive momentum required to stack them and surprise many who have them pegged for the NFC South cellar.
Can they do it? If so, how? That's the subject of our first Great Debate. This will be a season-long back and forth between me (this is Scott Bair writing now. Hi.) and Tori McElhaney, where we'll discuss a hot Falcons topic each Thursday that's relevant to the upcoming game.
Bair: Smith will have roughly 40 family members and close friends at Mercedes-Benz Stadium Sunday for his first game as head coach. He'd like nothing more than to post a 'W' in that game against Philadelphia and several others to start this season. While I planned on writing about how his chemistry with quarterback Matt Ryan could jump start this offense and post the points required to end up on the right side of things, I changed my mind while typing the previous sentence. True story. Let's impulsively reverse course and say the ground game must lead a hot start.
It was clear during camp that Ryan and Smith have found some sync. The head coach is a quality play caller and the quarterback can still sling it. We don't know as much about the running game and how it'll operate. Mike Davis took one preseason snap and didn't touch the ball. We haven't seen the offensive line operate much with the five they'll start early on. They need efficiency from that operation right away. They need four yards in a cloud of dust – or in Mercedes-Benz Stadium's case, turf pellets – when the whole world knows a run has been called. If they stay on schedule, then Ryan and his top targets can take territory in chunks.
And let's not forget that a steady run game is the best closer. Who could forget how mightily the Falcons struggled late in games last year. A steadily churning run game can keep the ball away from the opposition and secure close games the Falcons lost too often in 2020.
We all know that's a big key to starting the season strong. We also know that Tori has great admiration for how Dean Pees runs a defense. Check her Twitter timeline. Or read this story. The evidence is right there. Something tells me, Tori, you think the defense would be the biggest part of a successful start?
McElhaney: I wish - oh how I wish - I could go right into talking about the defense. I am a huge proponent of the whole "defense wins games" movement. But alas, I cannot go that direction before this game, because I am actually not worried about this defense at the present moment. I know, shocker.
You want to know what I am worried about? This offensive line, especially in the context of going up against this Philly front. Ryan spoke about that front four on Wednesday, as did Smith. Smith said he would argue that Philly's front is one of the most formidable in the league. When I am breaking down this game I truly believe the success of the Falcons greatly hinges on the overall production of the offensive line.
You're absolutely right, Scott, that we don't have a clear picture of this offensive line. Matt Hennessy gets his first true start outside of Alex Mack's shadow at center, and rookie Jalen Mayfield will be thrown into the fire. The biggest question mark for me is how Mayfield holds his own.
We both know having Mayfield start Week 1 at left guard wasn't the original plan. It's the contingency plan. I've written this a few times that it was Josh Andrews' spot from the first moment he stepped on the field in Flowery Branch. And yet, a broken hand has landed Andrews on IR and thrust Mayfield into a starting role as a rookie. So, for me, this is where my eyes will fall on Sunday.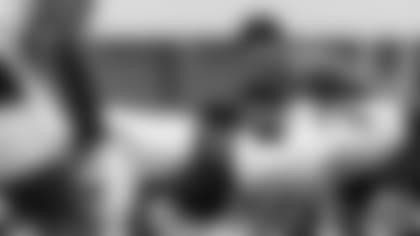 But I feel like this is an incredibly obvious spot to watch. Who's a player or position that isn't as obvious that you'll be keeping tabs on? Who's the - dare I say - wild card for you?
Bair: Ryan's the straw stirring the drink. We all know that. He has proven weapons in Calvin Ridley and Russell Gage. Kyle Pitts is going to be just fine, thank you. If the Falcons skill players stay healthy and Smith can schematically cover up protection deficiencies up front, this offense is going to hum.
I discussed earlier how the Falcons need to get the run game going. That's true for all the aforementioned reasons.
There is, however, a wild card that could turn this offense from solid to too legit to quit. That's Hayden Hurst. There's real potential in Hurst we haven't seen yet. Smith can bring it out. We've seen the Tennessee tape. We know Smith uses tight ends well, often with several on the field at the same time. Heck, even the Falcons "unofficial" depth chart is in 12 personnel.
Hurst will be used a ton. He won't be used like Pitts – no one will – but there will be opportunities for him to be active in the passing game and use his vertical speed. If he becomes a real threat defenses fear, even as a third or fourth option, defenses can't cheat too hard on Pitts and Ridley.
We know Hurst is highly motivated heading in a contract year. We could call him a wild card. Let's call him an X-factor instead. There's little doubt he'll be serviceable. If he's awesome, these Falcons should be able to win some shootouts even if the defense struggles.
What about you, Tori? Who you got?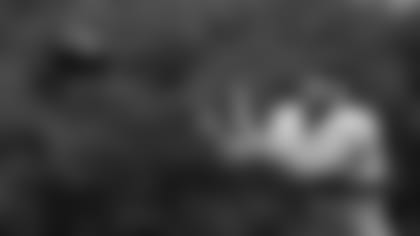 McElhaney: Mykal Walker (you knew I was going to choose a defensive player, right?). Here's the thing about the inside linebackers: We haven't really heard too much about them, and that's because I get the sense that Smith and the rest of the staff are incredibly pleased with the group they inherited. We can talk about Deion Jones and Foye Oluokun all day long (and I am sure we will over the course of this season). But I think I am most excited to see Walker.
He was someone who surprised me last year in his development. The Falcons drafted him, sure, but I didn't have him too high on my list of players to watch going into the 2020 training camp. He turned my head on the very first day, and has continued to. He's established himself as a role player behind Jones and Oluokun, but I think he has an opportunity in 2021 to become more than just someone playing a role.
In Pees' scheme, I think Walker can be an asset because he has the attributes of a player who performs well in this scheme. Walker has versatility and speed. I think we saw flashes of that last year. I think we'll see that on a more consistent basis in Walker's second year in the league. I know I am looking forward to seeing that continued growth from Walker because I think he has the ability to be someone dynamic.
Bair: Moving on to our final question: Talent is obviously key to establishing and then holding leads down the stretch. There's a confidence factor, a mental game that must be won, to avoid what happened last season, when the Falcons blew late leads and often in dramatic fashion. I think there's a winning mentality involved that you either have or you don't.
I say all that to ask you this: Can that be coached into a team or do they have to learn how to win by doing?
McElhaney: It's not a cop out to think it's a little of both. I was here last year (as were many of you reading this). We all saw how the blown leads almost felt like an inevitability. I remember saying that I felt like it had seeped into the identity of these players and in the macro view of this organization.
So, when it comes to changing an identity, one has to do two things: Look different and act different, and let those differences permeate through the very core of an organization.
To a certain extend, the Falcons look different. New scheme. New coaches. A handful of new players. It's in Smith's you-are-professionals-and-this-is-your-job-so-go-out-and-do-it-or-we'll-find-someone-who-can mentality. So, yes, I think that part of it lights a fire under a team to change its identity. Now, we have to see if they act different. If they get a lead, will they hold onto it? Will they play with a bit more intensity? Those are the questions now, and I believe they mean the most to being able to answer your question of whether or not this is a coaching issue.