MIAMI GARDENS, Fla. -- Devonta Freeman received a contract extension on Wednesday and on Thursday night against the Dolphins, he put an exclamation mark on it.
Freeman didn't play many snaps during the Falcons' first preseason game of the year – the opening drive was the only one for Matt Ryan and a few of the other offensive starters – and he had one carry and one reception.
But the latter came on fourth-and-1 play that was good for 15 yards – and a touchdown. Ryan, who was a perfect 3-for-3 passing, connected with Freeman on a bootleg pass. You can watch it here:
Freeman said the play-call was an aggressive one and noted "that's what we want to do all year." He also said having his number called in those kinds of situations means a lot to him.
"We've got guys on our team who our coaches trust – you know, put the ball in certain guys' hands in crunch-time situations," Freeman said. "We've got to make it happen. It means a lot to the players and myself when the coach comes to you on fourth-and-1, depending on you to catch the ball or convert or whatever it is – just get the first down."
Freeman celebrated his score in the end zone, but he and the Falcons weren't the only ones enjoying it. Freeman grew up in Miami and said he had about 70 kids from his local youth program at the game, along with two dozen friends and relatives.
''It's always fun to come back to Miami,'' he said. The Dolphins held on to win, 23-20, in what was the preseason opener for both clubs.
On the day before, the two-time Pro Bowler and the Falcons agreed to terms on a five-year contract extension worth a reported $41.25 million. A fourth-round draft pick out of Florida State in 2014, Freeman was scheduled to make $1.79 million this season, the final year of his rookie contract.
After the Dolphins game, Falcons coach Dan Quinn talked about Freeman's score and what it means to have his running back secured with a new deal.
"He thought he was going to score on one of the runs, and I think (Ndamukong) Suh had a pretty good hold of him, but he thought he had a chance for it, so we were going to see what kind of celebration was going to come from it," Quinn said. "We're really thrilled for (general manager) Thomas (Dimitroff) and his guys to get this deal done, knowing what a significant factor he is for us. He's one of the guys who are really important on this team, and I think the organization showed that commitment back."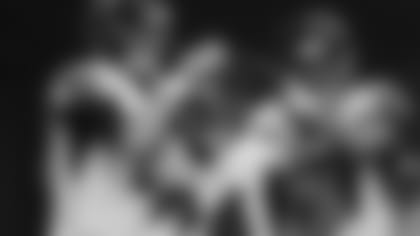 In three seasons with the Falcons, Freeman has rushed for 2,383 yards and 23 touchdowns. He's also proven to be a receiving threat coming out of the backfield, catching 157 passes for 1,265 and six scores. In 2016, Freeman topped 100 yards from scrimmage in seven games and led the Falcons with 1,541 yards from scrimmage.
Freeman's 3,175 total yards over the past two seasons ranks second in the NFL, behind his teammate, Julio Jones. With back-to-back 1,000-yard rushing seasons in 2015 and 2016, Freeman became the first running back drafted by the Falcons to accomplish that feat since Jamal Anderson in 1996 and 1997.
Freeman, who joins the Steelers' Le'Veon Bell and the Bills' LeSean McCoy as the only three running backs to finish with top-25 grades from Pro Football Focus in both rushing and receiving over the last two seasons, was asked after the game what separates him from some of the elite backs currently playing in the NFL.
"First, I just think that every running back in the NFL is good, they're great," Freeman said. "It's hard for me to say this running back is better than this running back, he's the No. 1 running back because all of us are good. We all do things that may look better than the other ones. People have their opinions, 'I think he's the best, I think he's the best back' or I think I'm the best running back. You know I just feel like we all do things differently – that's why we're in the league, that's why we're starters, and stuff like that."