FLOWERY BRANCH, Ga. – Both Dan Quinn and Matt Ryan were asked Wednesday about the continued absence of star wideout Julio Jones during the organized team activities.
And both Quinn and Ryan had the same answer.
"No, no concern," Ryan said. "It's not something I'm not concerned about at all. We'll have time together prior to getting to camp. We'll have get as many, if not more, reps together than we would here. We'll be just fine."
Quinn echoed his quarterback's sentiments.
"No issues on our end," Quinn said. "I know he's working really hard. I've had contact with him obviously. Can't wait to get him back here with the guys. He's really putting good work in and I think we'll see the results of that work."
As far as when exactly the Falcons (and everybody else) will see those results, Quinn said the expectation is still during minicamp, which takes place June 11-13.
When asked about Jones' absence from OTAs last week, Quinn said he wasn't surprised at all.
"I was fully aware that he wasn't going to be here for the start of the offseason program," Quinn said on May 22. "I do expect him to be here certainly at the minicamp at the end of the offseason program."
If there's one person who knows how Jones prepares – whether it be for practices, games or the season – it's Ryan. The Falcons' veteran quarterback called Jones "one of the best competitors" he's ever been around.
Jones is entering his eighth season with the Falcons and is just 946 yards shy of the 10,000-yard mark for his career. He's caught 585 passes for 9,054 yards and 43 touchdowns.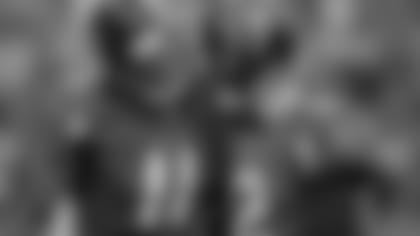 "We've played together for a long time," said Ryan, who's entering his 11th season with the Falcons. "When he's healthy and he feels good like he does right now and he's in excellent shape, it's very easy to get on the same page. He's so talented."
Both Quinn and Ryan said they keep in touch with Jones regularly. Both noted that the Falcons wideout is "in great shape." Ryan said the two will likely connect at some point, like they often do, prior to the start of training camp to work on timing and routes.
"With where he's at in his career, his familiarity with the offense, his understanding of the timing, rhythm – all those things with me – I think if anybody can get back on the same page fast, it's him," Ryan said.  "Julio knows our offense, he knows where to line up. He knows what route combinations we're going to run, the details of the route. Hell, he teaches a lot of our guys the routes, too.  He knows what he's doing. He's in extremely good shape right now."