With a balanced attack, a superstar wide receiver in Julio Jones and an MVP-caliber start from Matt Ryan, the Falcons currently lead the NFL with 33.9 points per game. According to Madden 17, that rate will only improve on Sunday.
In our 10th Madden simulation of 2016, the Falcons scored four touchdowns at Lincoln Financial Field, dominated the second quarter and closed out strong to beat the Eagles 39-29.
After falling behind 14-3 in the opening frame, Atlanta put together three successful drives to end the half on a 17-0 run. And while Philly scored a pair of TDs in the fourth, the Falcons tallied 19 points of their own in the last 15 minutes, allowing them to earn a comfortable win.
Devonta Freeman scored two of the Falcons' touchdowns — one from just outside the goal line, the other from 42 yards out — Mohamed Sanu found paydirt on a five-yard catch and Brian Poole returned an interception 23 yards to tack on six points with 9:19 left in regulation.
And thanks to four Matt Bryant field goals, two of which came in the last 10 minutes, the Falcons were able to overwhelm the Eagles, who mustered just 270 yards of offense.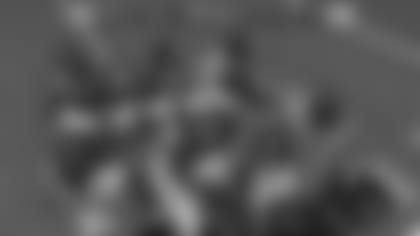 Top Falcons Performers
Devonta Freeman: 18 carries, 138 rushing yards, 2 TDs
Julio Jones: 4 catches, 74 receiving yards
Mohamed Sanu: 3 catches, 25 receiving yards, 1 TD
Brian Poole: 1 sack, 1 INT, 1 TD
Ricardo Allen: 6 tackles, 1 INT
Deion Jones: 4 tackles, 2 tackles for loss
Jonathan Babineaux: 4 tackles, 1 tackle for loss, 1.5 sacks
Plays of the Game
Poole dances after his pick-six.
Sanu scores with a catch over the middle.
Freeman sprints 42 yards into the end zone.