ATLANTA, Ga. -- Matt Ryan made his way over to grab a headset immediately following the Falcons 27-20 win over the Jets on Sunday. As the postgame interview started, Ryan was asked about his rookie tight end right off the bat.
"I thought Kyle Pitts played the best game he's played for us," Ryan said, before following up by saying Sunday's performance was proof Pitts is going to be a special player in this league.
From the time it took Ryan to trot off the field and into the locker room and then into his postgame press conference, he made a point to seek Pitts out.
"I told him right before I came in here that I was proud of him," Ryan said to the contingency of London media in attendance of his press conference. "I think there are going to be a lot of those (games) in the future for him."
"Those" games means a day in which an opposing defense has difficulty finding ways to slow Pitts down or even account for his speed and size. Pitts ended the day with nine catches for 119 yards and one touchdown. He averaged 13.2 yards a catch. For context, Pitts came into the London game with 15 catches for 189 yards through the Falcons' first four games.
"They did a good job of exploiting the middle fo the field and using their size to their advantage," Jets head coach Robert Saleh said after the game.
And make no mistake about it: He's talking about Pitts.
When it comes to how I prepare my "Tori's Takeaways" analysis, there are usually a number of moments I take from the game to break down. But as I sat down to write, I couldn't stop thinking about Pitts' performance. It felt like a shift for Pitts and Atlanta, a moment in which we may even look back on and say, "That's it. That's the game where we saw the primary example of what Kyle Pitts can be in this league."
This level of production has been the expectation all along for the Falcons No. 4 overall draft pick. It's something Cordarrelle Patterson spoke on postgame.
"We all know what Kyle can do," Patterson said. "(Arthur Smith) always says he expects stuff like that from Kyle, and we do, too. He was the No. 4 overall pick, and he's not shy out there. He's got every asset. He's got good speed, hands, routes."
Patterson said it's really simple: The production the Falcons saw from Pitts on Sunday? "We want to happen every week," he said.
There were so many questions about the Falcons passing attack hanging in the air as Atlanta took the field against the Jets. For starters, Calvin Ridley and Russell Gage did not make the trip to London, as Ridley was dealing with a personal matter and Gage is still out with an ankle injury. Secondly, this offensive line knew the challenge that awaited them against this Jets' defensive front. So, how well could this group protect Ryan? The Falcons answered each question head on as the offensive line didn't allow a sack on Sunday, and the Falcons went to a plethora of receiving weapons to help them to a 342 yard passing day for Ryan.
A major part of this offensive success came from Pitts and the Falcons tight ends. Hayden Hurst had four catches for 40 yards and a touchdown. Even Lee Smith got in on the action with three catches for 30 yards. Ryan said after the game the goal was to get these guys going. Ryan commended the tight ends for winning their one-on-one matchups that they were put in. It was something Smith hinted at in his post game press conference as a reason Pitts put up the numbers he did.
"He won one-on-one matchups," Smith said, "and he made some big-time plays for us."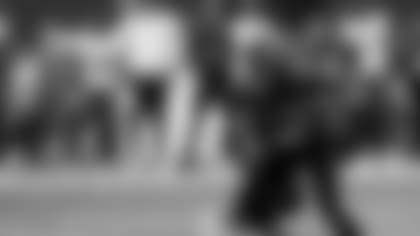 But the moment that really stands out was Pitts' longest reception of the day. It is noteworthy because it was a crucial moment in the game. We've seen Pitts make those clutch third down plays before, and this one was another to add to his repertoire.
The Jets had just cut the score, making it a three-point game with seven minutes to go. Atlanta got the ball on their own 25 yard line, and on first down, Ryan connected with Pitts for a gain of 39 yards to get the offense past midfield. Ryan commended the play call and execution of that specific moment.
"I thought it was an incredible call by Arthur Smith," Ryan said. "... And Kyle was able to get behind the defense. He has incredible speed for a tight end player, and that's not a thing most guys can do."
In a way, this was the day Falcons fans had been waiting for since Pitts' name was announced on draft day. From the moment Smith and general manager Terry Fontenot made the call to Pitts as he sat backstage in Cleveland, this was what the hope was. And hope turned into a reality in London.
"That's why Kyle is here," Smith said. "And he'll continue to improve." Falcons Final Whistle | A Postgame Podcast
Break down the hottest topics surrounding the Atlanta Falcons and how they can impact the team's success with Falcons Insiders Scott Bair, Tori McElhaney and Terrin Waack. Like and subscribe to join us for the lively debate on Falcons Final Whistle.
Welcome to Falcons Final Whistle – an Atlanta Falcons football postgame podcast during the season that shifts gears in the offseason to answer a pressing question about the team's future each week through free agency, the NFL Draft and the offseason program.