FLOWERY BRANCH, Ga. -- The Falcons will play their second preseason game -- the final one on the road -- against the Pittsburgh Steelers on Sunday at 4 p.m. ET. and they'll likely be doing it with their first-round draft pick in uniform.
Although Atlanta wound up on the wrong side of a 23-20 score against the Miami Dolphins, evaluations made during the games are much more important than the final outcome. Coach Dan Quinn explained the priority he places on internal evaluations during the preseason.
"The most important thing for us, right now, is to find out (about) the players," Quinn said. "And to not inhibit them from – especially a young player – of things that could jam them up where we don't see them at their very best. For us to see the best version of themselves, we want them to be really clean-thinking, really straightforward. I'm not even concerned about a disguise on defense or particularly a motion or a concept offensively. It's how hard do they play?"
Sunday provides Quinn with another opportunity to evaluate his team on the road, against a Steelers squad that beat the New York Giants 20-12 in their preseason opener.
Looking ahead to Sunday's matchup, here are several important things to know. 1. Quinn says 'it looks good' for McKinley to play
Falcons fans may get their first opportunity to see first-round draft pick Takkarist McKinley in action on Sunday. The pass rusher has been recovering from shoulder surgery in the offseason, but he's been seeing plenty of reps in action, and Quinn said he is "likely" to play against the Steelers.
"It looks good for him to go," Quinn said after Friday's practice. "He had a really good week of camp going through all of the full (team period). After Miami we said, 'OK, we're now going to take him from half the reps up to the full amount with everybody else.' He looked good. It's something I'll discuss with him, but all systems point to (him playing). I haven't discussed that with him yet, but, yeah, everything looks good."
As for two of the Falcons' primary offensive weapons, Quinn was able to provide some updates.
"Julio (Jones) will (sit out) for sure," Quinn said. "And then Taylor (Gabriel), I haven't talked to him yet to see where his readiness is. I thought he had a really good week. He looked really fast, really explosive. So, as far as they go, if they don't, I'll do the pregame – I know Julio will be out – but as far as (Gabriel), we haven't determined that yet."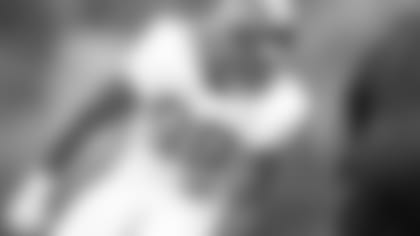 2. Freeman will not play; competition for third running back spot continues
Starting running back Devonta Freeman will not play in Sunday's game. The Pro Bowler left Atlanta's final training camp practice with what were believe to be "heat-related" issues, but it was determined that he showed symptoms of a concussion and was subsequently placed into the league's concussion protocol.
"He reportedly had some concussion symptoms so we put him in the protocol for that and he'll be out this week," Quinn said after Monday's practice. "He may start practicing as we go but we'll rule him out now for the game as more of a precautionary note."
While Tevin Coleman will presumably get the first snaps at running back, the bulk of the workload should be handled by Terron Ward and rookie Brian Hill, as well as newly signed backs Kelvin Taylor and Jhurell Pressley.
Ward and Hill appear to be the primary contenders for the Falcons' third spot in the backfield. Ward, who is entering his third season in Atlanta, led all players with 48 rushing yards against the Dolphins. This week, Quinn explained what he wanted to see from Hill moving forward. 3. Steelers' highly regarded rookie Watt will test Falcons' offensive line
Once the starters exit Sunday's game, one matchup to keep an eye on will be Steelers rookie linebacker T.J. Watt, the younger brother of Houston's J.J. Watt, against the Falcons' backup offensive linemen. Watt was recently named one of the team's starters moving forward for the season, allowing veteran linebacker James Harrison to come off the bench.
Quinn was asked about Watt during a press conference on Thursday, and he said the team held him in high regard throughout the draft process.
"We saw, the last two weeks, (Charles) Harris from last week at Miami and Watt here, both of those we had really good (draft) grades on as rushers," Quinn said. "Yeah, that's definitely a part of it. … I had mentioned last week the regard we had for some of the Miami defensive tackles. To say, that's a really strong, physical player, I like how Ben (Garland) or Wes (Schweitzer) or those guys competed. Within the game, there's some of those matchups you'd like to see."
Garland and Schweitzer remain embroiled in a competition for the starting right guard job, the only vacant spot along the offensive line. Atlanta went with Garland as the starter against the Dolphins, but that will change against Pittsburgh.
"In this game, at guard, we'll start Wes," Quinn said after Friday's practice. "Last week we started Ben, but I want to let you know on that, that was really by design by me heading into training camp. I knew Week 1 I was going to start Ben, and Week 2 I wanted to start Wes." 4. Receivers get another chance to stand out on offense and special teams
Earlier in training camp, Quinn said the competition at receiver may be one of the most intriguing to watch. With several proven players already on the roster, and a good mix of young talent that has been playing well, every game is critical for any receiver who wants a shot to land with the team.
Against the Dolphins, Reggie Davis led the Falcons with 43 receiving yards and had a long catch-and-run touchdown called back. Other receivers to keep an eye on are Marvin Hall, Josh Magee, Anthony Dable and Deandre Burton.
Their play on offense won't be the only determining factor, however. Quinn has stressed the importance of having players who can help on special teams. Hall made a great play to down the ball at the 1-yard line on punt coverage, but he also fumbled the ball on an ensuing kickoff return. A good showing on special teams will go a long way for any receiver hoping to leave an impression. 5. Quinn looking to limit big plays, win the turnover battle
Two areas of emphasis for Quinn and the Falcons every week are limiting explosive plays on defense and winning the turnover battle. Against Miami, Atlanta didn't meet expectations for those goals.
The Falcons gave up three pass plays of more than 30 yards against the Dolphins, including a 99-yard touchdown in the fourth quarter.
"The way we play our style, we really pay attention to explosive passes," Quinn said. "The one that came off the goal line was disappointing for us, knowing some teams do take shots coming off their own goal line. It didn't take extra emphasis, it's always something that's at the front of our thinking."
Turnover-wise, Quinn is always looking to come out on top. Defensively, the Falcons did a good job forcing two interceptions against the Dolphins, but they gave away two fumbles on special teams.
"That's everything for us," Quinn said about the ball. "Through our first preseason game, we're just sitting right at a turnover margin of zero. So, not where we want to be in that aspect." 6. Steelers' projected starters and players of interest
Unsurprisingly, Ben Roethlisberger and Antonio Brown are the two big-name starters on the depth chart, although Roethlisberger won't start against Atlanta. Martavis Bryant is listed as the starting receiver opposite of Brown. Bryant will get his first action of the preseason after returning from a season-long suspension and getting cleared by the NFL to return to practice.
Second-year cornerback Artie Burns has been going head-to-head against Brown in practice, and it will be interesting to see how he fares against Atlanta's receiver corps. A couple of names further down the offensive depth chart that may interest fans are quarterback Joshua Dobbs and running back James Conner. Dobbs, who grew up in nearby Alpharetta, was one of the SEC's most-notable quarterbacks during his record-setting, four-year run at Tennessee and will start against the Falcons. Conner was one of college football's top running backs during his career at Pittsburgh. He was diagnosed with Hodgkin's Lymphoma while rehabbing from a torn MCL during his junior season, but he won his battle against cancer and returned to the field for his next season.