The Atlanta Falcons (0-5) will play their first game under interim head coach Raheem Morris and take on the Minnesota Vikings (1-4) on Sunday.
Atlanta is still seeking its first win of the year, and it remains to be seen how different things will look with Morris in charge. Throughout the week, Morris spoke about the importance of the Falcons forcing their will on whoever the opponent is and his goal of helping the team go 1-0 for 11 straight weeks.
In the lead up to Sunday's game, we've compiled the top storylines for the Falcons-Vikings matchup.
The Vikings are expecting to face a "fired up" Falcons team on Sunday, according to Eric Smith of Vikings.com. Ahead of this week's matchup, we spoke to Smith and ESPN's Courtney Cronin about what Atlanta can expect from Minnesota. There were a wide array of topics covered, including injuries, defense and the Falcons' path to victory. "The Falcons win this game by getting heavy pressure on Cousins early via Grady Jarrett," Cronin said. "Garrett Bradbury struggled against Jarrett in his first game as a rookie last year. If I'm Atlanta, I line Jarrett up over the Vikings' right guard spot, which could either be occupied by Dru Samia or rookie Ezra Cleveland. Cousins hasn't fared well under pressure, and if the Falcons can halt the Vikings' offense from getting into a rhythm and try to improve upon that plus-one turnover differential, they could walk away with their first win of 2020."
Matt Ryan: We're focused on finding a way to win now
There were plenty of topics covered during Matt Ryan's weekly press conference, which Kelsey Conway covered for AtlantaFalcons.com. But he continually reinforced that his focus was on the remaining 11 games this season, beginning with Sunday's game against the Vikings. "We rent these lockers; we don't own them," Ryan said. "We have to go out and pay that rent and earn your spot day in and day out. Regardless of whether you're in Year 1 or Year 13, that's our responsibility as players all of the time is to go out there and perform, that's what we're paid to do. I don't worry about it, I understand where everyone is coming from, I understand where I'm at my career. But I also believe in compartmentalizing things and focusing on what's in front of us this week and the job that I have to do. We've got 11 ball games to go this season and we've got to find a way to get some wins and get back in the mix. That's where our mindset has to be at."
Raheem Morris making Falcons "a little bit uncomfortable"
The Atlanta Falcons have gone through their first week of practice under interim head coach Raheem Morris, and players have already begun to feel a change. Speaking with the media on Friday ahead of a matchup with the Minnesota Vikings, veteran pass rusher Dante Fowler explained how Morris has brought about a little more intensity from his players during practice. "Raheem's just doing it his way a little bit, adding his spice little spice to it and things like that," Fowler said. "But it hasn't really been different. If anything, just the intensity has ramped up a little bit more. Raheem is just kind of making us a little bit uncomfortable and making us be able to practice really well in practice. So, Sunday we won't be new to anything."
Everything to know about the Minnesota Vikings
In her early preview of the Falcons' next opponent, Kelsey Conway provided a glimpse of what they are up against with the Vikings. She notes that the run game is where it all starts for Minnesota's offense, and that they have an emerging star in rookie receiver Justin Jefferson. "The most productive wide receiver the Vikings this season hasn't been Adam Thielen or even Kyle Rudolph," Conway writes. "It's rookie Justin Jefferson who earned the No. 2 spot on PFF's 10-highest graded rookies through Week 5. The former LSU standout has caught 19 passes for 371 yards. The first-round pick leads the Vikings in receiving yards through five games."
An inside look at Todd Gurley's best day with Falcons
Todd Gurley had his best performance since joining the Falcons against the Carolina Panthers – carrying the ball 14 times for 121 yards and a touchdown, earning NFL Ground Player of the Week honors – and he could keep that momentum going on Sunday. The Vikings are currently 24th against the run, just one spot ahead of where the Panthers rank. In this week's After Further Review, we took a close look at Gurley's performance against Carolina and what worked for Atlanta.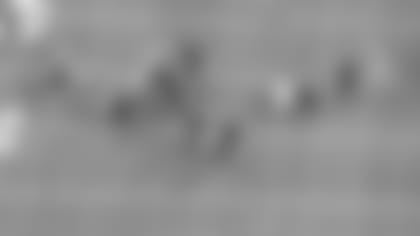 Falcons release depth chart with change at defensive tackle
Arthur Blank explains why Raheem Morris was right choice to take over
The Falcons named defensive coordinator Raheem Morris interim head coach on Monday morning after general manager Thomas Dimitroff and coach Dan Quinn were relieved of their duties. The Falcons also made a trio of coaching moves after Morris was named interim coach. Speaking with the media this week, owner Arthur Blank explained why Morris was the right choice. "He understands our systems which helps," Blank said. "He has the right kind of enthusiasm to lead the players in a positive way. He's worked with our receivers; he understands that side of the ball well. He's been a defensive coordinator. He's very positive, he's ready to go. I know we made the right choice with Raheem and we'll see where he takes us. The players will definitely be supportive of him."