FLOWERY BRANCH, Ga. -- The Falcons' first unofficial preseason depth chart was released Monday, three days ahead of Atlanta's Thursday night preseason game at Miami, and fans now have an idea of where each draft pick stands.
All six of the Falcons' draft picks have had their ups and downs thus far in training camp, but the games are where they will really leave an impression.
Offensive guard Sean Harlow and linebacker Duke Riley are the draft picks listed highest on the unofficial depth chart, each earning a second-team designation. Neither of these decisions is really much of a surprise at this point.
Harlow was an exceptional run blocker at Oregon State, and he's had some good moments in camp. Ben Garland and Wes Schweitzer, listed in that order on the first unofficial preseason depth chart, have been getting a majority of the work at right guard, but Harlow, who is slotted at left guard, has received some reps and expects to also see some work at backup center.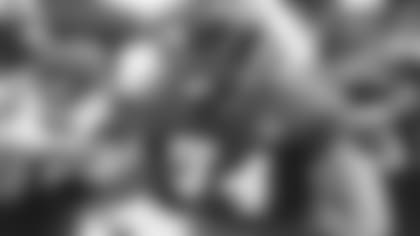 Riley, the Falcons' second-round pick, is a bit of a different story. He's hard to miss when he's flying around during practices, blond hair peeking out the back of his helmet. While he's still learning the finer points of the game, Riley's natural instincts and athleticism should help him make plenty of plays.
"Duke's been awesome, man," safety Kemal Ishmael said earlier in camp. "As a rookie, he's been going for it. And that has a lot to do with the room and where he's at. We treat him like a vet, we treat him like a brother. He's been digging just like everybody else and been showing great signs."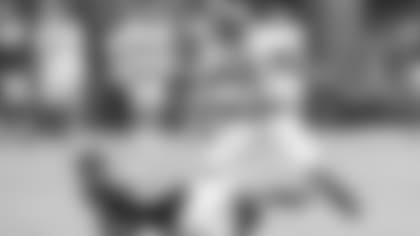 Atlanta's first-round pick, Takkarist McKinley, is currently listed third on the depth chart at defensive end behind starter Brooks Reed and Adrian Clayborn. McKinley has been recovering from shoulder, but he was recently given the "green light" for practices. Since then, he's shown how quickly he can get to the quarterback.
Fans shouldn't worry one bit about McKinley playing timid whenever he sees the field. The pass-rusher is ready to go all out.
"Whenever they put me out there, I just go as hard as I can," McKinley said earlier this preseason. "The biggest thing is to play fast. I understand coming in as a rookie I'll make a few mistakes here and there, but as long as I'm playing fast and hustling to the ball, I'll be good."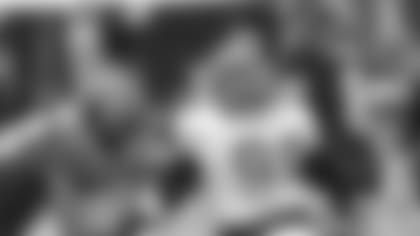 Joining McKinley on the third team is fifth-round pick Damontae Kazee. He's been transitioning to safety in training camp, but that hasn't prevented him from playing like the ball-hawk he was at San Diego State. Kazee has already picked off twice, and coach Dan Quinn gave him a glowing review after Monday's practice.
"We're very pleased with (Kazee's) progress," Quinn said. "We think not only is he going to have a role backing up Ric(ardo Allen) but also a role on (special) teams. We love the competitiveness this guy brings; he represents it to the fullest. His toughness, the speed, the way he's flying around, he feels like a Falcon defender, in terms of the way that he is playing so far."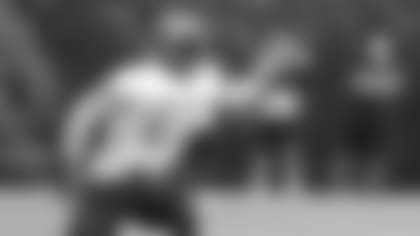 Running back Brian Hill is listed as the fourth-string running back on the first unofficial preseason depth chart. Unsurprisingly, Devonta Freeman and Tevin Coleman hold the first two spots at the position, while third-year back Terron Ward is just ahead of Hill.
The 6-foot-1, 219-pound back figures to see plenty of action in the preseason, as Freeman and Coleman likely won't be on the field for too long. If the fourth-round pick can shine in his opportunities with the offense and on special teams, Hill should put himself in a good position.
The lone draft pick listed fifth at his position is tight end Eric Saubert. Atlanta's final pick in this year's draft, Saubert has looked like a very smart pickup so far. He finds himself in a very crowded position group, where Austin Hooper and Levine Toilolo are established guys and Joshua Perkins offers some nice upside.
Saubert appears to have good potential as well, especially as a receiver. Quinn commented on Saubert's speed, his willingness to learn and a way for him to carve out a role moving forward.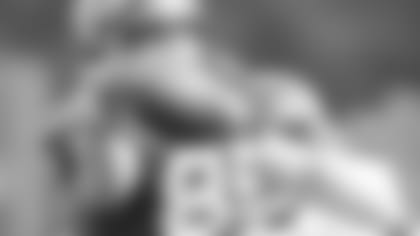 "We've been impressed by Saubert so far," Quinn said after Sunday's practice. "We can't wait to get him in; we think he can have a role on (special) teams, based on his speed. We're throwing a lot at him, and he's the type of kid that wants to keep coming on and keep coming on."