FLOWERY BRANCH, Ga. – The Falcons have placed quarterback and special teams player Feleipe Franks and safety Richie Grant on the reserve-COVID-19 list, the team announced on Tuesday afternoon.
Throughout the last three weeks, Franks has played the role of Matt Ryan's backup quarterback on game days. Arthur Smith said a couple weeks ago that keeping Franks active on game day was less about Franks moving into the No. 2 ahead of Josh Rosen, but rather because Franks plays more roles in certain packages (for the offense and special teams) than Rosen does. For the last three weeks, the Falcons have chosen to keep Rosen inactive and Franks' as Ryan's No. 2.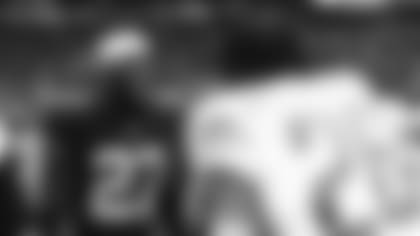 Along with the announcement of Franks' move to the reserve/COVID-19 list came the inclusion of Grant, too. Grant has played a rotational role for the Falcons defense in 2021. Recently, Atlanta has deployed Grant more at nickel, with Dean Pees saying Grant has taken over the spot in this defense. If Grant can't get a green light to return before Sunday's game at Buffalo, the Falcons may have to use more of fellow rookies Darren Hall and Avery Williams in his place.
It's uncertain when players on the reserve COVID-19 list will be eligible to return to the active roster.
The Falcons are fully vaccinated – they were the first NFL team to reach that threshold – which means it'll be easier for anyone on the roster to be activated off the reserve/COVID-19 list.
According to the latest NFL protocol on the matter at the time of this publication, released on Dec. 16, "any such fully vaccinated individual should be tested every day after the confirmed positive test. Any such fully vaccinated individual shall be released from quarantine, provided they are asymptomatic for at least 24 hours" and complete one of three testing options that produce negative results, an acceptable cycle threshold value or both. Falcons Final Whistle | A Postgame Podcast
Break down the hottest topics surrounding the Atlanta Falcons and how they can impact the team's success with Atlanta Falcons Insiders Scott Bair, Tori McElhaney and Kris Rhim. Like and subscribe to join us for the lively debate on Falcons Final Whistle.
Welcome to Falcons Final Whistle – an Atlanta Falcons football postgame podcast during the season that shifts gears in the offseason to answer a pressing question about the team's future each week through free agency, the NFL Draft and the offseason program.