FLOWERY BRANCH, Ga. -- Falcons linebacker Deion Jones continues trending in a positive direction, increasing the likelihood he'll play the Tampa Bay Buccaneers on Sunday. He was a full participant in Thursday's practice, for the second time in as many sessions, as his Falcons prepare for an NFC South rival. If he avoids setbacks, Jones would return after missing a Week 12 contest at Jacksonville.
Cordarrelle Patterson and Grady Jarrett were active again after receiving a veteran rest day on Wednesday. Tight end Lee Smith got a rest day Thursday, a common thing for older players at this point in a physically demanding season.
My Cause, My Cleats: Inspired by sister, Chris Lindstrom works with Best Buddies Georgia
Cornerback Kendall Sheffield is also closer to a return after missing time with a hamstring injury. Defensive lineman Jonathan Bullard missed another practice with an ankle injury.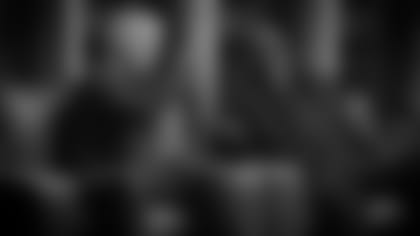 Part 2 | The Season
Chapter Two in the story of the 1991 Falcons explores the impressive season, including an unprecedented run against the 49ers and the entire west coast.