FLOWERY BRANCH – Today's Early Bird Report includes Ricardo Allen's journey to become a key piece in the Falcons' rising defense as well as a look back at how 2008 bucked a major NFL trend.
Ricardo Allen's story can easily serve as an inspiration of sorts to those who value drive and determination over natural talent. After being released by the Falcons after training camp in 2014 and subsequently re-signed as a practice squad cornerback, Allen has worked his way to become one of the most reliable free safeties in the NFL.
McClure spoke with Mainland High School coach Scott Wilson, who was an assistant coach while Allen played for the team, about the unique drive he saw in the Falcons cornerback even then.
"No kidding, as the kid got out of the van, he pulls a jump rope out of his bag, starts jumping rope for five, six minutes just to get a lather before he went in to eat," Wilson told McClure. "He went in, ate, had a great talk, and when we came back out, he started to jump rope again before we loaded in the van.
"Then we get back to the high school, which was totally shut down at that point. He was like, 'Coach, do you mind opening the weight room for me? I opened up the weight room to let him get a 45-minute workout in. He's just that different."
Here are some other articles for Falcons fans to check out today: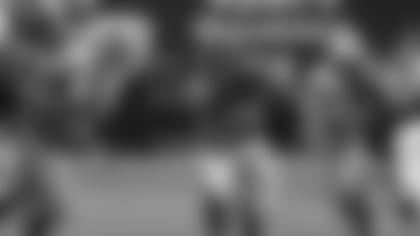 The Ringer: How 2008 bucked the trend and became a year for running backs
The NFL has steadily become a league oriented around throwing the football, but in 2008 there was a bit of a correction on that trend. In a detailed piece for The Ringer, Danny Kelly dissected why the 2008 season, in which there were a staggering 476 rushing touchdowns, offered a moment of glory for the running back position.
"What could explain this massive uptick in running? Some of it was borne of necessity," Kelly writes. "While some teams may have loved to adopt the Patriots' high-flying scheme, not all of them had future–Hall of Fame–caliber quarterbacks capable of running it. For those squads lacking an elite signal-caller and/or pass catchers, the run game wasn't just a preference: Take the Dolphins, who threw caution to the wind and just about abandoned the quarterback position and starter Chad Pennington altogether."
Bleacher Report: Q&A with Jets safety Jamal Adams
The Falcons begin their preseason slate on Friday against the New York Jets, and they're working hard to give a good effort. Can the same be said of their opponents? During a Q&A with Bleacher Report's Tyler Dunne, Jets safety Jamal Adams shared his belief that his team didn't always give their best last season.
"Everybody was used to losing," Adams told Dunne. "You can always tell that vibe. I came in, and it was like everybody wanted to do the bare minimum. They didn't want to go above and beyond. They didn't want to take that extra step. They didn't want to be uncomfortable, [but] to be great, you have to be uncomfortable. You have to be willing to sacrifice and willing to do the little things. And the team, the organization, just wasn't doing those things. It could've been two or three people on the team that were doing it and then the rest weren't or vice versa. But if you're not clicking on all cylinders with the 53-man roster, everybody upstairs, the staff, the whole organization, it's not going to go anywhere, man."
To read the rest of this Q&A with one of the players the Falcons will see on Friday, click here.
Pro Football Focus: NFL quarterback rankings for 2018
The NFL quarterback hierarchy is one of the most popular debates among football fans, and it's one that doesn't have a clear-cut answer. Falcons quarterback Matt Ryan is a player who is often at a number of different spots in a given ranking, depending on who is creating it, but he's proven himself to be one of the top quarterbacks in the league.
"Last season was not as bad as the stats would indicate while 2016 may not have been as good as the MVP stats showed, but Ryan is a consistent, top-tier quarterback," PFF's Steve Palazzolo writes. "He ranked third last year with an 88.3 grade and second in 2016 with a 92.2 grade, and the story of last year was his ranking first at avoiding turnover-worthy plays while finishing 14th in interception percentage (poor interception luck)."