Welcome to Straight from the 'Beek! The Falcons kick off Day 11 of training camp Wednesday and will play their first preseason game on Friday – and you've got plenty of questions. If you want to talk about some topics that we haven't covered or just have some general thoughts you want to get off your chest, submit those right here. Remember, all opinions here are mine unless otherwise noted.
Matthew from Naples, FL
Hey, Beek. Cannot wait for the season to start. Thanks for all the good work. As a former Georgian now living in South Florida, I wish I could make it to the practices. Alas … I had a few questions though. Has Fusco, who used to play center, had any reps at center in camp this year. Be good to have another backup at that position. Also, same question for Gage at CB. Any other players doubling at other positions? I know Quinn loves versatile players.
Matt: Hey, Matthew – thanks for reading Straight from the 'Beek and appreciate your comments. As far as your questions go, I can't say I recall Brandon Fusco playing any center during training camp. As far as the backups go at that position, Jamil Douglas and J.C. Hassenauer are listed behind Alex Mack. Regarding Russell Gage, the coaching staff has moved him quite a bit since he was drafted. During rookie minicamp, for instance, he played both receiver and cornerback. But during training camp he's mostly played receiver and some special teams. In case you missed the release of the first unofficial depth chart Tuesday, AtlantaFalcons.com's Will McFadden provided some quick observations here and Kelsey Conway went through it, position by position here.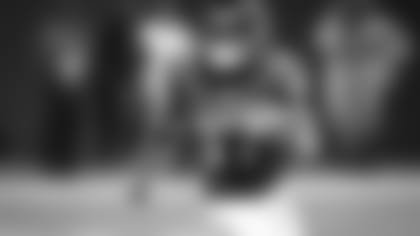 Rashiad from Savannah, GA
Hey Beek, love reading your column down here in Savannah! Seems to be a lot of hype surrounding the potential for Marvin Hall to be successful this year within the offense and special teams (really hoping it happens). Have you been that impressed by what you've seen? Also, can I get your prediction for Matt Ryan's stats this year? And, of course I have a name submission for this year's top NFL defense ... The "Bully Birds"! Keep up the good work, Beek!
Matt: Thanks, Rashiad! Glad to have you here in this space as well. Thanks, as always, for the questions. I wouldn't say there's been a ton of hype surrounding Marvin Hall, but that's just my opinion. I think he's been solid and, if you read my 10 biggest takeaways and storylines from camp so far, quarterback Matt Ryan reminded folks not to forget about Hall. "Marvin is having a really good training camp," Ryan said. "I think he's having a great offsesason. He was really, really good for us in terms of training, attention to detail, his work during OTAs. He was excellent and he's kind of continued that for the first week. I think he's going to be a good reserve guy for us behind when you talk about those first three guys. Marvin is right behind that. He's got great top ... speed." Oh, as far as a prediction on Ryan's final stat line goes, How about 384 of 576 for 4,581 yards and 27 touchdowns and nine interceptions.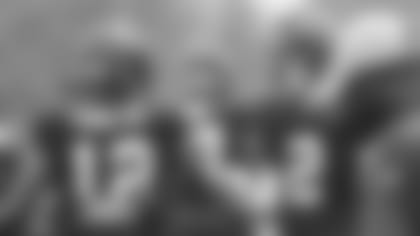 Brent from Ball Ground, GA
Hey Beek, I've already made the bold prediction the Falcons (barring any major injuries) WILL be in Super Bowl LIII. With that said, whom do you feel will represent the AFC? My tag line for the Super Bowl this is: Last time we HAD the game, THIS time we FINISH IT! Also, my nickname suggestion for the defense is a partial carry over from DQ's "Legion of Boom" from Seattle. I would love to call our defense ...THE BOOM BIRDS!! I would say Grits Blitz II; however, that was a totally different era of defense and the current D needs its own brand anyway. What do you think? Haha. Thanks, Beek! RISE UP!
Matt: Brent, you're a bold man full of some bold predictions. That's what I think. Instead of picking one team to represent the AFC, I'll give you a handful teams I think will contend in no specific order – the Jaguars, Steelers, Chargers, Patriots and Chiefs. As far as your nickname suggestion goes, the Boom Birds is fun, man.
Philip from Covington, GA
Hey, Matt. Long-time reader, first-time contributor. Usually keep my opinions to myself, just 'cause they are so dang valuable. Anyway, wanted to make sure and get my defensive name suggestion in assuming it has not already been suggested. Atlanta's "Flash Bang" defense sounds pretty good to me. Seems to fit with fast and physical.
Matt: Haha! Love it – gotta protect those personal assets, Philip. I'm pretty sure no one has suggested Flash Bang yet. I like it. Fast, violent and loud. Nice. I guess this would also be a good time to update the running list of suggested nicknames for the Falcons defense:
Brotherhood Blockade
The Bruise Brothers
The Smother Brothers
The Bash Brothers
Falcons Flash
D Birds
The Swarm Brothers
The Flock (see below)
Brotherhood of Destruction
The Falcons Flash
Birds of Prey
Sky Stalkers
Hurty Birdz
Winged Maniacs
Red Line Defense
The Shutdown Club
Disruptors of the Hood
The Brothers of Disruption
The Club of Disruption
Eruption of Disruption
The Smack Attack
Shock and Awe
Flying Fortress
Gangbusters
The Stop Shop
Bad Intentions
Flying Fortress
Grits Blitz
Red & Black Defensive Attack
Dirty Bird Gang
Falcon Brigade
The Block Flock
The Talons
Predators
Southern Raptors
Brothers of Pain
Pain Brothers
Fierce Flock
Damage Control
Ferocious Flock
The Red Rovers
The Legion
The Dominion of Destruction
Legion of Doom
The Smotherhood
The Wall of Doom
The Brotherhood of Boom
Black Claw
The D-Train Line
The Terminus Line
Bad News Brood
The Good Feathers
The Brood
The Cauldron
The Brothers of Doom
Sonic Boom
Air Falcon
Birds of Flight
Angry Birdz
Birds of a Feather
The Demolition Flock
Flock and Awe
A-Town Hittas
The Risen Few
The Boom Boom Crew
D Block
The Bruise Brothers
The Defengers
Fowl Blitz
The Falcon Swarm
Poultrygeists
The Swarm Brigade
The Cast
Best of the Nest
Smack Attack
The Falcon Storm
Birds of Doom
The Brothers' Nest
T.A.D. — Time After Deployment
Flashing Firewall
The Bully Birds
The Boom Birds
Flash Bang
D.O.A – Defenders of Atlanta
Code Red
Red-and-Black Sack Attack
And, finally, Rising Thunder … see below.
Mike from Waynesville, GA
Hey, Matt. Some follow-up thoughts on nickname: Imagine the defense is on the field, third down. The "Rising Thunder" flashes on the screen. Thunder-crash sound effect followed by the rising tumultuous thunder of the fans! Rising Thunder 12th man! "Watching the lightning offense at Mercedes fills me with wonder, then the defense reigns in, again and again, to the sound of Rising Thunder!" Mercedes-Benz could be the thunder dome! Opposing teams can't hear themselves think! OK, maybe carried away a little! I'm done!
Matt: I think it's great when some of you have made a nickname suggestion and then followed it up by describing the scene – from the sights to the sounds – it's good stuff, and I've been really enjoying the responses from all of you!