ATLANTA -- Mercedes-Benz Stadium came alive for the first time on Saturday evening. Falcons fans buzzed around their new home to come see Atlanta play its first home game of the 2017 preseason, a 24-14 loss to the Arizona Cardinals.
Although the Falcons dropped their third game of the preseason, there are still plenty of reasons for optimism as the regular season draws near. Coach Dan Quinn will have a lot of good film to review with his team before Thursday's preseason finale against the Jacksonville Jaguars.
After the game, Quinn took a moment to acknowledge all of the hard work that went into building Mercedes-Benz Stadium.
"Before we begin tonight, I really want to acknowledge the thousands of men and women that really have poured a lot of their energy and time and heart into this stadium," he said. "It's unbelievable. Our team, we're so damn excited to be here. So for all of the men and women who created this lasting legacy, we wanted to make sure we acknowledged all of you - how much we appreciate all of the work you've put in.
"As I said earlier, we were so damn excited to play. It didn't turn out like we'd like, tonight, in terms of the way the finish happened for us, but I did want to acknowledge it's so special to be here back with our fans and, in this, our home."
Here are the five biggest takeaways from Saturday's game.
The Falcons' first-team offense didn't look as sharp as it had thus far in the preseason, but running back Tevin Coleman was at least one starter who stood out.
Atlanta has shown some creative ways to get their speedster the ball in space, and it was effective in doing so against the Cardinals on Saturday. Coleman had three carries for 19 yards and caught one pass for 14 yards.
Starting running back Devonta Freeman missed his second straight preseason game as he continues to progress through the NFL's concussion protocol. Freeman and Coleman form one of the league's best backfield duos, and both players should see plenty of action in 2017.
Defensive newcomers make big plays
Atlanta's depth on the defensive line improved greatly over the offseason, and two new additions made several big plays against the Cardinals.
First-round pick Takkarist McKinley showed nice burst as a pass-rusher and harassed Arizona's quarterbacks when he was in the game. On one play, McKinley forced Drew Stanton to move up into the pocket where defensive tackle Jack Crawford was waiting for the sack.
"For those who have been following team, you've seen the activity (Crawford) has had as a defensive lineman," Quinn said after the game. "It was good to see that come to life for us today. He's an active guy inside. He's taller than a lot of defensive tackles, he's 6-5, but he plays with the quickness of a lighter guy."
Later in the second quarter, Crawford, another offseason acquisition who played last season in Dallas, jarred the ball loose from running back Elijhaa Penny, which was then recovered by McKinley.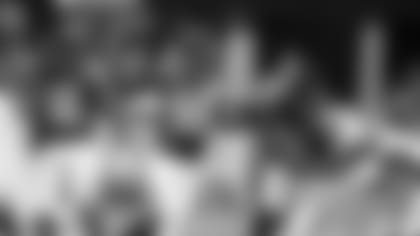 "We really felt like he did show in a positive way," Quinn said of McKinley's performance. "I think this past week in practice was one of the first times that Thomas (Dimitroff) and I said he really looks like he's coming into his own. Health-wise, confidence in what we're doing, knowledge of the scheme. So, all of the time that (he) missed, he was good mentally, but we really felt that physicality really shine through today."
Quinn has praised both players this preseason, and their quickness should benefit the Falcons' defensive line greatly.
Falcons' passing offense grounded
Usually one of the most potent aspects of the Falcons' offense, the passing game did not match its lofty standards on Saturday.
Starting quarterback Matt Ryan threw an interception on his first pass attempt of the game, and he exited the contest with four completions for 36 yards on 11 pass attempts.
"Turning the ball over on the first play is obviously not what you want to do," Ryan said after the game. "We just never really got into a rhythm offensively. That's something we would've liked to have done in that first quarter of work, but we didn't. That'll be something that we need to work on as we have this fourth preseason game coming up and then getting ready for the regular season."
Julio Jones and Taylor Gabriel made their preseason debuts against the Cardinals, but neither player caught a pass.
"It was great getting him back in," Quinn said of Jones after the game. "You felt his intent right away. He wanted some shots down the field, and there was certainly - for his mindset - he was hoping to get his chance to go hit a big one. He was anxious to show he really put the work in, from a rehab standpoint, to show he's really ready to play."
The Falcons broke through in the fourth quarter when Josh Magee took a Matt Simms' pass 57 yards for a breakaway touchdown.  
A Brown-out in the secondary
The Falcons' run defense held the Cardinals to just 17 yards on the ground in the first half, but they weren't as effective against the pass, allowing 133 yards through the air.
Both of Arizona's touchdowns in the first half came on passes to John Brown, a 28-yarder on the first play of the second quarter and a 21-yarder two series later.
It wasn't all bad, however, as Ricardo Allen had a pair of nice pass breakups in the first quarter, and Jalen Collins stripped the ball from receiver Chad Williams in the fourth quarter.
Turnovers, turnovers and more turnovers
Quinn has stressed the importance of winning the turnover battle all throughout the preseason. The Falcons have done a better job of generating turnover chances as the regular season creeps closer.
Courtney Upshaw knocked the ball free on the Cardinals' first offensive possession, which set the tone of what was to come. The Falcons forced four fumbles against the Cardinals, according to the official game stats, recovering three of them. Quinn has wanted to see his team look to jar the ball loose more often, so he will likely be pleased by those results.
"I'd have to say it really did change," Quinn said of his team creating more turnovers. "I thought (in) the first part of training camp the mindfulness to go after it was really strong. And I thought it waned a little bit, and then this week we totally felt it ramp back up. The mindset, the attitude for it, so I'm not surprise that we got so many out today, because of what it looked like at practice."
Check out our Falcons-Cardinals game archive, below, for more information about the game.