FLOWERY BRANCH, Ga. -- The Falcons took the field for Monday's practice with no fans seated on the hill and very little sunshine peeking through the clouds.
It was the team's first closed session of training camp, and while there was not the familiar energetic buzz of the crowd, the music was blaring and the Falcons were moving around at full speed. It is officially game week for Atlanta's first preseason game at Miami on Thursday, which will provide a better picture of where several players stand.
For now, however, let's dig into the takeaways from Monday's practice.
1. Quinn addresses Collins' suspension and appeal process
After the team headed to the locker room following Monday morning's practice session, Quinn addressed the media and provided a statement on Desmond Trufant' 10-game suspension.
"(We'll) begin today with some news from yesterday afternoon," Quinn said. "We have three rules to the program, and the first one is 'protect the team.' That did not take place in Jalen Collins' situation and now there are consequences for that. Both Jalen and I have talked to the team, and the less wasn't just for Jalen. We've got such a strong group of teammates the lesson really is, if you're having an issue or a problem that you make sure you tell one of your guys and to look after them."
Quinn also clarified any questions regarding Collins and where he stands on the depth chart.
"Past that, last week, some of you had asked about him, regarding a depth chart. I'm always going to protect the player. And I think for those of you who know me, that's not going to change. At that time, I knew there was an issue with the league, I didn't know if it was going to be resolved, to his side or away, and I didn't know if that would take place in July, August or September. So, Thomas (Dimitroff) and myself, we made the decision we would move him until we had further clarity on that and then we could make the best decision. So, in that essence, we were protecting the team."
Quinn explained that the uncertain timetable was due to an appeal sent to the NFL. The length of an appeals process can vary depending on the situation, so Collins' position on the depth chart during practices was determined to put the team in the best situation moving forward.
Collins was on the field practicing with his teammates on Monday, and Quinn explained that his on-field goals remain unchanged. What's more important, however, is progressing off the field.
"At practice, the same goal is for all of the players in terms of the skill, the improvement; what's his one percent that he's trying to work on each and every week," Quinn explained. "Off the field, it's the trust issues. Can we get back to where it could be a trusting relationship with the team, with the staff, with the personnel. Basically, with the organization."
Collins also spoke with reporters after practice and discussed his suspension.
"So, I addressed the team, talked to DQ, let everybody know what's going on," Collins said. "I know I let a lot of people down; everybody is really disappointed, including myself. This is something that I've been struggling with, and I'm working on it to put behind me and (I'm) just ready to move forward."
To see all of Collins' post-practice interview, click here.
2. Depth in the secondary remains a strength
Entering training camp, the secondary was identified as one of the Falcons' primary strengths, both in terms of starting talent and overall depth. Even considering Collins' status moving forward, that very much remains the case.  * *
Atlanta has a strong starting trio of cornerbacks (below) in Desmond Trufant, Robert Alford and Brian Poole. So far during camp, there have been a number of young players who have proven they can have an impact if called upon.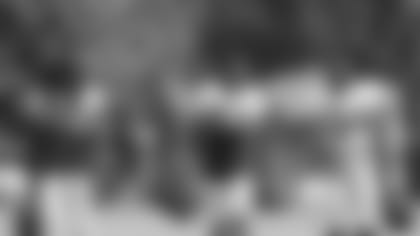 "(Collins' suspension) doesn't really make it an issue now," Quinn said of the team's depth chart. "It will be as it is, going through, and the guys that we're trying to work in at the third, the fourth and the fifth spots. It's truly the essence of our program, as one of the three pillars of ball and battle and brotherhood. The battle was there.
"As we're going through it, C.J. Goodwin is one that is certainly coming through; Deji (Olatoye) has been one; Poole plays both inside and outside; Blidi (Wreh-Wilson) has been certainly someone that's caught our eye. Fortunately, we've got some candidates that are ready to go and battle and stay in the moment for that."
3. Julio given a day to rest/back off from practice
All indications are that All-Pro receiver Julio Jones will be completely ready for whenever he is called upon, but the coaching staff opted to give him a lighter workload during Monday's practice session.
While Jones did catch passes from the quarterbacks and run a few routes, he was not as active as he has been during the last few practices. According to Quinn, this is all by design.
"Yeah, today he did less," Quinn said. "We'll kind of give him more on some days (and) back him off on others, and we'll do some more over the next couple of days to try to see where he's at. And then, as we get into next week, it will be a little more."
4. Allen dons non-practice jersey, Hegeman allowed to leave early
There are a couple of participation notes to touch upon. First, starting free safety Ricardo Allen wore a black, non-contact jersey on Monday. He went through many of the drills, however, and Quinn indicated it was more precautionary than anything else.
"It was just precautionary," Quinn said. "He had a sore shoulder, and if you don't do that with him, he's going (full speed). That was a coaching decision, for me, protecting the team."
The only other development during practice was Ra'Shede Hageman's early departure. Seen jogging off the field early during the first team period, Hageman was given permission to wrap up early.
"Ra'Shede had a personal issue he had to attend to, so I excused him for the last quarter of practice," Quinn explained.
To see all of Quinn's post-practice interview, click here.
5. Tight end a 'critical' part of the offense, rookie Saubert impressing
With all of the weapons the Falcons have returning on offense, it can be easy to overlook the tight end position. Opponents should be wary of doing so, however, as Atlanta's tight end group looks deep and talented.
Entering his second season, Austin Hooper looks more polished with a year under his belt, and there are some intriguing young prospects who have had stood out so far.
"The tight end spot, it's a critical one in our offense," Quinn said. "It's the play-action passing game that we do, the keepers; they're a factor on third-down as well. Having Hoop(er), where he's involved, and Levine (Toilolo) working in, then we have this big battle going on with (Eric) Saub(ert) and (Joshua) Perk(ins) and they're both different and how do we feature them?"
Saubert, a fifth-round draft pick, and the Falcons' final pick of the 2017 NFL Draft, has been a pleasant surprise so far during camp. He's run crisp routes and rarely dropped passes, even coming away with some very tough grabs.
"We've been impressed by Saubert so far," Quinn said. "We can't wait to get him in; we think he can have a role on (special) teams, based on his speed. We're throwing a lot at him, and he's the type of kid that wants to keep coming on and keep coming on."
6. Highlights: Rookie Washington grabs his second interception of camp
Rookie safety Deron Washington put the Falcons' secondary depth on display during one of the full-team portions on Monday. Stepping in front of a short pass intended for Saubert, Washington put the other 21 players on the field in his rear view mirror as he raced towards the opposite end zone. In a game, Washington's heads-up play may have resulted in six points. (Watch the video of Washington's pick-six, here.)