With the start of the league year looming and free agency opening up this coming Wednesday, the Falcons have a few decisions to make regarding their own free agents. Terry Fontenot said the best form of free agency is - sometimes - re-signing the players already in your building.
If the Falcons do re-sign their own free agents in the coming days, who could they be? And why would it work, or not work, to bring them back?
Let's take a look at five players who may fall into these categories.
Cordarrelle Patterson
The situation: Patterson was the spark plug of the Falcons offensive unit in 2021, but he only signed a one-year deal to come to Atlanta in the first place. That deal is up.
The Falcons have a new running backs coach in 2022, Michael Pitre, and right now there's no telling exactly who will be in his room come training camp. Mike Davis is on the final year of his contract, but there's no guarantee he'll be in Atlanta. He carries a $3.25 million cap hit. If he's cut he'll save the Falcons $2.5 million in cap space, per OverTheCap. Meanwhile, Qadree Ollison is an exclusive rights free agent this offseason. From the outside looking in, it would seem the Falcons will keep Davis or Patterson, but not both.
Though his Twitter activity and public comments show someone who would like to stay in Atlanta, Patterson's future with the Falcons is still very much up in the air.
Why it works: It only works if Patterson is willing to play ball. Spotrac has estimated Patterson's market value at $18 million through two years. That may be too high a price to pay for a running back/receiver hybrid who's on the wrong side of 30. Other teams may be willing to come close to that number, but the Falcons are not that team right now. If Patterson is willing to meet the Falcons within a much lower price range, then sure, the Falcons could retain him, bringing back - one would argue - their most dynamic offensive player of the 2021 season.
Why it doesn't work: It all comes down to the money (as you will soon figure out as you continue reading through this list). If Patterson asks for too much, he's out. The Falcons cannot - and will not - be making any big splashes in free agency, and that likely still includes their own free agents. Fontenot all but laid it all out at the NFL Combine last week, explaining (in less drastic terms) that the media and fans should taper any expectations they had about the Falcons making any big time moves in free agency. They're not at that point yet. So, if Patterson asks for too much? It just won't work.
Foye Oluokun
The situation: When the Falcons drafted Oluokun with the 200th pick in the 2018 Draft, they thought they were going to get a special teams player who would work hard. No one expected him to become what he did by the time his rookie contract was up. Throughout the last four years with the Falcons Oluokun morphed into a full-blown starter, one of the Falcons most dynamic defenders and the league's leader in tackles in 2021. Defensive coordinator Dean Pees said during the season that he believes Oluokun is one of the most exciting young linebackers in the league.
"I really feel good about him, and I've had some really good MIKE linebackers in my day," Pees said. "I really feel like as a young linebacker, this guy's got a really, really bright future."
But will that future be with the Falcons? That's the question. Oluokun will carry a price tag this offseason that he hasn't before. With Deion Jones already on the books for $20 million in 2022, do the Falcons have the means to put even more money into this specific position group?
Why it works: The Falcons have something really solid in Oluokun, both physically and mentally. As Pees' MIKE linebacker it could be argued that Oluokun knows the ins and outs of Pees' scheme better than anyone because of the responsibility he has as the vocal piece of this defensive unit. Then, there are the stats. Oluokun thrived in this defense. And though those numbers may go down with more help upfront, it doesn't take away Oluokun's role. It would just free him up. If you're simply looking at Oluokun the player and person, of course this organization would want him back. Oluokun the player and person comes with a price tag, though, and that's the road block.
Why it doesn't work: Mykal Walker's contract isn't a problem as it is still his rookie deal and will be so for a couple more years. Jones' contract, on the other hand, is the problem. His cap hit is too significant to be able to have both him and Oluokun on the books for a significant chunk of change. So, if the Falcons are set on keeping Jones it may be tough to get Oluokun an offer that would be competitive compared to other offers he could receive on the open market. Teams across the league are always looking for young linebackers to fill their rosters.
However, if the Falcons are not completely set on keeping Jones, that does change things. The need to re-sign Oluokun increases dramatically. The issue there is that there is no way to get Jones completely off the books. A cut seems out of the question considering the terms of his contract (Jones is still owed a lot of guaranteed money so he would carry significant dead money if he's cut). However, a post-June 1 trade would result in $14.6 million in cap savings (according to OverTheCap) but he would carry a dead money hit of $5.3 over the next two years. All of this is vitally important information to know when discussing Oluokun's future in Atlanta because it's all connected.
Younghoe Koo
The situation: If the Falcons didn't re-sign Koo there's a 90 percent chance the entire infrastructure of Atlanta would cave in. OK. That's dramatic, but there are very few people who are as universally loved as Koo is in Atlanta. There's a significant chance that if you approached just about any man on the street they know who Koo is and they don't have a bad word to say about him. Koo finished the 2021 season making 27 of 29 field goals. There were a couple game-winning field goals thrown in there, too. The Falcons will have the money to sign a kicker, and it'll be Koo. It'll be Koo because the fate of Atlanta rest in his hands... or his kicking leg.
Why it works: It works. Re-sign him.
Why it doesn't work: It works. Re-sign him.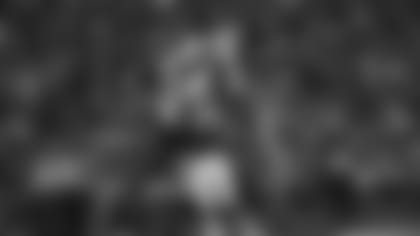 Russell Gage
The situation: The only word that works to describe the Falcons wide receiver room is barren. Calvin Ridley was suspended by the league this week and will miss the 2022 season, at least. With Gage as a free agent, if the Falcons do not bring him back in 2022 the only player who caught a pass in 2021 and is still under contract in 2022 is Frank Darby. Olamide Zaccheaus is a restricted free agent this offseason and the Falcons could tender him (as Kris Rhim explains here). Regardless, the Falcons have a lot of work to do to rebuild this position group. Does it start with bringing Gage back?
Why it works: Like Oluokun, Gage is coming off his rookie deal this offseason so he will be a bit more expensive than he was to the Falcons in years past. That much is obvious. But his market isn't likely to be as robust as Oluokun's. With Ridley's $11.1 million cap hit tolling until he is reinstated by the league, the Falcons have a bit of wiggle room to spend on receivers. Gage became one of Matt Ryan's favorite third down targets throughout the last two seasons. He knows Arthur Smith's offense better than someone else would who would be coming from another team. With Ridley out, it changes the view of Gage moving forward in this offense. For production and depth purposed, Gage is important.
Why it doesn't work: Speaking of production, though: Gage finished the 2021 season with 66 catches for 770 yards and four touchdowns. This is production that could arguably be attained by someone else at a cheaper rate if the Falcons don't see Gage as a longterm fixture in the wide receiver room. Thanks to the Julio Jones trade from last offseason, the Falcons have two second round picks in this year's draft. And with a deep class of receivers it does make one wonder if the Falcons are willing to go after a receiver early in the draft and fill the room with cheaper free agents around him. If so, Gage may hit the open market.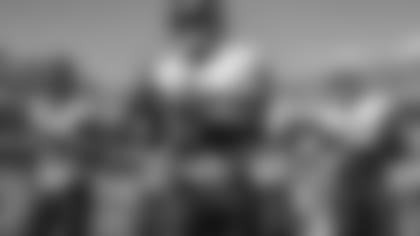 Isaiah Oliver
The situation: People forget about Oliver because he only played in a handful of games before suffering a season-ending knee injury against Washington in Week 4. What we did see of Oliver during that short time, though, was the best Oliver we've seen of him since he's been in Atlanta. Playing primarily at the nickel position, Oliver was trending in the right direction. And Pees really liked Oliver at the spot, saying Oliver reminded of him of other nickels he'd coached before. And even months after Oliver was initially injured, Pees was still trying to find ways to replace him in this defense.
"If Isaiah was here," Pees said in Week 17, "he'd still be in the slot."
Does Pees still see Oliver as a primary part of this defense? Enough to talk the Falcons into bringing him back?
Why it works: Let's be honest, Oliver's market value is not going to be high. It's going to be in the Falcons price range because 1) Oliver didn't have significant enough stats playing out of position in his first years in the league and 2) he's coming off a significant enough knee injury to give teams pause. This works out well for the Falcons. Oliver is a player who knows Pees' system and performed well in it. The Falcons could re-sign him on a short-term, cap-friendly deal that 1) helps Oliver reestablish himself after injury in hopes of performing well over the next year to sign a bigger contract elsewhere and 2) keeps the Falcons from a long term commitment. I've been arguing in favor of this for a while.
Why it doesn't work: Oliver is a gamble.
Perhaps those four games and the production we all saw from him was a fluke. Perhaps he isn't the same player when he returns from injury. Perhaps there's someone on the open market the Falcons feel more secure in bringing in. Perhaps Oliver is a gamble the Falcons don't want to make.
The Best Season Ticket Member Benefits are Back
We're offering our best season ticket benefits packages ever this year! Find the season ticket benefits that are most attractive to you.