The Falcons snapped a two-game losing streak in Jacksonville and would like nothing more than to parlay that victory into a winning run. That's especially true at Mercedes-Benz Stadium, where they've yet to win a game.
How that can happen, especially coming off a game where the Falcons ran well, is the primary topic of Wednesday's Bair Mail.
Let's get right into it in this middle-of-the-week mailbag:
Will Smith from Summerville, Ga.
With the way the Jags pretty much blanketed Pitts the whole game, will we see CP lining up outside more, as opposed to in the backfield? Our current receivers group, though a good one, doesn't exactly strike fear into opposing dbs. If the o line is firing out like they did yesterday, Mike will be ok as rb 1. It's too bad our whole offense is so dependent on one guy but he can't line up in two places at once. We have to re sign him next year, don't we?
Bair: Designate Cordarrelle Patterson's position at your own peril, Will. Ha. He moves around the formation that his alignments should vary based more about the matchups presented than anything else. If Patterson can make hay outside, he'll go there more. If he's better utilized as a true back, as he was against Jacksonville, he'll start there.
There's a lot of versatility within the Falcons skill players, and I don't think positions are as important as them being put in positions to make plays. And, yeah, I'm sure the Falcons would like to re-sign him. Finding a pact that works for both sides will be key, if that's possible.
Charlie C. from Boulder, Colo.
Scott, the falcons rushed over 149 yards combined from Patterson, Davis, and Wayne Gallman, with Cordarrelle Patterson having 108 yards in rushing all by himself, so not sure if the falcons can rush for that much against the Bucs Sunday, but wouldn't it be great to see the falcons running the ball over at least 100 yards against the Bucs Sunday? And, wear the Bucs defense down, in the process, too?
Bair: The Falcons ran the ball well against Jacksonville, a positive step for an offensive effort that had been largely inefficient this season. That's a step in the right direction, Charlie, but is it repeatable? Can they find a level of success against a stout Tampa Bay defensive front. That will be more difficult than it was against Jacksonville, though the Jags are a decent run defense in its own right.
Tampa Bay is the NFL's best rushing attack, so scheming against the Bucs the same way the Falcons did against Jacksonville might not go well. Arthur Smith is committed to the run and a balanced offense is always better. But, maybe a better question is this: can the Falcons run game build off its success in Jacksonville down the stretch? That's the goal. Smith has said a ground game can take some time to figure out and that he remains committed to it.
"[It] just takes some time sometimes and these guys work so hard," Smith said "The easy thing to do would be, hey, let's panic, let's just start grab bagging, stealing plays that we think worked that other people [did] that may not fit us. That's not we're training to do. We've been training to hit these combinations, and they paid off today. [That] doesn't guarantee it will be like that next week. Like I said, next week will present a different set of challenges, but it's what we believe in. I've been through it before, so again, talk about perspective and going back to work."
Andrew Newman from Bristo, Va.
I know this is the not so good Jaguars team but it seems to me at this stage of the season do the rookies (Grant, Dalman, Hall) who played pretty well this week get more playing time. I don't see this year's team as a true playoff team or being to compete with GB, TB, Dallas or Arizona. I know you want to win but I think Fontenot and Smith have to be evaluating for next year as they continue to shape the team in their image.
Bair: You can do both at once, Andrew as the have been doing. They were definitely trying to beat Jacksonville, yet played rookies a ton. The list was long, including most every member of the 2021 NFL draft class as contributors in the game plan. They can evaluate that tape, but they're not doing so just to provide experience and opportunity. They're the best options at this point, so young players are getting plenty of chances to play.
Ray King from Asheville, N.C.
Scott, It's time for the Falcons to finally beat Tom Brady and company. He has had our number for too long. I know he's the GOAT but isn't there something we can do differently to get him off his game?
Bair: Sometimes the simplest answer is the right one, Ray. What's the fastest path between two points? A straight line. That's why the best way to disrupt Brady is with interior pressure. You're not going to confuse him. He can sense pressure so well and can step up the pocket or often evade an edge rush. Crashing inside, in my opinion can work well against all pocket passers, though Brady could pick a blitz apart as well as anyone, so getting home without committing extra bodies is ideal.
Grady Jarrett, maybe Marlon Davidson can be helpful in that effort. Anthony Rush just getting good push in the middle could help as well. That's also easier said than done. Many have taken big swings at Brady and missed.
Call for questions
Submit your questions right here for inclusion in Friday's mailbag.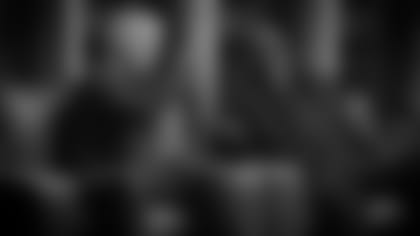 Part 2 | The Season
Chapter Two in the story of the 1991 Falcons explores the impressive season, including an unprecedented run against the 49ers and the entire west coast.