Community Quarterback Award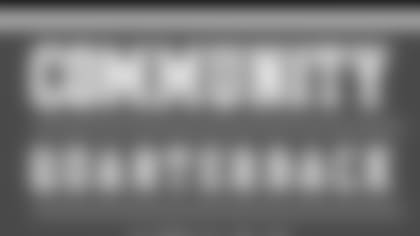 The Atlanta Falcons announced the four winners of the 2010 Community Quarterback Award. The recipients of the award are Kevin Ingram (Bennett's Mill Middle School), Mack Secord (Angel Flight), Juanita Wallace (English Avenue Neighborhood Association) and Dr. Charles White (Caring Hands Health Clinic). The award honors individuals who are committed to improving their community through volunteerism.
The winners were selected by a panel of civic and community leaders and will be honored during an on-field presentation during the Atlanta Falcons vs. Green Bay Packers game on Sunday, November 28, 2010. In addition, a $2,000 grant will be awarded to the non-profit organization each winner serves.
Kevin Ingram - Bennett's Mill Middle School
For the past three years, Ingram has volunteered his time to positively impact the students at Bennett's Mill Middle School. He has organized the school's Red Ribbon Week and Safety Day activities, as well as teaching anti-bullying classes. Ingram has volunteered his time on top of serving as the school's resource officer. In addition, Ingram serves as a mentor to at-risk students. During the holidays, Ingram volunteers with the "Shop with a Cop" program for underprivileged children.
Bennett's Mill Middle School is a public middle school in Fayetteville, GA (Fayette County).
Mack Secord – Angel Flight
Since 1985, Mack Secord has donated his time, aircraft and fuel to transport children and their families throughout the country for medical treatments. Secord has transported hundreds of patients during his 25 years volunteering for Angel Flight. In addition, he meets with organizations and potential sponsors to gather support for Angel Flight to increase the impact the organization can have on the community. Angel Flight relies on Mack to create and facilitate programs that benefit many lives throughout the State of Georgia.
Angel Flight provides free air transportation for people that have a medical need that can't be filled in their local area. Angel Flight serves primarily patients who are traveling from, to or through the states of Georgia, Alabama, Mississippi, Tennessee and the Carolinas.
Juanita Wallace – English Avenue Neighborhood Association
Juanita Wallace is a life-long resident of English Avenue and has actively volunteered in the neighborhood for the past 6 years. Wallace serves as a public safety chair of the neighborhood that works to increase the safety and appearance of the neighborhood. She frequently photographs vacant and abandoned properties throughout the neighborhood to present to community organizations to obtain funding to renovate the area. When Wallace learned she needed additional education to properly identify the needs in the neighborhood, she entered a training program in partnership with Clark Atlanta University to identify environmental hazards in her community.
English Avenue Neighborhood Association is a neighborhood based, resident led, thought leader, facilitator and umbrella organization for community based organizations and neighborhood businesses serving the English Avenue Community.
Dr. Charles White – Caring Hands Health Clinic
Dr. White has volunteered with the Caring Hands Health Clinic since 2007. He has served as the first Medical Director for the clinic and medical doctor for most of the patients. Dr. White cares for more than 750 patients that receive more than $125,000 worth of services and pharmaceuticals per month to patients who otherwise would not be able to afford medical care. As a retired physician, Dr. White volunteers at the clinic every Tuesday as well as covering shifts that are unstaffed. He also supervises lab tests and prescription refill requests of about twenty patients every week.
The Caring Hands Health Clinic opened in 2009 and is free to uninsured residents of White County who have chronic health conditions such as diabetes or hypertension. The clinic strives to give patients the necessary services needed to manage their health conditions and prevent unnecessary use of hospital Emergency Departments.