FLOWERY BRANCH, Ga. -- It's July, and that means the NFL news cycle is at its nadir, crawling along until training camps open at the end of the month.
It's also that time of year when tons of lists – many of them meaningless – and positional rankings are put together, dispersed and debated.
The other reason these lists are being generated by outlets everywhere, aside from the fact that everyone loves to debate rankings? Fantasy football, of course. The start of training camp means it's time for fantasy owners to begin their all-important research prior to their league drafts.
And unless you've been living under a rock, you've probably noticed that several Falcons players are featured prominently in these rankings – at nearly every position. When your offense is as good as the Falcons were statistically in 2016, it's inevitable.
But one of the more interesting debates is which team features the best 1-2 punch at the running back position. It's easy to look at the statistics and rank the best players at their respective positions. Pro Football Focus even ranked the most elusive backs. But when you start looking at position groups -- and the Nos. 2 and 3 -- there's certainly a little more room for debate.
No matter how you ultimately slice it, the Falcons enter the 2017 season with arguably the best running back duo in the NFL in Devonta Freeman and Tevin Coleman.
From a pure production standpoint, Freeman and Coleman combined for 1,599 yards rushing and 883 more receiving during the 2016 regular season. The duo also combined to score 24 touchdowns (rushing and receiving).
And Freeman seemed to only get better as the 2016 season progressed. Check it out.
Coleman might not have the gaudy stats, but according to Pro Football Focus no running back was more productive on a per snap basis in 2016.
And with almost all of Atlanta's starters returning this season and the addition of new offensive coordinator Steve Sarkisian, it's easy to see why some project the Freeman-Coleman duo to be even better in 2017.
Based on the aforementioned NFL Network Top 100 list, Freeman comes in at No. 6 among running backs and No. 41 overall. Here's the breakdown:
Ezekiel Elliott, Dallas Cowboys (No. 7 overall)
Le'Veon Bell, Pittsburgh Steelers (No. 9 overall)    
David Johnson, Arizona Cardinals (No. 12 overall)
LeSean McCoy, Buffalo Bills (No. 27 overall)
DeMarco Murray, Tennessee Titans (No. 33 overall)
Devonta Freeman, Atlanta Falcons (No. 41 overall)
Jay Ajayi, Miami Dolphins (No. 69 overall)
LeGarrette Blount, Philadelphia Eagles (No. 80 overall)
Adrian Peterson, New Orleans Saints (No. 98 overall)
In Athlon Sports' 2017 NFL Preview, Freeman drops down to No. 10 and Coleman is listed at No. 23.
I don't think many would argue with the top three on that list, but you could make a strong argument for Freeman to be among the top five. As for Coleman, The MMQB recently ranked the top 10 running backs on its 10 Things Podcast – and listed him at No. 10. You can listen to it here.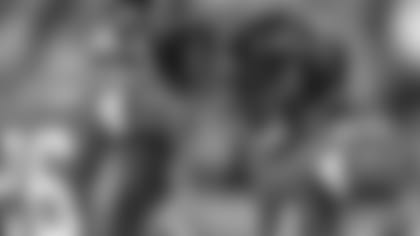 That all said, here's my top 10 running back duos heading into the 2017 season:
Falcons: Devonta Freeman, Tevin Coleman
Cowboys: Ezekiel Elliott, Darren McFadden
Titans: DeMarco Murray, Derrick Henry
Saints: Adrian Peterson, Mark Ingram
Cardinals: David Johnson, Andre Ellington
Bills: LeSean McCoy, Jonathan Williams
Steelers: Le'Veon Bell, Fitzgerald Toussaint
Bengals: Jeremy Hill, Giovani Bernard
Bears: Jordan Howard, Jeremy Langford
T-10. Jaguars: Leonard Fournette, T.J. Yeldon
T-10. Panthers: Jonathan Stewart, Christian McCaffrey
So there you have it: One more offseason list and positional ranking to debate. Feel free to hit me up on Twitter to discuss.
Oh, did I mention Falcons training camp begins in 17 days?