FLOWERY BRANCH, Ga. -- During halftime of Thursday night's game against the New Orleans Saints, former running back Warrick Dunn will become the 10th member of the Falcons Ring of Honor.
A special ceremony will be held at Mercedes-Benz Stadium to celebrate the contributions the Baton Rouge, Louisiana, native has made on and off the field in the city of Atlanta.
"I love this city," Dunn said of his induction. "I'm thankful for it, my family loves it. It's been great, this has been a blessing. I'm just so thankful for all of the things that I've had the opportunity to be a part of: The Atlanta Falcons, Mr. Blank being a part of my life, I'm a part of his life. Going into the Ring of Honor, it speaks volumes, of all the great players that have come through, that I'm among that list. Words can't even express what it means, and I'll cherish it."
As the 10th member of the Falcons Ring of Honor, Dunn will join running back William Andrews, quarterback Steve Bartkowski, linebacker Tommy Nobis, linebacker Jessie Tuggle, center Jeff Van Note, tackle Mike Kenn, defensive end Claude Humphrey, cornerback Deion Sanders, and running back Gerald Riggs.
Dunn signed with the Falcons as a free agent in 2002 and spent six seasons with the team. During his time in Atlanta, Dunn gained 5,981 rushing yards – fourth-most in Falcons history – and 30 touchdowns while averaging 4.2 yards per carry. He caught 204 passes during his career with the Falcons – second-most among running backs in franchise history – for 1,635 yards – third-most among Atlanta running backs – and six touchdowns.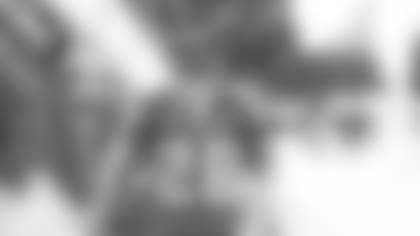 Prior to signing with the Falcons, Dunn was a star running back at Florida State, winning one national championship in 1993 and keeping the Seminoles in each of his four seasons at the school. Dunn was drafted with the No. 12 overall pick in the 1997 NFL Draft by the Tampa Bay Buccaneers, where he played during his first five seasons.
Signing with the Falcons was not just a decision Dunn made based on football but also because of the impact he wanted to make in the community and the next journey he wanted to take in his life.
"Leaving a place that, at that particular time, was all that I knew and loved in Tampa and coming here was exciting," Dunn said. "Just the opportunity for a new start. Believe it or not, some things happen for a reason. For me, coming here, talking to Mr. Blank about the impact that he thought that I could make in the community but also Falcon players could make in the community was a real selling point for me. I tell him all the time, believe it or not we never even talked about football. We talked about life off the field and how we could impact the community."
Dunn's contribution to those in the community rivals anything he accomplished on the field. The founder of Warrick Dunn Charities, Inc., Dunn seeks to "provide hope and healing to communities through innovative programming inspired by our Founder's life journey to help families thrive academically, financially and socially."
Dunn's charity established the Homes for the Holidays program in 1997, which provides the down payment for a house that is chosen by a single parent associated with an approved non-profit home ownership program. According to the charity website, Dunn has assisted 150-plus single parents and over 400 children and dependents through this program.
For his philanthropic work, Dunn has received local and national recognition. He received the Walter Payton Man of the Year Award in 2005, the Heisman Humanitarian Award in 2010 and the 2011 Jefferson Humanitarian Award for Public Service, among others.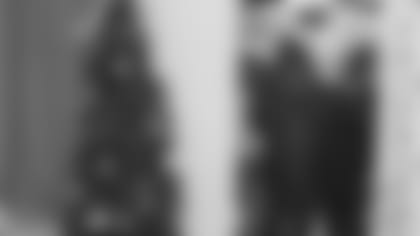 On the field, Dunn was a member of some of the most exciting Falcons squads in recent memory. At a time when the city of Atlanta was full of excitement and energy in many aspects, the Falcons were one of the NFL's most fun teams to watch.
"When [Arthur Blank] bought the team, he gradually started putting his footprint all around," Dunn said. "I think that started to elevate things. I think as we continued to get better as a team, we started to make more headway and the excitement was just there. Because, one, you had Mike Vick, who was electrifying, as the quarterback, and an unconventional quarterback. So I thought that brought a lot of excitement to the team. But also the way that I ran, the way that T.J. Duckett ran, you had a defense that was not a lot of big names but guys that just played hard and went on the field and left it all on the line.
"It was exciting, because people knew that we always had a chance to win, but these games were going to be fun because you never knew what was going to happen. It was going to be Vick, it was going to be Dunn, it was going to be Peerless Price, it was Alge Crumpler making a great catch. They were always looking for something exciting, and I think that kept people in the stands and on their feet and always wanting to see the next crazy thing that was going to happen."
Although his time as a player will forever be remembered inside the Ring of Honor, Dunn continues to help the Falcons strive for success as a minority owner of the franchise.
"I think what I accomplished on the field, I mean … I'm as small as you," Dunn said. "It's like 'Man, how did you play for all of those years and do all of that?' I played among giants, and I'm confident in myself so I think that I played at a high level and I was consistent. I played with a lot of heart. I think I represent a lot of fans or people that may not have all of the same opportunities, but when you get your opportunity, you take advantage of it.
"It's been a blessing. This city has been great to me. I don't think words can express how thankful, how much appreciation that I have for the fans, for this city but definitely for all of the teammates that I played with. The years in Atlanta were definitely some of the most exciting and best years of my pro career."