ATLANTA -- Former Atlanta Falcons running back Warrick Dunn will be inducted into the Falcons Ring of Honor on Dec. 7, becoming just the 10th member of this exclusive group.
"I'm speechless," Dunn said after learning of his induction. "It's crazy. Sometimes I don't really think I'm deserving of that. So, it's crazy."
Falcons owner and chairman Arthur Blank informed Dunn of his induction during a private meeting on Tuesday morning at the Arthur M. Blank Family Office.
"It is an honor to be able to induct Warrick Dunn into the Atlanta Falcons Ring of Honor," Blank said. "All nine current members of the Ring of Honor are excellent reflections of the Atlanta Falcons organization and Warrick is no exception. Over the course of his career, Warrick has continued to represent all of our core values – from his days on the field, to the work he does in the community and as one of our Limited Partners."
The other nine members of the Falcons Ring of Honor are: running back William Andrews, quarterback Steve Bartkowski, linebacker Tommy Nobis, linebacker Jessie Tuggle, center Jeff Van Note, tackle Mike Kenn, defensive end Claude Humphrey, cornerback Deion Sanders, and running back Gerald Riggs.
"Knowing a lot of the guys who are up there and knowing what they meant to the team but to the city, most importantly, I'm excited to be a part of that brotherhood and to be a part of that family," Dunn said. "I never thought that I'd be in the ring of honor anywhere.
"I'm not really great at accepting awards or being recognized, I always try to decline those things. In reality, it's not about me. I couldn't be successful without the guys around me, and I've always tried to be a team guy and not be first. This says a lot about the guys that I played with."
Dunn signed with the Falcons as a free agent in 2002 and spent six seasons with the team. During his time in Atlanta, Dunn gained 5,981 rushing yards – fourth-most in Falcons history – and 30 touchdowns while averaging 4.2 yards per carry.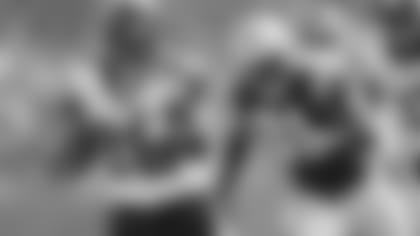 Dunn, who starred at Florida State, was the No. 12 overall pick in the 1997 NFL Draft and played his first five seasons with the Tampa Bay Buccaneers, was also a dynamic threat out of the backfield. He caught 204 passes during his career with the Falcons – second-most among running backs in franchise history – for 1,635 yards – third-most among Atlanta running backs – and six touchdowns.
From 2004-06, Dunn had three consecutive 1,000-yard rushing seasons, including his lone Pro Bowl year with the Falcons in 2005. Dunn became part of NFL history in 2006, when he and quarterback Michael Vick became the first running back-quarterback duo to rush for 1,000 yards, apiece.
As great as he was on the field, Dunn's contributions to the community off the field are equally impressive.
The founder of Warrick Dunn Charities, Inc., Dunn seeks to "provide hope and healing to communities through innovative programming inspired by our Founder's life journey to help families thrive academically, financially and socially."
Dunn's charity established the Homes for the Holidays program in 1997, which provides the down payment for a house that is chosen by a single parent associated with an approved non-profit home ownership program.
Per the charity website, Dunn has assisted 150-plus single parents and over 400 children and dependents through this program.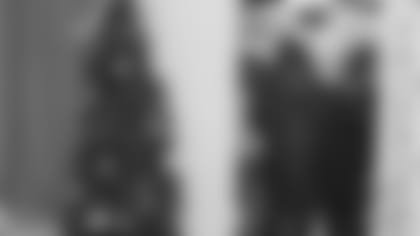 For his philanthropic work, Dunn has received local and national recognition. He received the Walter Payton Man of the Year Award in 2005, the Heisman Humanitarian Award in 2010 and the 2011 Jefferson Humanitarian Award for Public Service, among others.
In 2009, Dunn became a minority owner of the Falcons, the fifth person to earn this role. As a limited partner, he seeks to provide advice to younger players as someone who understands what it's like to be in their shoes. "It's been a great journey," Dunn said. "And now that I'm a partner, still part of the organization and still in the community, sometimes you feel like you're living the dream. This has been a fun ride, so far."