Head coach Mike SmithOn the Jets defense being a 3-4 defense but can sometimes show some 4 man fronts:
"Anytime Rex works with a defense and coordinates a defense, it's very multiple.  He has it based out of a 3-4 in terms of what is in the depth chart, but they can line up in 4-3, 3-4.  They have a nickel package, they have a dime package, they'll even have a quarter package.  It's very multiple, but it is based out of a three down set.  Their front seven is very good.  As I said yesterday, they have four first round draft picks in their front seven."
On it being a challenge for his lineman to morph in and out of those fronts:
"Without a doubt, we have to be on top of our identification.  If you are on top of it then you are going to be able to put a hat on a hat, and if not, then you are going to have the potential to have some free runners.  It's going to be imperative we do a good job of identifying and communicating the personnel groupings they present."
On Osi Umenyiora over the first quarter of the season:
"I think Osi has showed a lot of leadership to the young guys on our football team.  He had a really impressive game against the Miami Dolphins, in terms of rushing the passer.  I think he has been really solid as a run defender as well."
On communication when you have so many moving players on defense:
"It probably is just as important, and it is probably going to be a little bit more difficult on the defensive side of the ball, simply because we are going to be dealing with crowd noise, which will make it a little bit more complicated.  We also have some new pieces that will be playing, that haven't been with us as long as some of the other guys, so we're going to have to make sure we have a package that fits our least denominator.  What I mean by that is the guy that has been around the least amount of time.  We are going to have to make sure we're on top of what we are asking our guys to do."
On how Tony Gonzalez has handled the bracket coverage:
"Well, that is something Tony is used to getting a lot of resources.  I thought that for the double coverage you saw last week, he had a pretty darn good game.  Tony is hard to stop, and he's been doing it for a long time, so he knows all the tricks."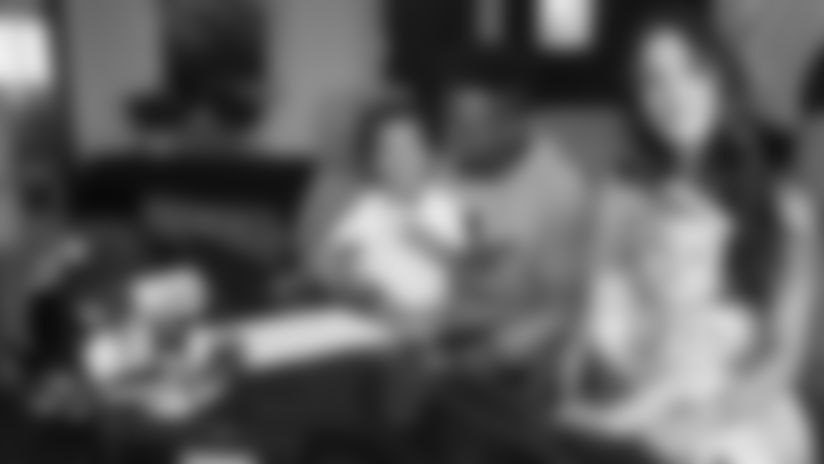 news
Ricardo Allen launches podcast with wife, Grace
Atlanta Falcons safety Ricardo Allen has launched a podcast with his wife, Grace. Get to know the player and his family with each episode