FLOWERY BRANCH, Ga. -- Ted Monachino didn't want to stand behind the podium of the Falcons press conference room when he faced the media on Friday morning. It was too formal. So, instead, he pulled up a chair and had everyone sit in a circle around him.
It was the opposite of formal. It was casual and it was the stuff good conversations are made of.
For the next 20 minutes, Monachino went in depth into his outside linebackers room. Going player by player, he broke down each's development, goals and mindset early in the season. With that breakdown in mind, we'll follow a similar format: Having Monachino himself tell you what he thinks of the group he has. And we'll add context when necessary. Let's dive in.
Dante Fowler: "I was looking forward to getting to know (Dante Fowler) better to know what buttons to push and how to proceed. The thing with him is to say that I was pleasantly surprised, I think that is really unfair to Dante."
"To say I am pleased with where Dante is right now? That's a fact."
Context: We're all well aware of what last season and the subsequent offseason looked like for Fowler. He underperformed and took a pay cut. When Monachino took over the position group, he said right off the bat that he was most looking forward to working with Fowler, to get him where he knows he wants to - and needs to - be.
Monachino remembers evaluating Fowler's college film during the draft process a few years ago. Monachino said Fowler was the best product at the position coming out of that draft class. But Monachino didn't know the Fowler of 2021. Now that he does, Monachino won't say he's been surprised with Fowler, but there is an unselfishness to Fowler that perhaps Monachino didn't know was there before he started coaching him.
"I think he is a guy who comes in and tries to earn it every day. I have a great deal of respect for him as a person," Monachino said. "… He has taken ownership not only of his own play but in the play of the room. He's a guy who will say something timely when it needs to be said. He will ask a question that the whole room needs to hear, rather than just pull me aside and simply help himself."
And if his play through three games is any indication, Fowler is doing this and helping himself, too.
Steven Means: "Steven (Means) is not here to be the veteran presence in the room. Steven is here because he is one of our best 53 football players... This may be more snaps than Steven has played in his history, but I think he welcomes that and I don't have one concern about putting him in there in all situations."
Context: Monachino is right: Means is playing more snaps than he ever has before. Ask Means about it and he'll laugh, saying he feels good with where he's at physically. He'd never admit otherwise for fear of it getting back to a coach that he needs more conditioning, but he'll agree this is the most live game experience he's ever had before.
And looking at Monachino's first two sentences, one can quickly assume why. Monachino went on to say that because there are not many big bodies in the position group, Means' size is what makes him stand out. That, and he knows the defensive system very well.
"When we need big, he's in there. When we need smart, he's in there. When we need tough, he's in there," Monachino said. "Those are the things he is."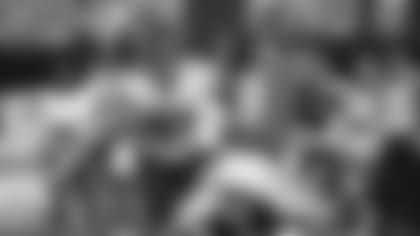 Jacob Tuioti-Mariner: "Football is really easy for Tui because he's a really smooth athlete. But right now, his biggest thing is what to do with his body."
Context: Monachino said they're still trying to figure out the best way to get the most production out of Tuioti-Mariner. Here's a guy, Monachino said, who used to be "a big guy," "too big for the position." Looking back at old pictures, he was.
Now, he's not. After dropping significant weight, he's not as big as others at the position. He's leaner and quicker. And he's still learning how to best use that agility to his advantage, while also protecting himself from being bodied around by someone now bigger than he is.
The Falcons were dropping Tuioti-Mariner into coverage in training camp after the previous staff always had his hand in the ground last year. Tuioti-Mariner said then that he considers that trait to be one more thing he can add to his tool box.
But for the time being, there's still some things Tuioti-Mariner needs to learn within the new scope of his role, and his new body.
"So, we have to figure that out," Monachino said.
Ade Ogundeji: "With all of these players moving in and out of the building we're going to ask - at some point - Ade to be the bell cow in the room, and we're preparing him for that right now."
Context: If you take nothing from anything Monachino has said up until this point, latch onto this quote right here. It gives us a clear picture of what this coaching staff visualizes for Ogundeji.
There were a number of people that thought Ogundeji's drop to the fifth round of this year's draft was a little surprising. However, the Falcons saw an opportunity and took it. It's one that Monachino sees greatly paying off for the Falcons pass rush in years to come.
Of course, there are still many ways in which Ogundeji needs to develop. That's the difference between a first round pick and a fifth round pick, Monachino said, but this staff really likes Ogundeji. A lot.
"There are some measurables that he's been blessed with. There are some things from an experience standpoint that he is still working on," Monachino said. "But there's not one situation that comes up in a practice or in a game that I would be concerned to play him in."
One aspect of Ogundeji's game that stands out to Monachino is his ability to use his hands and his length. It's something that Means even commented on, saying there are many young guys who come into the league and don't know how to use both effectively. That's not a problem for Ogundeji.
"Ade's dominant trait is that he has great size and he's got great length," Monachino said. "He uses those to his advantage all the time. I didn't have to convince him to do that. That's how he's been a good football player. It's because he's always understood that."
This coaching staff is pretty pleased with their fifth round pass rusher. It's someone to watch, as Monachino said he does see a situation this year where Ogundeji's reps increase as the weeks pass.