FLOWERY BRANCH, Ga. -- Matt Ryan hesitated. He knew what he was about to say, and he likely knew the response it would get, but he said it anyways. Asked if there was another player who defenses keyed up this early in their career in the way they have through Kyle Pitts' first three games, Ryan said yes.
They did it for Julio Jones.
You could tell Ryan didn't really want to make that comparison, but it's the best and most accurate example he has firsthand knowledge of.
"Defenses were aware of his skillset," Ryan said of Jones. "If I think of players who I've played with, those would be the two (that defensive took notice of right away)."
One thing Ryan said has been very obvious even three weeks into Pitts' career is how defense account for him. A decade ago, opponents had a plan for Jones. Now, they have a plan for Pitts.
"He's warranted respect on the other side of the ball from people," Ryan said about Pitts. "That's one thing that I have noticed early on in the first few weeks, is that there is a plan for him and where he's at."
Ryan said that, in his recent talks with Pitts, his message to him has been straightforward: "The ball finds different guys at different times," Ryan said. "And sometimes it comes in flurries."
It's unfair to continuously compare Pitts to Jones. They're two different players playing two different positions in two different schemes. But for the sake of this narrative, let's take a quick look at Jones' targets through the first three games of his rookie season. It can tell us a lot about how worried -- or not worried -- we should be with Pitts' targets.
Through Jones' first three games of 2011, he was targeted 21 times. Pitts has been targeted 17 times. Four targets separate the two. Four. So, let's take a breath. Don't lose sleep over the "lack" of Pitts targets so far. Furthermore, if we really want to get into the weeds: Jones was targeted 17 times in his fourth game in the league. It was one of his most productive days in his rookie season.
This isn't a prediction that Pitts' fourth game will look similar, but it backs up what Ryan was saying about targets coming in flurries. So, no. Now is not the time to panic about Pitts' targets.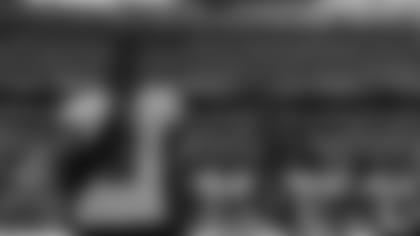 After Sunday's win, Arthur Smith said the Kyle-Pitts-isn't-being-targeted narrative is a surface-level one.
"Because he didn't touch the ball early, that doesn't mean he wasn't called," Smith said. "Those are really surface narratives, but when you come up and the games on the line, they change it up and Matt (Ryan) found him when we needed to."
A little later, Smith added onto this comment in more detail.
"Yeah, we want to get Kyle the ball, but you've got to give Patrick Graham and the Giants defense credit," Smith said after the game. "We chipped away and chipped away, and (Pitts) comes through at the end."
"Can I call him a slide or a screen to force it to him? Yeah, maybe, but the way we were playing the game, and we've got a lot of work to do, but they have a say. You could put it on me, but again it says more about his character. He kept chipping away and made a critical third down and a big catch in the last drive to set us up. Again, I call those surface narratives and I think it's disrespectful to the Giants and their defense and their defensive staff."
Look, at the end of the day, Smith wants to get Pitts the ball. Ryan wants to go to him, and Pitts himself wants the yards he was drafted to accumulate. This offense has work to do to be more consistent. Players and coaches have said that. But let's take a pause on this Pitts' narrative for now. The reality of the situation is that it's not likely to trend this way moving forward if Smith, Ryan and Pitts have anything to say about it. And they do. Falcons Final Whistle | A Postgame Podcast
Break down the hottest topics surrounding the Atlanta Falcons and how they can impact the team's success with Falcons Insiders Scott Bair, Tori McElhaney and Terrin Waack. Like and subscribe to join us for the lively debate on Falcons Final Whistle.
Welcome to Falcons Final Whistle – an Atlanta Falcons football postgame podcast during the season that shifts gears in the offseason to answer a pressing question about the team's future each week through free agency, the NFL Draft and the offseason program.