The Falcons put on pads for the first time since December for the first day of AT&T Atlanta Falcons Training Camp, and the players looked surprisingly sharp out there.
Both the offense and the defense were making plays in a practice that featured a lot of full-team work. The play of Atlanta's defenders, particularly in the secondary, was notably positive and looked more in line with what we saw during the final eight games of the 2019 season than the first eight.
It was a good day for the primary members of the secondary, and players like Isaiah Oliver, A.J. Terrell, Darqueze Dennard and Kendall Sheffield looked smooth and confident while lining up against some of Atlanta's best receivers. Those one-on-one battles should benefit both the receivers and the corners, who will play big roles in determining how successful the Falcons are in 2020.
Dennard was especially impressive during these drills and during the full-team moments, showing plenty of quickness and anticipation to undercut routes or break on the receiver. He was far from alone in that regard, however, as both Terrell and Oliver carried themselves with a lot of confidence and trusted in their technique to make plays on the ball.
Two rookie defenders also got in on the action, Tuesday. Safety Jaylinn Hawkins had an excellent pass breakup in the end zone during a full-team period, running into the receiver to jar the ball loose at the exact moment it arrived. Linebacker Mykal Walker found himself in the right place at the right time to intercept a tipped ball, showing good awareness on the play.
The communication on the back end of the defense was also apparent. While it's too soon to ultimately tell, based on one practice, it doesn't seem likely the Falcons will have breakdowns on pass defense as frequently as the did during the first half of the 2019 season.
Todd Gurley and Alex Mack get day off
Coach Dan Quinn said prior to camp that the Falcons would take a mindful approach with some of their veteran players in an effort to keep them fresh for the long haul, and Tuesday provided the first look at that. Running back Todd Gurley and center Alex Mack were out in the sunshine with their teammates, but neither was suited up or participating in practice.
Gurley and Mack stood off on the sidelines as observers, interacting with teammates and coaches from a distance while getting the opportunity to rest.
"Mack and TG, those guys are professionals and they've been doing this for a long time," Falcons tight end Hayden Hurst said after practice. "They're going to be ready to go. I think DQ is doing a good job of taking care of them and understanding their bodies. We don't worry about guys like that, they're professionals and they're going to get the job done."
Matt Hennessy settling in at left guard
The rookie's transition to left guard appears to be going smoothly. Hennessy handled both his pass and run blocking duties well, opening up running lanes and identifying stunts and twists in time to protect the quarterback.
It's way too soon to give any indication about the way the competition at left guard is going, but Hennessy is at least showing what the Falcons saw in him during his days at Temple. He is a fluid blocker who also displayed a nice anchor while swallowing up a bull rush from Tyeler Davison. This is still truly a battle, and both Matt Gono and James Carpenter saw their fair share of reps at left guard on Tuesday, but Hennessy looks like he can hold his own in the NFL.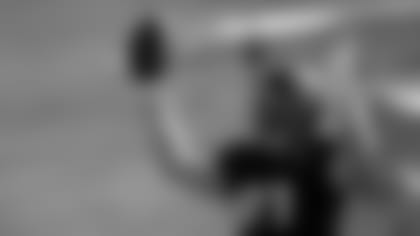 Hayden Hurst-Matt Ryan connection on display
New Falcons tight end Hayden Hurst took some time this offseason to work with Matt Ryan as often as possible, and that work already appears to be paying off. During a full-team period, Hurst broke free against the Falcons' zone defense and caught a well-placed ball from Ryan at the back of the end zone.
It was tough to tell whether or not Hurst actually came down in bounds, but the offense sure celebrated like he did. Prior to practice, Quinn noted Hurst's ability to excel at running seam routes, and that skill was apparent on the catch he made.
Hurst's athleticism has been a primary talking point for many of the offensive players thus far in 2020, and it's clear he will have a big role for the offense.
Falcons will have plenty of speed on defense
Upon arriving in Atlanta, Quinn explained his desire to field a "fast and physical" defense. At the very least, the Falcons should easily fulfill the first part of that desire. With players like Keanu Neal and Foye Oluokun moving back into key roles for the defense, and the presence of new players such as Deone Bucannon and Dennard, the Falcons have speed all over the place.
At linebacker, safety and corner, there is more than enough speed, quickness and versatility to counter some of the excellent offenses Atlanta will face this fall. The Falcons have the personnel to adjust to various offensive groupings and formations without needing to make multiple substitutions, and the comfort with which the unit operated was in full display on Tuesday.
Defenses usually look like the more impressive group early on in camp, but that's a positive sign for a unit that needs to take a big step forward this season.
Entering his second season, Chris Lindstrom was among the line leaders during the Falcons' stretching period before practice.
Versatility is not just a quality Atlanta's defense possesses. The Falcons' wide receivers are extremely interchangeable and can line up all over the place.
Ito Smith continues to display exceptional quickness while making cuts. Given the talents the Gurley and Brian Hill possess, Smith will be a nice change-of-pace player for the Falcons to throw at defenses.
Laquon Treadwell is a big, physical receiver. The Falcons have liked having multiple big receivers in the past with players like Roddy White and Mohamed Sanu. With Treadwell and Christian Blake on the roster, Atlanta still has that type of size.
Deadrin Senat had a potential sack late during practice. Players aren't allowed to hit the quarterback, but he was closing in fast before pulling away. It was a good sign for a player who was inactive for nearly all of the 2019 season.