When running through each rep at practice or a workout, Chris Lindstrom asks himself two questions: Is this decision making me a better football player? Is it helping make my team better?
The 23-year-old is serious about his approach to the game and his quest to bring a Lombardi Trophy to Atlanta. He also has an ambitious personal goal, too. 
"I want to try and be the best guard in the NFL, I want to try and be the best player that I can be," Lindstrom said. "We want to win a Super Bowl; we want to be a great team."
His intent combined with this physical skill set are the main reasons why the Falcons selected Lindstrom with the No. 14 overall pick in the 2019 NFL Draft out of Boston College. 
After allowing 42 sacks on Matt Ryan in the 2018 season, the Falcons were desperate to bring in players who could improve their offensive line. So much so that Atlanta's general manager, Thomas Dimitroff, traded back into the first round to select right tackle Kaleb McGary with the No. 31 overall pick. 
There was no question about the expectations for Lindstrom and McGary. Both were brought in to help shore up the right side of the offensive line right away. 
"Chris is a special football player for a lot of reasons," said Falcons' offensive line coach Chris Morgan. "His intent, demeanor and accountability to his teammates makes him special."
Lindstrom looked the part from the minute he arrived at the team's facility in Flowery Branch. He impressed his coaches and teammates in rookie minicamp and through training camp. He was named the starting right guard in early part of training camp. He started his first NFL game when the Falcons traveled to Minnesota to take on the Vikings and everything appeared to be going the right way. 
It wasn't long before the Falcons realized not only had they lost their first game of the season; they would also now be without Lindstrom for an undetermined amount of time. Lindstrom played 45 snaps before injuring his foot and missing the remainder of the game and was placed on the injured reserve list shortly after.
Although things were now going the furthest way from how Lindstrom imagined they would in his rookie season, his mentality never changed. It didn't matter if he was taking the field with his teammates or not. Lindstrom would prepare each week as if he was going to play. 
Lindstrom would write down his plan of attack starting with how he would handle his assignments. 
"The whole time I was injured I was preparing like I was playing a game every week," Lindstrom said. "I would write down notes [and say] 'OK, this is what I want to do against this guy.' I felt like mentally I was on it."
Morgan, who's been an offensive line coach in the NFL for 10 years, said it is "rare" for a player to stay that engaged and focused during the rehab process.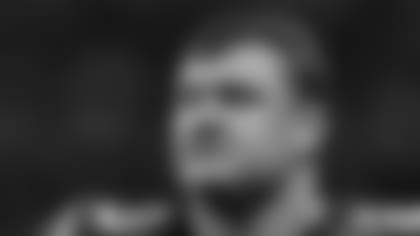 Lindstrom was able to return to action in early December and played the final four games of the season. The Falcons went 4-0 during that span. After starting the season 1-7, Atlanta finished the year with six wins to finish 7-9.
"He made a big difference," said NFL Network analyst Brian Baldinger. "I thought he played really well in the middle. I thought him and Kaleb finally getting a chance to play together [was important because] you could see the makings of a really good right side for the Falcons. I thought he brought a lot of toughness and tenacity to the position and they really needed it."
Although he wasn't able to play a full season, Lindstrom still found significant value in the games and practices he was able to participate in. Lindstrom and Falcons coach Dan Quinn think the reps he was able to get will help him immensely in the upcoming season. 
The Falcons need the best version of Lindstrom in the upcoming season, plain and simple. Atlanta's offensive line allowed a career-high 48 sacks on Matt Ryan and finished with the 30th-ranked rushing offense averaging 85.1 yards per game in 2019.
"You can't replicate live reps against great players like Grady [Jarrett] and the opponents we played against," Lindstrom said. "The work we were able to do last year really gave me the right mindset going into the offseason of what it supposed to look like. I think those reps I got at the end of last year were invaluable."
Given the limitations the COVID-19 pandemic brought in terms of the training NFL players would be able to get with no on-field work with his teammates, Lindstrom knew he had to get creative to ensure he would be ready.
Kynan Forney, who spent seven years with the Falcons playing right guard, reached out to Lindstrom asking if he wanted to train with him. Lindstrom and Forney began training at the end of June at DASH Performance in Lawrenceville, Ga. 
In just a few moments of working with Lindstrom after watching him play, Forney was even more impressed. 
"What jumps out to me is his aggression when you watch him on gamedays and playing," Forney said. "What I noticed in our training sessions is he's in incredible shape. There were times we were supposed to work for an hour and then we would look up and it's been two hours later. He's also one of those guys who brings the juice to the workout. Working with him made me want to come out of retirement just to come play with him."
Forney knows firsthand what it takes to be successful in the NFL at right guard and he thinks Lindstrom has all of necessary tools and more. The duo worked on improving Lindstrom's hand placement and footwork with the goal to become more "technically sound" all the way around. 
Lindstrom wasn't just committed to improving his game this offseason, he wanted to help his close friend and teammate, McGary. Atlanta's starting right guard asked McGary to join him for a week of training with Forney and he did.
Only time will tell how Lindstrom's quest for greatness will shake out but there's no denying the Falcons don't just have a talented player starting at right guard, they have someone who's capable of making the entire offense better.
"He's a leader and I can see why they love him up there," Forney said.
Foye Oluokun and the linebackers were hard at work on the eleventh day of AT&T Atlanta Falcons Training Camp. Here are the best images from the day.