Congrats. We've all officially made it to the point of the offseason that I have so lovingly dubbed: "Speculation Szn." 
Yes, draft prep has been happening for months now, but with less than a few weeks separating us from the start of the 2022 NFL Draft this is when everything shifts into a new gear as the first pick looms. The Falcons have the No. 8 overall pick in the draft. Soon, we will - of course - speculate about what they will do with said pick, but for this week's Question of the Week we discuss whether or not Atlanta should stay put at No. 8 or move around a bit. 
So, what do we think? Should the Falcons trade out of No. 8? Kris, Scott and I discuss.
Tori: For kicks and giggles I am going to captain the Trade Up Team. However, I want to be clear that this is not "up" in the sense of going higher than No. 8. I am talking trading up into the later picks of the first round. I do think the Falcons should hold onto No. 8, but with two extra picks in both the second and third rounds I think that draft capital is something teams would be willing to trade a first round pick for. 
If the Falcons package together their two second round picks, or a second and a third together, I think the argument could be made a team like Detroit wouldn't mind giving up their 32nd overall pick for those extra picks. Up until yesterday I was interested in knowing what package the Falcons would need to put together for the Eagles' third first-round pick at No. 19. However, the Saints had to go and grab those on Monday, giving up way more than what I think the Falcons should have (or would have) been willing to give up. I do also wonder what the Chiefs would want for one of their back-to-back picks at No. 29 and 30...
I think trading up into the end of the first round could be an intriguing option for the Falcons on the first night of the draft. They need impact players and they need them now with the way this roster is currently constructed. Two first round picks should provide that in an ideal scenario. This option opens the door for the Falcons to get the first rounder(s) they want that can fill a need now. They need edge rushers, receivers, offensive tackles… perhaps a cornerback? 
If the Falcons can grab two of the four in the first round I think I'd be OK with that.
Kris: The Falcons should stay put eight. In a top ten that is loaded with talent, I don't think the Falcons should pass up on getting a potential superstar at eight.
I don't see a scenario where the Falcons trade up in this draft unless it is for a quarterback like Malik Willis, who could still be on the board at eight. Typically moving up for a player outside of a quarterback would mean that a team is potentially that position away from being a contender. The Falcons are not there, so giving up future draft capital for a player that's not a quarterback doesn't seem likely to me.
There are many ways the first round could shake out, and to me, the Falcons' biggest needs are in the trenches, so having an edge rusher fall to them or one of the talented offensive tackles would be ideal at eight. There is, of course, the possibility that the top four edge rushers (Aidan Hutchinson, Kayvon Thibodeaux, Travon Walker, and Jermaine Johnson are gone) and offensive tackles (Evan Neal, Ikem Ekwonu, Charles Cross) are off the board.
In that scenario, Cincinnati cornerback Ahamad "Sauce" Gardner, whose evaluators project will be a lockdown corner, would fall into the Falcons' lap. Not to mention the many other electric talents the Falcons could get there like Kyle Hamilton, Garrett Wilson, and others.
Ultimately, I think the Falcons should stay at eight and get a potential superstar to continue to move their "transition" period forward.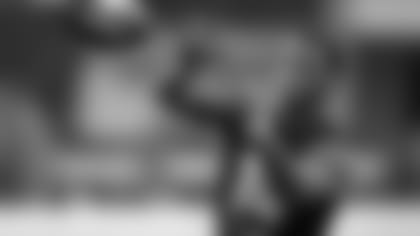 Scott: We could see a run on edge rushers and offensive tackles before the Falcons are on the clock. Sauce Gardner could well be gone, now projecting to be a top 5ish pick.
That doesn't leave the Falcons with scraps at No. 8 overall, but it creates a scenario where trading down is a possibility. I'm not of the opinion that they would (or should) take a quarterback in the top 10 this year, but bluffing hard enough could help teams trade just above them – the New York Giants need a lot and could trade out of No. 7 while taking a player at No. 5, or vice versa – pushing a team to jump up and take a quarterback and therefore push a top prospect down to 8.
No matter what happens above them, it sure seems like the Seahawks could be in the quarterback market at No. 9. Having a team jump above them for a quarterback would produce a windfall the Falcons need while trying to add talent in bulk.
Here comes the hot take portion of my answer. They should try and take future draft capital over present. Sure, swap first-round picks so the Falcons still have a presence in the top 32. Then take everything else from 2023 stock to load up for what could be a big move up the board to grab one of several top-tier members of that quarterback draft class.
They would be able to add a solid player in the middle-ish part of the first round – Jermaine Johnson (maybe) or Trent McDuffie or Andrew Booth or Chris Olave – and flesh out the draft class with two picks each in the second and third rounds. Whatever else the Falcons get, likely a first-rounder in 2023, would help them make a big push for a top quarterback or prospect next year. Or, if they're already in position for a top QB based on their 2022 record, then two first-round talents are coming the Falcons' way in 2023. 2022 Season Tickets Now Available!
Our Longest & Most Flexible Ticket Payments
Instant Member Benefit Access
Best Available Seat Locations