Editor's note: This is the first of 13 scouting reports on the Falcons' 2018 opponents.
Over the next three weeks I'm going to take a closer look at each one of the Falcons' 13 opponents this season, with the final three scouting reports focusing on their NFC South rivals. Atlanta's 2018 schedule is comprised of four NFC East and four AFC North opponents, games against the Green Bay Packers and Arizona Cardinals as well as their aforementioned division rivals.
There's no question that the Falcons will be tested early, not to mention the prime-time opener on the road in Philly against the defending Super Bowl champs. While three of Atlanta's next four games are at home, three of them will be against playoff teams from a year ago – the Panthers, Saints and Steelers – along with a Week 4 home game against the Bengals on Sept. 30. That's brutal, and we'll find out a lot about this team by the time October rolls around.
Here are the Falcons' first five games:
Thurs., Sept. 6 at Philadelphia, 8:15 pm ET
Sun., Sept. 16 vs. Carolina, 1 pm ET
Sun., Sept. 23 vs. New Orleans, 1 pm ET
Sun., Sept. 30 vs. Cincinnati, 1 pm ET
Sun., Oct. 10 at Pittsburgh, 1 pm ET
So, let's start taking a closer look at each one of Atlanta's 2018 opponents, beginning with the aforementioned nationally televised NFL Kickoff game in the City of Brotherly Love.
2018 opponents series order:
Week 1 at Philadelphia Eagles
Week 11 vs. Dallas Cowboys
Week 13 vs. Baltimore Ravens
Week 14 at Green Bay Packers
Week 15 vs. Arizona Cardinals
Weeks 2 and 16 – Carolina Panthers
Weeks 3 and 12 – New Orleans Saints
Weeks 6 and 17 – Tampa Bay Buccaneers
Opponent: Philadelphia Eagles
2017 regular-season record: 13-3
All-time series record vs. Falcons: Eagles lead, 19-14-1 (16-13-1 regular season, 3-1 postseason)
Last meeting: Eagles won 15-10 on Jan. 13, 2018, in Philadelphia
When they play in 2018: Thursday, Sept. 6, in Philadelphia (at Lincoln Financial Field)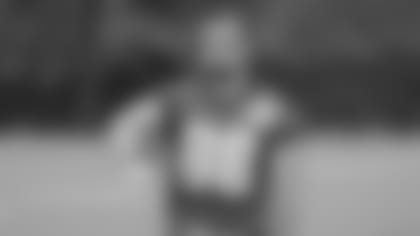 Notable draft pick: Tight end Dallas Goedert. The Eagles traded out of the first round and then traded up from No. 52 to No. 49 overall to snag tight end Dallas Goedert (pictured above) out of South Dakota State in the second round. The Eagles' leading receiver last year was also a tight end, Zach Ertz, who led Philly with the 74 catches for 824 yards and eight scores. Adding Goedert to the mix – which also includes receivers Alshon Jeffery and newcomer Mike Wallace – is intriguing. Goedert will replace Trey Burton, who signed with the Bears in free agency, and give the Eagles' offense another dynamic option in the passing game. He's got great size (6-foot-5, 255 pounds), is a decent route-runner and should be a nice red-zone target for Carson Wentz (or Nick Foles).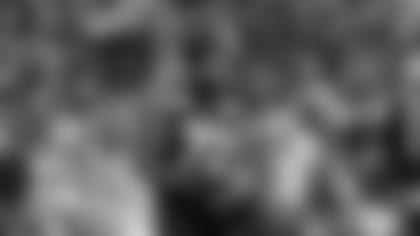 Best free-agent or offseason acquisition: Defensive end Michael Bennett. The Eagles made several offseason moves, but I'm going to go with Bennett, who the defending Super Bowl champs acquired via a trade with the Seahawks. Bennett (pictured above) is entering his 10th year in the league, started all 16 games for the Seahawks in 2017 and racked up 8.5 sacks in the process. The Eagles will throw Bennett into a pass-rushing combination that will include Fletcher Cox, Derek Barnett and Brandon Graham. Yikes. Adding Bennett also offsets the loss of Vinny Curry, who signed with the Tampa Bay Buccaneers during free agency.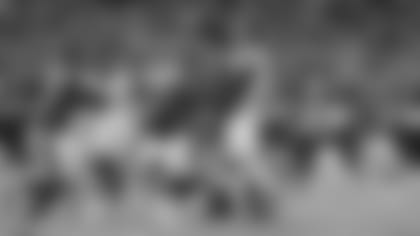 Toughest matchup: Falcons' offensive line vs. Eagles' defensive front. As I mentioned above, the Eagles' defensive front is no joke. As good as quarterback Carson Wentz played throughout the season prior to his injury – he was making an awful strong case to be the league MVP – the Eagles' defense is the heart and soul of this team. Philadelphia was fourth in yards allowed per game (306.5) and fourth in total points allowed (295). With Bennett in the fold, one could argue that the Eagles should be even stingier in 2018. When the Falcons lost to the Eagles in the divisional round of the playoffs back in January, Atlanta was held to 86 yards rushing on 20 attempts, while Matt Ryan (pictured above) was 22 of 36 passing for 210 yards and one touchdown. Ryan was also sacked three times. Atlanta will have to establish its ground game, keep Ryan off his backside and connect on some shots downfield if it wants to have a different outcome on Sept. 6.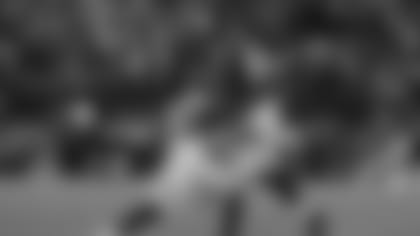 Most favorable matchup: Falcons' secondary vs. Eagles' receivers. While it's tempting to pick the Falcons' receiving corps in so many of these matchups, I'm going to flip it around and pick the Falcons' secondary vs. Philly's receivers for this one, regardless of if Nick Foles or Carson Wentz is behind center. The Eagles will most likely pit Alshon Jeffery, Mike Wallace and Nelson Agholor against Desmond Trufant, Robert Alford (pictured above) and Brian Poole – and the Falcons have Keanu Neal and Ricardo Allen patrolling on the back end. I also like the Falcons' depth, which includes safety Damontae Kazee and rookie corner Isaiah Oliver. Yes, the Falcons will have to figure out how they're going to deal with Zach Ertz and Dallas Goedert in the middle of the field – as well as that hard-nosed Philly running game – but I like how the Falcons stack up.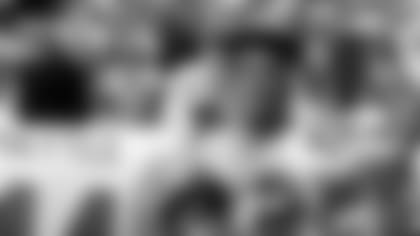 Unsung storyline: Let's face it, the Falcons haven't experienced a ton of success in Philadelphia over the years. The last time Atlanta won there was on Oct. 28, 2012. But prior to that 30-17 victory, the last time any Falcons team had won in Philly was nearly 30 years ago – a 27-24 win back on Oct. 30, 1988. Chris Miller (pictured above) tossed three touchdown passes and John Settle (pictured above) also rushed for 51 yards on 15 carries, while the Falcons' defense sacked Randall Cunningham three times and picked him off twice in that one. Still, Atlanta is 2-8 in its last 10 games in the City of Brotherly Love.