FLOWERY BRANCH, Ga. -- If there's anyone who understands the ins and outs of the NFL rulebook, it's Rich McKay.
The Falcons team president has served on the NFL's competition committee for more than two decades and, in 2011, he was named chairman of the committee. And just in case you're not sure who's on the committee and what they do – it's comprised of NFL head coaches and league executives who study the game and recommend rule changes and modifications to ensure player safety while promoting competitiveness.
That committee approved rule changes for the 2017 season in the spring, and one that grabbed a lot of headlines was the celebration rules being relaxed. In short, the NFL is allowing players to have a little more fun.
McKay said it was time and that the rule "got a little tortured – and so we're going to dial it back a bit."
"I think that over time the rule as it was originally written way back when had a lot of gray in it – and the players took advantage of that gray," McKay said. "I think as a committee we probably overreacted a little bit to that through the years.
"When players did things that were beyond the bounds what we thought we appropriate, rules were put in place. And those rules were very black and white, but they took away a lot of discretion."
McKay said an example of that overreaction is a simple back flip.
"So the idea that you could no longer go to the ground to celebrate in any way, shape or form – but what that really meant when you literally read the rule as it was written was that if you ran into the end zone and did a back flip and landed on your feet, no penalty," he said.
An acceptable flip, because he stuck it (twice!):
"But if you ran into the end zone, did a back flip and didn't complete it, penalty – going to the ground."
An unacceptable flip, because the player went to the ground:
"Now there's no question that this year and next year there will be some celebrations that were unanticipated, but I think that fans want to see an expression," McKay said. "They want to see the players have some fun and so I think it's a good change. I think it will require education during the year of what is acceptable and what isn't."
How out of hand was getting in? According to this *Sporting News* report, there were 30 celebratory acts flagged in 2016, compared to just 34 total from the three previous seasons (2013-2015).
And who can forget the snow angel controversey in Week 13?
But, in the loop below, Randall Cobb was not flagged for his creative snow designs.
With the ball being fair game to be used as a prop, expect players to push the limits of what's deemed acceptable. When asked if he'd seen the recent viral video of an indoor football player pooping the football (below), McKay said he had not.
But McKay did point out that it's been done before.
"A receiver in our game birthed a baby and that's what probably led to the banning to the ball as a prop," he said.
And, if you're a player, don't plan on getting away with dunking the ball over the goal posts, either. McKay recalled a game in Atlanta once when the goal posts were knocked loose and the game was "stopped for 20 minutes" following a dunk (see below) -- and no one wants that. 
"We have the language in there that says it's offensive – if it's sexually suggestive, if it's a threatening or dangerous act – it is a penalty. If the officials didn't call it that week, I'm sure it will show up on the tape the next week saying this is not allowed."
Josh Norman's "bow and arrow" celebration (below) will still likely draw a penalty.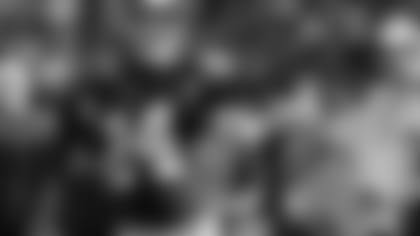 And what if it's a "prolonged act," like Ezekiel Elliott's leap into the Salvation Army red kettle?
It'll likely be a judgment call by the officials because, as of now, there is no set time limit on how long such celebrations can continue. But with the NFL placing an emphasis on speeding up the pace of games, it could be an issue at times. Worth noting: the 40-second play clock will begin once a touchdown is signaled and teams will have to snap the ball for their extra-point play by the end of the clock.
So the celebration rule will likely continue to be a moving target and you can expect some controversy in 2017, just not nearly as much gray.
McKay also weighed in other some of the other rule changes for 2017.
On teams now being allowed to bring back two players from injured reserve
McKay said the league made a good rule even more effective.
"Historically, we created a system back in '92, '93 that a 53-man roster that has 46 players you can dress on game day. People often say, 'Why can't those seven dress?' Because that's where the injured players are supposed to be. In other words, there was a historical study done that said on average teams have about seven players that can't play on game day. One place to put the players is here so you can decide this week, you know we're not going to have this player play – he's got a hamstring, he'll play next week. It's kind of a working roster, if you will.
"What's happened over time is that we have felt like people have put players on injured reserve that could've made it back, and they could've played, been productive and helped teams. And we have not allowed any flexibility. So a couple of years ago, we allowed one player to return – we called him 'designated to return' – we modified the rule last year to say listen, 'You don't have to designate him when you put him on the injured reserve, you can designate him when he's ready to come back.' That was a really good change for us, I think you got much better results.
"Then we decided it's a pretty effective tool, so why not give teams two of those. So that's what we've done."
McKay said this is great news for teams on the cusp of a playoff berth or heading into the postseason, but there's a catch.
"That's really beneficial, yes," McKay said. "Now, they're going to have to have met the criteria. The player has to go on injured reserve after the final 53 cut. OK, so you can't hide players. And then the eight weeks is required, but you can begin to practice after six. If you meet those requirements, you get two of those."
On having just one roster cut-down day, from 90 to 53
McKay said he's been for one cut-down day "for a number of years," but the main reason he likes it is because it will improve the quality of play in preseason games, specifically Game 4 or the final game for most teams.
"I think the problem with Game 4 is that teams tend to rest and protect from injury anywhere from 25 to 35 players. When you do that, you just didn't have enough players available on the roster and you only end up with 35 you were going to play. So I think what happened in the quality of those four games was you looked at the second half and you didn't see any passing going on, you didn't see any true football. You saw people that were just trying to get the clocked run out.
"I think adding these players will add to the quality of these games. You will have more players that can participate in the game, and therefore you can be a little fresher into the fourth quarter."
On the shortened overtime period from 15 minutes to 10
"So it was a proposal of our committee – it was strictly 100 percent based on player safety," McKay said. "We do these every once and a while on player safety and people will say to us, 'Could this impact the quality of the game? Could this lead to more ties?' There's a lot of 'coulds' and the bottom line is player safety is going to trump when it comes to rule changes.
"In our case we don't think this necessarily leads to more ties."
The goal, McKay said, was cutting down on the number of snaps for players. He said there were just too many plays in 15-minutes overtimes that could also be followed by a game four days later (if a team is scheduled to play a Thursday night game).
"That is where we got uncomfortable with 15-minutes overtimes," McKay said.
McKay recalled a game last season when the Falcons played the Buccaneers in Tampa on Nov. 3, who were coming off a 30-24 overtime loss to the Raiders just four days earlier. 
"They came off a overtime game that went 15 minutes," McKay said. "And I would say that when we played them, they were tired and it showed."