Welcome to Straight from the 'Beek! The NFL Draft is less than two weeks away and you've got plenty of questions. So, let's get right to them, shall we? Just remember, all opinions here are mine unless noted otherwise.
Marcus from Wildeshausen, Germany
Hi, Beek. First of all, I want to thank you for taking the time to answer the many questions you get every day. I can imagine that especially in the time of free agency and draft, many questions come to you. Here is my question. What do you think of Equanimeous St. Brown of Notre Dame? Would he possibly be an option as our No. 3 receiver if we could get him with one of our later picks? Or would he not fit in our scheme so well? As a German, I would like to see a player with German roots at the Falcons.
Matt: There's a lot to like about Equanimeous St. Brown, specifically his 6-foot-5, 214-pound frame and his speed – he ran the 40-yard dash in 4.48 seconds. That's moving for a player his size. And you're right about the German connections – his mother is from Germany. But he did live in France and studied in a French school while living in California, for whatever that's worth. His father is John Brown, by the way, the two-time Mr. Universe and three-time Mr. World as a weightlifter. The only knock on him from what I've read is that he's not as competitive as some scouts would like – and, if you've been reading Straight from the 'Beek at all this past year or read any of the Falcons scouts profiles (see below), you'd know that competitiveness and toughness are extremely important qualities to the Falcons.
That all said, I believe the Falcons will address receiver in the NFL Draft, which takes place in Arlington, Texas, on April 26-28 this year. And I think Atlanta could pick one as early as Day 2, depending on how things shake out in the first round and early part of the second round. St. Brown will certainly garner lots of attention, but I think a player like D.J. Moore, who's more comparable to Stefon Diggs but a tad bigger, would be more attractive because he's more elusive, quicker and excels in the short-to-intermediate passing game. Watch Moore in this GIF below turn a short pass against Nebraska into a 92-yard touchdown (trust me, he jogs into the end zone).
---
Longtime Falcon fan from the days of Steve Bartkowski and William Andrews. I know a lot of Falcons fans are concerned that they haven't made many moves in free agency, but I feel like the moves they have made have been good ones. I feel like with the draft coming the Falcons can find players to replace Dontari Poe, Adrian Clayborn and maybe even Taylor Gabriel. My question is, do you see ownership wanting to make a splash in the draft and maybe move up? Or should they play their cards close to the vest and build up capital in the later rounds?
Matt: Thanks for the question, Jamie. I think general manager Thomas Dimitroff and his scouts have identified team needs and they won't waste any time addressing them in the draft. The Falcons view free agency and the draft as one process – whatever they don't address in free agency, they'll usually do so in the draft. And that depends on where the value is, too, Jamie. But they've identified players they like and they'll get them if they're available. Hope that makes sense. I dropped in a photo (below) of the great William Andrews and Steve Bartkowski for you, Jamie.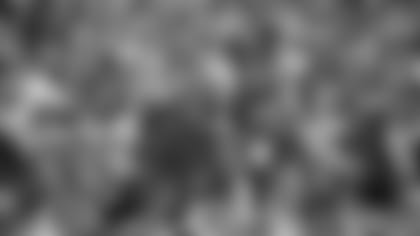 (AP photo by Vernon Biever)
---
Britney from Milledgeville, GA
Hey Beek, what do you think about letting Matt Ryan play out this year's contract, then franchise him for the following two years? We would be able to keep him for three years with really no risk.
Matt: I really don't like that option at all, Britney, for a number of reasons. By doing that, you're essentially drawing a line in the sand as to when the best quarterback in franchise history – who is still playing at an elite level, by the way – will finish his career here. Why would you do that? You should know that it will be very expensive, too. If the Falcons use the franchise tag, they would have to pay Ryan no less than the average of the five highest salaries at quarterback, or 120 percent of the player's cap number from the previous season, whichever is greater. To tag Ryan two straight years, the Falcons would have to pay 120 percent of Ryan's previous salary. If it's three-straight years, the Falcons would have to pay 144 percent of his previous salary. That would be a huge number. Another reason I don't like it? It will force the Falcons to immediately implement a succession plan at quarterback, and possibly alter this year's draft plans. They'd likely have to draft a quarterback – and that's if there's one they like – good ones are very hard to find. Look, it's not happening. The Falcons believe Ryan can play into his 40's – he takes very good care of himself and, like I said, he's playing at a very high level still. Ryan is a leader on this team and is beloved by fans and this organization – and the Falcons will do right by him and give themselves some flexibility at the same time.
---
Jerry from Statesboro, GA
Hey, Beek!! Couple of questions today. First question: Will you be at the draft block party? It will be a perfect time for all the Beekers to do a meet and greet. Next question: Is there a chance we take any other position in the first round besides OL and DL/OLB? Last question. Do you feel like the pressure will break us this year, because of the high expectations and newfound consistent winning culture? P.S. General order: All true Beekers must attend the draft block party!
Matt: Hey there, Jerry. Unfortunately, I will not be at the draft block party – it's an event exclusive to PSL owners. I will be covering the draft instead here at Flowery Branch. To answer you draft question, yes, the Falcons could address a number of positions in the first round. While I think they'll likely go after a defensive tackle there, it would not surprise me to see them take a receiver there, either. And as far as your last question and/or remark goes, I think high expectations are a good thing. Expecting to win is a good thing, not a bad thing. And a winning culture is most definitely a good thing, Jerry. What's the alternative? A culture with low or no expectations? That's a recipe for losing, in my opinion.
---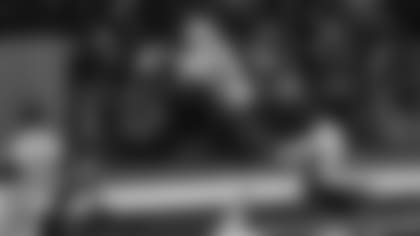 (AP photo by David Clements/Sipa USA)
What do you think about a straight-up trade, Tevin Coleman for Rob Gronkowski?
---
Hey first time questioning, long time reading from Missouri. My story is long on how I became a Falcons fan, but it started when Matt Ryan was drafted. I'm excited for this upcoming year. I really expected the Falcons to address receiver in free agency with a guy like Paul Richardson. I like Justin Hardy, but I realize he doesn't really fit a No. 3 role. The Falcons are reported to be after a deep threat. First, who would you speculate them to be looking at in the draft? Second, do you think Steve Sarkisian can improve on using a deep threat a little more effectively than putting the smallest man out there in the middle of traffic on passes or end-arounds on the goal line, like what happened with Taylor Gabriel? Thanks for reading. I really appreciate answering everyone's questions.
Matt: Hey, Kevin. Glad you're enjoying Straight from the 'Beek and thanks for the first question! Yes, I think you're spot-on with your assessment regarding receiver – I think the Falcons will target one in the NFL Draft. I also think the free-agent market was pricey when it came to the good ones out there. They guy you mentioned, Paul Richardson, signed a five-year, $40-million deal with the Redskins. As I noted above, the Falcons look at free agency and the draft as one process in player acquisition, and let the best value dictate their decision-making. I think they'd like to add a fast, competitive, tough receiver who can make the tough catches and take some of the pressure off Julio Jones and Mohamed Sanu. My personal favorite is D.J. Moore, but he may be gone by the time the Falcons pick a receiver. Overall, I think the Falcons defense could be even better this year than it was last year, Kevin. But let's see what happens in the draft first.
---
Beezy from College Park, GA
Hey Beek. Quick question. When are they going to bring back the dirty bird end zone celebration? I remember in '98 when they went to the Super Bowl and my elementary school shut everything down and we went to the gym, played music and did the dirty bird all day. Tell that boy Julio Jones to crank that this year.
Matt: The Dirty Bird was cool, for sure. But when it comes to end zone celebrations, I kind of like what the Falcons have done recently, Beezy. This one might be my favorite: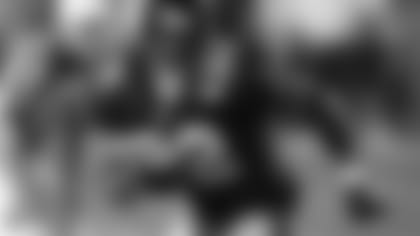 Michael from Sandy Springs, GA
Who are the top five most iconic Falcons players of the last 20 years, in your opinion? Here are my votes:
Michael Vick (controversial but undeniably an icon)
Deion Sanders (His charisma at the CB position changed the game)
Matt Ryan (best QB in franchise history)
Julio Jones (best WR in franchise history)
Roddy White (one of the greatest Falcons in franchise history)
Matt: That's a pretty good list, Michael. I mean, I could see making a case for Jamal Anderson being on that list, but it would be tough taking Roddy White off it. And I'm letting Deion Sanders slide here because he retired from the NFL in 2005.