Welcome to Straight from the 'Beek! The NFL Draft is just 17 days away, the 2018 schedule release is likely even closer, and you've got plenty of questions about the Falcons. So, let's get right to them. Just remember, all opinions here are mine unless noted otherwise.
First off, thank you for keeping us fans updated all throughout the offseason. It gives some respite with the lack of football games right now. I've seen posts on other social media saying that UGA RB Nick Chubb has been spending a lot of time with the Falcons the past week or so. What are the chances we get to draft a great RB from right here at home? On that same note, could he, or any RB drafted replace Freeman or Coleman?
Matt: Glad you're enjoying Straight from the 'Beek, Ronny! Don't read too much into Chubb's visit with the Falcons. For what it's worth, he also reportedly met with the Buccaneers and Panthers, to name at least a couple of other teams. Teams are going to do their homework on players, especially ones that were as productive as Chubb was in college. I think there's a good chance the Falcons will draft a running back, much like they did last year when they selected Brian Hill out of Wyoming in the fifth round. I think the Falcons could use some depth there behind Freeman and Coleman, but hardly a replacement for either.
---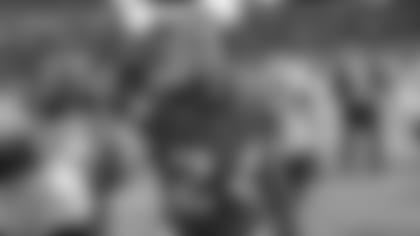 I know that we play the Eagles next season. Since we were really the only team to take them to the wire in the playoffs, what are the odds the NFL schedules us for a rematch with them in Week 1 to start the season?
Matt: I'd love to see that, Nick! And I'm sure Falcons fans would, too. Playing in Philly is never easy, but I do think playing in September would have to be better than November or December. However, SportsRadio 94 WIP's Howard Eskin tweeted that when the schedule is released, the Eagles will host the Vikings to open the season on Thursday, Sept. 6. Regardless, we will have the very latest on the Falcons' 2018 schedule and be releasing it on our Falcons app as soon as we receive the information. And if you don't have the latest version of the Falcons app (or have it at all – and shame on you, if that's the case), you really should download it as soon as possible, Beekers. In fact, all of you should do me a solid and go there now. Here's the links for iPhone and Android. You're welcome! 
---
Tim from Milledgeville, GA
Hey, Beek. I have a question concerning Julio Jones. Do you believe Julio has lost a step and we should look at drafting a replacement?
Matt: Hey, Tim. No, not at all. If you remember, Jones missed the entire offseason last year and was limited during training camp because he was still recovering from foot surgery. That won't be the case this year. Regarding the draft, I wouldn't be surprised at all to see the Falcons add a receiver, but mainly to push for playing time at the No. 3 spot. Plus, they could use a playmaker in the return game, especially with Andre Roberts signing with the New York Jets during free agency.
---
Super excited about the hiring of Travis Jones! He actually held the same position in 2005 when Dan Quinn was defensive line coach for the Miami Dolphins. An assistant defensive line coach may be overlooked by some but clearly he was a big asset for Dan in Miami and should be for Atlanta now. My question is there any intriguing defensive lineman who would be a nice sleeper pick that we could use on one of our late-round picks?
Matt: In case some fans missed it, the Falcons announced the hiring of a pair of coaches Monday – defensive line coach Travis Jones and defensive quality control assistant Aden Durde. Regarding your question, John, I'm going to refrain from making any late-round draft predictions, but I do believe that defensive line is one of the deeper positions in this draft class. There's a lot of talent there. I do think the Falcons will address the position early, too. 
---
Tim from Leinefelde, Germany
Hello, Beek. Which player do you want the Falcons to draft in the first round? My player would be Maurice Hurst. Will Jalen Collins play in the future for the Falcons? I do not know much about this.
Matt: Hey, Tim. I'm not rooting for a specific player to be picked if that's what you mean. In my latest mock draft, I have the Falcons picking Maurice Hurst out of Michigan because I think that's a position of need for Atlanta and this draft class is stacked at defensive tackle. Look, I don't know all of the prospects nearly as well as the Falcons scouts do, and I know those guys do their homework on everyone. You just never know how the draft will play out, especially if teams start moving around and making trades. I'm keeping an open mind, Tim, and nothing would surprise me. Regarding Jalen Collins, I think it's safe to say that ship has sailed. The Falcons waived Collins, a former second-round pick, following a 10-game suspension for violating the NFL policy on performance enhancing substances. And on Monday, Collins was suspended without pay for the first 10 games of the 2018 season.