We're a day away from the release of the 2018 regular-season schedule and a little more than a week away from the NFL Draft. You've got plenty of questions about those events and here are your answers – Straight from the 'Beek! Just remember, all opinions here are mine unless noted otherwise.
Let's get this thing going.
I think all of us will be completely shocked with whom our Falcons end up drafting in the first two or three rounds. Since coach Dan Quinn has joined forces with general manager Thomas Dimitroff, they have been unorthodox in their drafting but have looked like geniuses. I think we will see our team add a weapon to the offense sooner than expected. What do you think?
Matt: I think if things shake out a certain way in the first round, I could see the Falcons going in a number of different directions with those first three picks, Joe. And based on Dimitroff's history of moving around in the draft, it would not surprise me in the least. I think the safe bet right now is that they'll address defensive tackle and receiver early in this draft, and possibly a defensive back and running later on.
---
Jerry from Statesboro, GA
Hey Beek. We signed two defensive tackles yesterday. That's makes me think something is brewing for the draft. Right now, we either see a WR or OL that we really like who will be there when we pick. Or we plan on trading up or down. I feel this way because we needed to address the trenches on both sides of the ball and we've done that. What do you think? P.S., I haven't discussed this with Dan Quinn or Thomas Dimitroff. At least not yet.
Matt: Hey, Jerry. In case some of you missed it, the Falcons signed three players on Tuesday – defensive back Tyson Graham and defensive tackles Garrison Smith and Justin Zimmer. I think all three of those players will come in, compete and add depth as the team heads into training camp. Look, anything can happen in the draft and I think depth at certain positions allows teams to be somewhat flexible when it comes to the draft. While I'm not privy to the Falcons' draft board, I think it's safe to say they've identified the players they really like and believe in their scouting process. I know Dimitroff has said repeatedly that what the Falcons do in free agency affects what the team does in the draft (and vice versa), but I wouldn't look too much into Tuesday's signings, Jerry. That said, it's worth looking back at what the Falcons have done since free agency started and revisiting a question I asked back in March:
---
Hello, Matt. Every time someone criticizes Matt Ryan you claim he's still playing at an "elite level." Fine, but if he doesn't win us a Super Bowl, you will be eating your words and proven wrong. As a longtime Falcons fan, I hope you win this argument.
Matt: While I don't think there's much of an argument here – I think Ryan is an elite quarterback and has the numbers to back it up – I hope he wins a Super Bowl, too. And so do legions of Falcons fans everywhere.
---
Why is everyone overlooking WR Reggie Davis and DB Quincey Mauger? Both have good size and great speed. Somebody needs to watch their highlight reels.
Matt: Hey, John. I think there are a number of players on this roster that get overlooked sometimes. Some of that, though, is because they just don't see a lot of playing time, John. Keep reading here come training camp because that's when we talk about a lot of guys battling for playing time and rosters spots.
---
Hey Beek!!! The draft is right around the corner!!! Are you excited?? I am lol ... You may not remember but I suggested Isaiah Wynn a while back for our first-round pick. Then we went out and got Brandon Fusco. So, naturally, we should pick a defensive tackle first? That makes perfect sense, but I think we should go with the best player available philosophy. I believe Taven Bryan will be available, but I don't think he's a first-round pick. His 5.5 sacks and 10 tackles for a loss in three seasons? Those aren't first-round numbers in my opinion. Sure, he had a great combine but so did a lot of first-round busts. If Da'Ron Payne from 'Bama isn't there or Maurice Hurst from Michigan, I say we trade down or go with my original choice, Wynn. What do you think?
Matt: Like I've said a number of times, I think the Falcons could go a number of different directions with that first pick. But as of right now, the safe bet in my opinion is defensive tackle. There's a void there with Dontari Poe's departure and I think there's some depth at that spot in this draft class. I really like Maurice Hurst, Da'Ron Payne, Vita Vea and Taven Bryan – in that order. As far as we know, Hurst has been cleared medically. We'll find out soon enough, Mel. Thanks for writing in.
---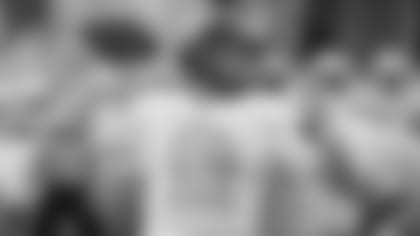 I know we are in the middle of a waiting game on what could be Matt Ryan's last contract, but what about a young and unheralded QB to groom under him? We have Matt Schaub as his backup but think it might be time for a third QB. I was wondering what you think about Alex McGough from Florida International as a late round sixth or seventh?
Matt: After spending time with all of the Falcons scouts, I can tell you without a doubt that they do their homework on every prospect at every position. Will they spend a draft pick on a quarterback? I honestly don't have answer to that one, Robert. As far as McGough goes, I can tell you that he's got decent size and has been extremely productive at FIU. He's passed for 9,091 career yards, 65 touchdowns with 37 interceptions and rushed for 536 yards and 16 touchdowns.
---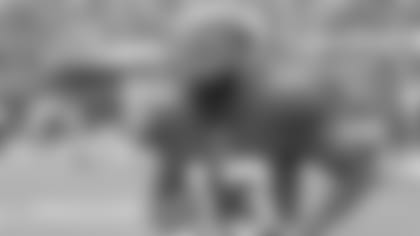 Could Odell Beckham Jr. be a Dirty Bird?
Matt: I just don't see it happening, Isaiah. He's entering the final year of his current deal – so he is under contract with the Giants – and there are reports that he's seeking at least $20 million per year on his new contract. So there's that. Plus, there's all the off-field drama that comes along with Beckham – something that has rubbed his current team's owner the wrong way at times.
---
Hi, Beek. Thanks for keeping us up on all the Falcons news. I have been a Falcons fan for years and really would like to see them win it all. I love Matt Ryan, but with all the money the Falcons are about to lay down on his contract would it be wise to use his current value to get some really big pieces in the draft? I'm sure one of the quarterback-needy teams would pay big for him. Maybe we could trade him to the Browns for their top two picks and get a young QB like Baker Mayfield and Vita Vea or Bradley Chubb. QB is an important position, but teams have won it all before without an elite one.
Matt: In my opinion, there's no chance of that happening, Lewis. Matt Ryan is the best quarterback in franchise history and still playing at an elite level. You don't trade that away for a total unknown entity at the most important position on the team.