Welcome to Straight from the 'Beek! We're days away from the official start of NFL free agency - and you've got plenty of questions. So, let's get to them. Just remember, all opinions you see in this space are mine, unless otherwise noted.
Hey, Matt! Seems all the draft and free agency possibilities have the fans excited about the player possibilities! One thing that few seem to realize is the importance of chemistry. Coach Dan Quinn and the staff have worked hard to create the brotherhood of Falcons that could be at risk with certain player personalities, so it's more than raw talent. The Brooks Reed and Andy Levitre situations make me realize the tremendous amount of work that goes into managing an NFL roster, and that makes the Matt Ryan deal extremely important not just for getting him secured but from a cap management standpoint. That being said, what do you think are the probability of working out deals with our top free agents (Taylor Gabriel, Dontari Poe, Adrian Clayborn)?
Matt: Great point, Charles, and good question. The Falcons invest a lot of resources in getting to know prospects - what makes them tick, so to speak - to determine whether or not they're a fit here. And you're right, it goes beyond talent. A certain player might have definite first-round value, but that does not mean he's a fit here in Atlanta with this team. And no team can afford to miss when it comes to those first-round selections. There's too much at stake. That's also why continuity in your program is important - and keeping players like Reed and Levitre are important. It's not only what they bring to the field, but what they bring to the locker room. You make another good point about managing the roster. So many fans want make this move or that move, but give little thought to the salary cap and the implications - not just the cap number, but other players. To answer your question, Falcons general manager Thomas Dimitroff has already stated that he expects Poe to sign a lucrative deal and play elsewhere. He also stated that he expects Gabriel to hit the open market, but that doesn't mean he couldn't re-sign with the Falcons down the road. And we'll find out more about Clayborn once free agency starts and see what the market is like. I do think there's a chance he could be back in Atlanta, but time will tell. Thanks for writing in, Charles.
---
Tristan from Hollister, CA
Hey, Matt. Do you think it is a possibility to acquire Allen Robinson? If the Falcons pick him up, then they only have to worry about drafting defense and offensive lineman. Also, I believe in Austin Hooper and I think he is a great player that is improving every day, but if/when Levine Toilolo leaves we will need a backup. Who do you want think is the best to fill that spot? Luv ya.
Matt: Hey, Tristan. Ha! Right back at ya. I'll be really honest here and say no on Robinson. There aren't a ton of big names hitting free agency this year, but I think Robinson will end up being one of the most sought-after receivers this year and because of that, he could be too expensive for a lot of teams. And if receiver isn't a major need, teams aren't going to back the Brinks truck up, so to speak. I agree with you on Hooper - I've said it all along here in this space - and, yes, the Falcons will add depth at that position, either through the draft or signing a free agent.
---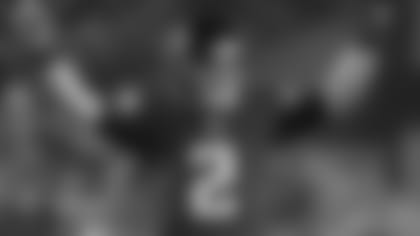 Is there any chance the Falcons go after a QB in the draft? Matt Ryan is getting older.
Matt: Hey, Anthony. Well, yes, there's always a chance, but in my opinion, I don't think it's likely. Not this year. But if a player the Falcons really like slides, who knows. All bets are off at that point. But back to Ryan for a minute - he's got a lot of football left in him and he's playing at an elite level still. Plus, he takes good care of himself. So I wouldn't worry too much about No. 2, Anthony.
---
What do the Falcons plan to do if Dontari Poe is gone in free agency? Do you think they are targeting a defensive lineman in the draft?
Matt: I definitely think the Falcons are looking at interior linemen prospects, Joel. It'll all depend on what they do in free agency, but they could be a major priority come April 26 when the NFL Draft begins in Arlington, Texas. In fact, in my first mock draft (prior to the Michael Bennett reports), I have the Falcons addressing the position with their first pick.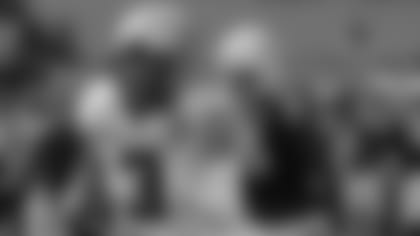 Hey Beek, recently saw a mock draft with safety Jessie Bates from Wake Forest going to the Falcons. I'm not familiar with him, what can you tell us.
Matt: Hey, Kevin. Which mock draft was that? And they had Bates going to the Falcons at the 26 spot? Wow, he's a very good player but that seems kind of high for him. I'm thinking more Day 2 for Bates, who's got decent size - he's 6-foot-2 and 195 pounds - and was an honorable mention All-ACC pick last season. He's only played two seasons at Wake and he missed two games last year with an injury, but based on everything I've read on him, he projects to be a solid player and contribute right away at the next level. If you're looking for a comparison, I saw one profile that compared him to the Buccaneers' Justin Evans. I am not privy to the Falcons' draft board, but I'd think they'd address offensive or defensive line before picking a safety. But again, that's just my opinion. If you're interested in reading more about possible corners and safeties who could be a fit for the Falcons, our Will McFadden wrote about it here on Thursday.
---
Ryan from Port Talbot, Wales
Hey, Beek! Ryan from Wales here. Love catching up with what you've got to say over here in the UK. I know some of our biggest needs are on the offensive and defensive line, but I see us fixing this in the draft and maybe a couple of depth pieces in free agency. My question is regarding the WR3 spot on the roster. With Taylor Gabriel about to become a free agent, do you think the Falcons promote from within with the likes of Justin Hardy, Marvin Hall, Nick Williams or even Devin Fuller stepping up? Or do we go after a free agent or a later-round draft pick? Personally, I'd like the Falcons to look at someone like Terrelle Pryor. Imagine the size and speed we would have with Pryor alongside Mohamed Sanu and Julio Jones. Looking forward to hear what your thoughts are.
Matt: Hey there, Ryan. Always good to get an email from you - and fans from England in general. Love to be reminded that the Falcons are a global brand. Will you be making it over to the States in 2018 for a game or two? Be sure to let us know. I was asked about Pryor earlier this week and I'm putting him right up there with Allen Robinson - and what I mean by that is I think Pryor sees himself as legitimate No. 1 or solid No. 2 receiver in the league at this point and I think he'll want to be paid like one, too. I think receiver-needy teams will give players like Robinson and Pryor (and maybe even Dez Bryant if Dallas cuts ties with him) - and they'll get paid accordingly. I don't think they'd come to Atlanta to be a No. 3 receiver, but I agree with you that it sure would be fun to watch. Gabriel and Andre Roberts are unrestricted free agents and Williams is a restricted free agent. So there could be some openings for sure, Ryan. I think the Falcons could very well address the position in the draft. In fact, I wrote about five prospects who I thought would fit well in Atlanta. Check it out below.