Welcome to Straight from the 'Beek! Well, the official start to the free agency period is almost here - and you've got plenty of questions. So, let's get right to them. Just remember that all opinions here are mine, unless otherwise noted.
Isaiah from Beacon Falls, CT
Hey, Matthew. I have another question. I am a little concerned about RB Darren Sproles from the Eagles. I hear our boys may be interested in him. Why would we want to do that? I get this guy is a veteran with a lot of explosive speed, but I hear he is still dealing with injuries. Shouldn't we be aiming for a tight end with explosive power that can bring some power for Matt Ryan, to have more of options to throw to? Also, what are we going to do about the holes to fill for on defense? I hope we get some guys who can help our offense and defense, so we could be a contender for the playoffs and give the Eagles a run for their money.
Matt: Tap the brakes, Isaiah. I don't know what you're hearing or who you're hearing it from, but I wouldn't get too worked up over what is essentially pure speculation. If you're referring to this piece in *USA TODAY*, it merely suggests that the soon-to-be 35-year-old Sproles might be available to some team looking for running back depth and an upgrade in the return game - if he decides to play another season. There's no telling if he'll become available, if he'll play another season or if the Falcons would even consider signing an older player coming off a serious injury. It wouldn't surprise me at all if the Falcons draft another running back, like when they took Brian Hill in the fifth round. It all depends on who's available and what their needs are coming out of free agency. I also happen to think the Falcons really like what they have in third-year tight end Austin Hooper but could easily see them adding a veteran player at the position in free agency if the price is right. Back in early February, I wrote about Tyler Eifert and that "when healthy, Eifert is a tremendous tight end - and his absence really affected the Bengals offense this past season. And think about the added dimension he'd bring to the Falcons already-potent offense."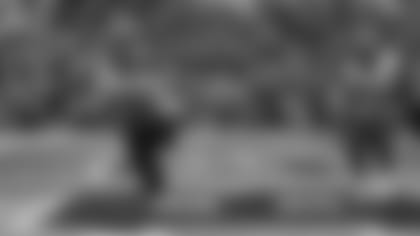 ---
What up, Beek. I recently saw a mock draft that has Christian Kirk falling to us in the second round. If he does fall, what are your thoughts on the Falcons taking him?
Matt: Let me start by saying that I'm a fan of Kirk (pictured above). I wrote about him last week, along with four other receivers I thought would be nice fits with the Falcons if they were available at the right time in the draft. I included my tweet and link to the story below, so check it out. I'm not sure which mock draft you were reading, but I'd be surprised to see the Falcons take a receiver in the second round. Again, it all depends on what they do in free agency and where the team's biggest needs lie heading into April's NFL Draft in Arlington. I do think it would be very interesting to watch this offense perform with another legitimate deep threat - preferably a tall speedster with great hands - to pull coverage away from Julio Jones. Then again, every single team in the league would like another one of those guys. If you want to discuss the receiver position more, feel free to send in another question, comment below or even on my Facebook page, where I post every AtlantaFalcons.com story I write. Thanks again for the question, Dylan.
---
Cameron from Charleston, SC
Hey, Matty Ice. I've been a Falcons for a while now and my question is why did we let Turbo Taylor go? He was pretty good, in my opinion. Thanks.
Matt: Two things: First, the Falcons did not let Taylor Gabriel go. General manager Thomas Dimitroff said that the receiver will hit the open market, but that doesn't prevent the team from possibly re-signing him down the road at some point. Second, I hate to break it to you, Cameron, but I'm not Matty Ice. I am Matt Tabeek, a.k.a., the Beeker. My father used to call me Matty Pat when I was a kid (my middle name is Patrick), but not Ice. Hope that helps and doesn't ruin your day.
---
Hey, Beek. I really enjoy your column, great job! My question to you is about the fullback position. I think losing Patrick DiMarco (prior to last season) was a terrible blow to the offense last year. Are there any draft prospects who can fill that role? I have read about Jaylen Samuels "the Swiss army knife" out of N.C. state. Is he on the Falcons radar?
Matt: Hey, Dion. Thanks for the kind words. Rest assured the Falcons and their scouts are well aware of Samuels - they do their homework on everyone. Check out these profiles on the Falcons' scouts when you get some down time and you'll see what I mean. As far as Samuels goes, he's the definition of a "tweener" in my opinion - and I think he could fit with the right team. This is how one profile on NFL.com described Samuels: "… he's not a typical fullback, is shorter than teams like their tight ends to be, and is heavier than most receivers. NC State coaches call him an H-back, but he's really just an offensive weapon." The one fullback I do like a lot, though, is Dimitri Flowers out of Oklahoma. Our Will McFadden profiled five backs who could fit with the Falcons, Flowers was one of them. Check it out when you get a minute.
---
I know mock drafts are meaningless until after "free agency" begins. Would you list what positions you think the Falcons will target considering their salary cap and possibly a few candidates that you think might be good fit?
Matt: Sure, Jon. If you're read this space at all since the end of the season, I've mentioned four areas I'd like to see the Falcons bolster through free agency and/or the NFL Draft - offensive line, defensive line, receiver and the secondary. I think there are some very interesting names who are set to become free agents. It'll also come down to the market - what the demand is for some of these guys. The Falcons are focused on getting a new deal for Matt Ryan. It's also extremely important that they lock up a lot of their own players, too. And that's huge, Jon. The last thing you want to do is overpay for an older player whose best days are behind him, especially when you've got young rising stars on your own roster. Aside from Ryan, players like Grady Jarrett, Jake Matthews, Deion Jones, Keanu Neal and De'Vondre Campbell will eventually be up for new deals. Those are the names Falcons fans should be thinking most about, in my opinion. And since you brought up NFL mock drafts, Jon, be sure to check out my latest as well as our Falcons mock draft tracker. I'm rolling out another one on Wednesday, too!
---
Exzayvier from Spokane, WA
Hello, Beek. To my understanding, the Falcons did not have a QB coach last season but have now signed Greg Knapp. Generally speaking, I feel that since QB is the most important position. It would make since to have three QB coaches at the most and one at the least. How important is having a QB coach or coaches? How much do you believe Greg Knapp will help the Falcons?
Matt: Where are you guys getting your Falcons news from? When it comes to the Falcons, please come to AtlantaFalcons.com moving forward. We've got you covered - and I promise it'll be accurate. OK, Exzayvier … first of all, the Falcons did have a quarterbacks coach last season - Bush Hamdan, who left at the end of the season to become the offensive coordinator at the University of Washington (which isn't too far away from you). The Falcons have since hired Greg Knapp, who brings a ton of experience and has also worked with a number of veteran quarterbacks, including Peyton Manning and Matt Schaub in the past. Our Kelsey Conway recently spoke with Falcons coach Dan Quinn about Knapp and the difference he could in 2018. Check it out.