Welcome to Straight from the 'Beek! The Super Bowl is just days away, the Falcons are busy preparing for the 2018 season – and you've got tons of questions. Just remember, all opinions you see in this space are mine, unless otherwise noted.
Hey Beek!!! Love your responses. Wish you were on the Falcons staff. Based on the past two seasons' playoff games, it looks like we could use a full-time pass rusher and a power running back (i.e., John Riggins or Earl Campbell) to complement our awesome defense and running game. What do you think, or do we have more pressing positional needs? Thanks.
Matt: Hey, David. Well, who couldn't use a player like Riggins or Campbell? I mean, you're talking about two Hall of Famers right there – and players like those two are hard to find. To answer your question (because I don't see a Riggins or Campbell in this draft class), I'd have to say the Falcons have more pressing needs than a power running back right now. In fact, I've gone on record in this space multiple times saying I'd like to see the Falcons bolster the offensive and defensive lines in the draft or even free agency. That said, they very well could end up bringing in another fullback or power runner prior to training camp, too. That wouldn't surprise me at all.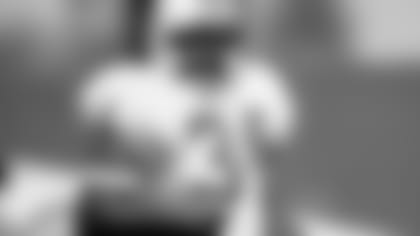 ---
Gregory from Louisville, KY
Hey Beek! What's your prediction on the Super Bowl between the Eagles and the Patriots? I'm not rooting for either team. I dislike the Patriots and I don't want the Bengals, Bills, Browns, Cardinals, Chargers, Eagles, Jaguars, Lions, Panthers, Texans, Titans or Vikings to get one before the Falcons. Every time I think about our loss in Houston, I think about Dennis Green ..."We let them off the hook!" I do think the Falcons will bounce back next season. Our defense is the truth! I was so proud of our team being the only NFC team to make it back to the playoffs, but you know our fans. We've tasted the big game, so we are hungry to win it all. Think about it! We were the only NFC team to make it back to the playoffs and our team was not clicking on all cylinders. If we get it together, we will be dangerous next year. Our coach stated he was pissed after the Eagles game, I hope that pisstivity (my own word) carries over to the team next season. Play with an ATTITUDE! Thanks, Beek, for all your do Brother. Rise up!
Matt: Hey, Gregory. Yeah, I'm with you on this Super Bowl – I can't get behind either team, really and have mixed feelings about the game. As far as other teams winning their first Super Bowl, I do think it would be good for their respective fan bases to taste a championship once. Then again, it's not something I spend a lot of time thinking about, to be honest. Regarding the Falcons, yes, I do think they have a lot of talent on this team and a strong core to build around. As you know, all that matters in the end is getting into the playoffs year in and year out – it does not matter how you do it. Just get in, and anything can happen. As far as making a pick for this year's Super Bowl, it wouldn't surprise me at all to see the Eagles pull off the shocking upset. They seem to be really relishing this whole underdog role and it fits their fans and city.
---
With the upcoming draft, we know it's primarily the trenches we should focus on – offensive guard and defensive tackle (especially since I think Dontari Poe will ask for too much money), but what do you think is the next position we should look at? For me it's either another tight end that can open it up/help out Austin Hooper or possibly another defensive back? Thoughts?
Matt: Yes, Gabriel, I do think games are decided in the trenches – and a team can't be too strong or deep along the offensive and defensive lines. But if I had to pick another area that I'd like to see the Falcons can stronger and deeper in, it would definitely be in the secondary. Again, in the pass-happy NFL, you cannot have any weak links on the back end or teams will exploit that in a heartbeat. Plus, the NFC South saw what a difference rookie Marshon Lattimore made with the Saints secondary this past year. If pressed, I'd go with a receiver as the next area to bolster, especially if they could land a fast playmaker with great hands (see SMU's Courtland Sutton pictured below).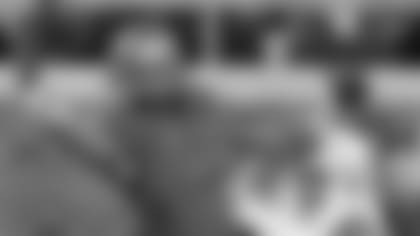 ---
What are your thoughts on the Falcons retaining Dontari Poe, Grady Jarrett, and Tevin Coleman? Also do you think we can get some good guards and an offensive tackle in free agency so that Matt Ryan is not running for his life the whole year? Last, but not least, what do you think we need to at least get the defense in the top five or 10?
Matt: Hey, Jimmy. Remember, of the three players you just mentioned, only Dontari Poe is an unrestricted free agent. The other two players – Grady Jarrett and Tevin Coleman – are under contract. It'll be interesting to see what they do with Poe and how much he commands on the open market – if he reaches it. First, the Falcons are focused on getting Matt Ryan a new deal. Once they do that, it will allow them a lot more flexibility to re-sign some of their own players now and down the road. I really don't know if Poe will be back, though. Can't say one way or the other at this point. If they do lose them, they'll definitely have to address the position in the draft, I'd think. And there are some good ones out there, namely Michigan's Maurice Hurst (pictured below), Washington's Vita Vea, Florida's Taven Bryan and Alabama's Da'Ron Payne. Regardless of what happens, I like where this defense is heading and I think it will continue to improve with so many young rising stars in place.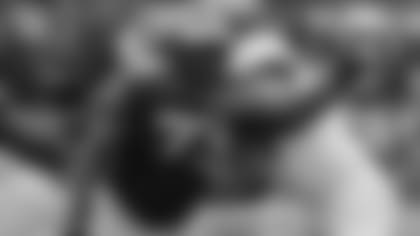 ---
Hey Matt, great to have SFTB available even after the end of the season. Now that free agency is next up for us, I hope that we don't over focus on improving positions by looking outside the team. With the team that has been assembled so far, it sure seems our main focus should be on securing our own guys first! I'm not sure all would agree with that approach, but we know the character, team composition and work ethic of our players and those things don't show up on a stat sheet. In my opinion, that sure is a great problem to have. Can you re-sign all of your own guys?
Matt: It's difficult for a team to keep all of its free agents, Gary. In fact, it's nearly impossible. There's only so much cap space and teams want to lock down their cornerstone players whenever possible. That's why drafting successfully and not overspending in free agency is so vital to a team's long-term success. The good teams know who and when to lock up their core players – and also know when to let certain other players walk. Thanks for reading – and for the question.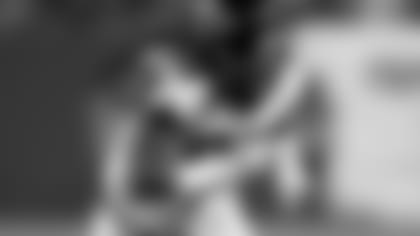 ---
Brooks from Woodstock, GA
What are your thoughts on Atlanta's pass rush? To me, it seems solid and good with the rotations, but it's undervalued. And in some instances this season, certain rotations in the front four just didn't click. Do you think that it will be a point to build chemistry among the front four next season?
Matt: Hey, Brook. Adrian Clayborn and Dontari Poe are unrestricted free agents, so there's a chance that the Falcons could end up replacing both players. Time will tell how those two situations shake out. In the meantime, I still could see the team bolstering the defensive line and pass rush in the draft – you can't have enough pass rushers like Vic Beasley and run stuffers like Grady Jarrett, and I think teams are always looking to get stronger in those areas. I'm not sure if that totally answers your question, but there's still a lot to be determined in that area at this point.