FLOWERY BRANCH, Ga. -- The Falcons are only four days into training camp, but several players are turning some heads – and a lot of people are noticing.
One of them is rookie defensive back Damontae Kazee, a fifth-round pick out of San Diego State, who's living up to the ball-hawking reputation he established in college.
It's safe to say the 5-foot-11, 174-pounder has made his presence felt with multiple pass break-ups and interceptions.
Kazee's play has also caught Ryan's attention, too.
"I think our young guys have a done a good job," Ryan said. "They're aggressive, learning the system. The one thing you see is great effort. I mean, going after the ball non-stop. They give great effort towards the football, so I've been impressed with what they've done."
On Sunday, I sat down with Kazee and asked him to grade his four days of training camp, the transition from college to the NFL, playing multiple positions and what he plans to do during his off day.
Question: What do you think about all of the big plays you've made in camp so far?
Kazee: "I'm excited, I'm just out here trying to make the team better, make my brothers happy. They do their job, I've gotta do my job."
Q: If you had to grade yourself, what letter grade would you give yourself?
Kazee: "Obviously I'd grade myself as not where I need to be at right now. I still need to progress. I'd give myself a 'D' right now."
Q: Overall, how have the first four days of training camp have gone?
Kazee: "I'm trying to make progress, get one percent better every day. I still have tweaks. I ran with the (first team) yesterday because Rico (Ricardo Allen, pictured below) wasn't here. I was misaligned a lot and the older guys got on me, so at the end of the day I've still got to get better."
Q: How have the veterans helped you so far?
Kazee: "They're helpful, very helpful. That's what brothers are supposed to do – get on me, don't baby me, no nothing man. I've got to be out there, know my job."
Q: What's the transition of learning different positions been like?
Kazee: "The transition from playing corner my whole life to free safety is, you know, you have to talk more at free safety. Your eyes have to be in the right spot. Coach M (Marquand Manuel) helped me a lot on my back pedal in the middle of the field because I used to get off the line and stuff so."
Q: What's it been like playing for Marquand Manuel?
Kazee: "Coach M, man, I love him. He brings a lot of energy. He makes you want to go. You'll see him running up and down this field – like if he's beating you, you better hurry up and catch up. That's the type of guys he is. I love him for that."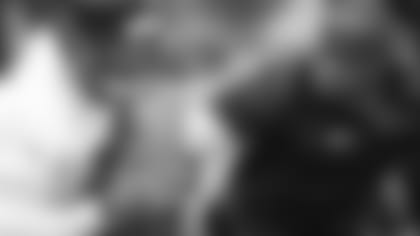 Q: What's it like playing for head coach Dan Quinn?
Kazee: "Coach Q, you know he's the head coach, but at the end of the day he still coaches. So I really like that."
Q: What do you think is your biggest asset as a player?
Kazee: "My biggest asset is, you know, just trying to make turnovers. Trying to compete for the ball."
Q: What does the term 'the ball' mean to you?
Kazee: "On this team, the ball is everything. It's everything, you know, everything, everything. We're trying to get the ball."
Q: How do the coaches emphasize the importance of 'the ball' to the players?
Kazee: "Uh, I probably can't say all of that, but the ball is everything at the end of the day."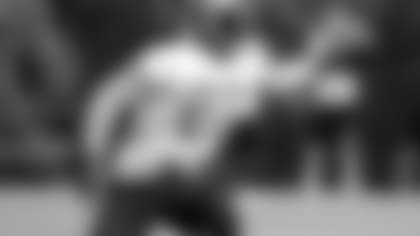 Q: How do you critique your play at the end of each day?
Kazee: "Tonight I'll get back into that playbook, watch film. You know I watch film every night anyway from practices and stuff – and critique myself."
Q: Where do you see yourself come Week 1 (Sept. 10) of the regular season?
Kazee: "I'm not looking ahead. I'm taking it day to day."
Q: What's the one thing that really stands out four days into your first training camp?
Kazee: "That people work hard. This is not college. People are out here fighting for a job, got kids, so they aren't going to let down. Walk-throughs they're still running – so there's a lot of competing out here."
Q: Which veteran players have helped you acclimate to life in the NFL the most so far?
Kazee: "Honestly, I just can't choose one guy. The whole defensive room, the defensive back room helps everybody. They'll get on you, but they'll help you, too, at the same time. So I love that."
Q: Is there a specific player you model your game after?
Kazee: "I never tried to model myself after anybody before I got here. But I can say this – Rico (Ricardo Allen), I'm learning a lot from him. I like to watch him on the field. His angles, and he does everything right."
Q: What's the one area you want to improve upon the most?
Kazee: "It's my downfield tackling. That's what I'd like to improve on."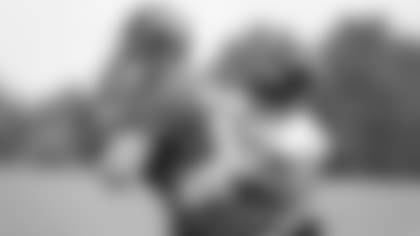 Q: What's it like playing against players that you once watched on TV?
Kazee: "Oh man, it's a blessing at the end of the day. I can't get (overly) excited."
Q: What do you plan to do on your off day?
Kazee: "Tomorrow I'm just going to go get a massage and get off my feet and come back up here at 9:30 and get it started again."