Takkarist McKinley fulfilled a lifelong promise on Thursday night.
Moments before McKinley's grandmother, Myrtle Collins, passed away, he made a promise to her. The promise was simple: Get out of Richmond, California, play Division I football and live out his dream – which was to play in the NFL.
So it was only fitting that when his name was called and he took the stage to receive his jersey from NFL Commissioner Roger Goodell, he had a framed photo of her by his side.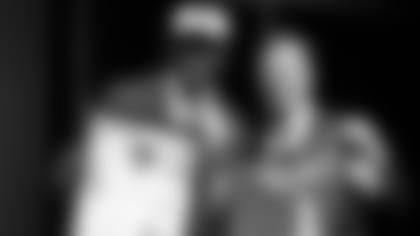 McKinley also brought the picture to his video conference with Atlanta's local media, where he explained why the picture is such an important piece of his special night.
"That promise means everything to me," McKinley said of the photo. "Without that promise I probably wouldn't be talking to you guys right now and that's the honest truth. Growing up where I come from, a lot of guys don't make it this far."
But here he sits, the Falcons 2017 first-round draft pick.
A moment so surreal to him that the only part of the phone conversation that he could recall with general manager Thomas Dimitroff and head coach Dan Quinn was that he "was a Falcon, and that's all I needed to hear."