FLOWERY BRANCH, Ga. -- The Falcons have signed offensive lineman Matthew Bergeron to his rookie deal, the organization announced on Tuesday. In the second round of the 2023 NFL Draft, the Falcons traded their No. 44 and 110 overall picks to Indianapolis for the opportunity to take the Syracuse lineman at No. 38 overall.
Bergeron's rookie contract is estimated to have a total value of $8.97 million, carrying a cap hit of $1.63 million in 2023. These estimations are according to OverTheCap.com.
Though a primary tackle in college, the Falcons' plan for Bergeron sees the lineman moving inside to guard. Outside of one practice at the Senior Bowl in Mobile, Alabama, during the pre-draft process, Bergeron has never played guard. The Falcons believe that his skill set as a lineman will translate from outside to inside at the next level, though.
"It's the way he is built," head coach Arthur Smith said of the reason for moving Bergeron inside to guard. "Everybody has different philosophies in what they're looking for in offensive linemen. And some people get so rigid on schemes or whatever it is, their cup of tea that they're looking for with o-linemen. But when a guy is as smart as Matt and the way he has played, really for us (it's) the vision of the way he is built."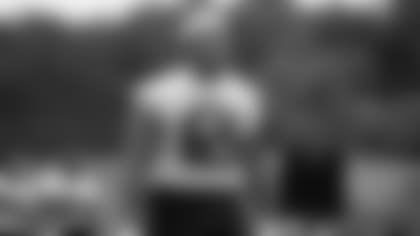 Despite his lack of reps at the position, Bergeron could be in the running for a starting spot at left guard. The Falcons have brought back nearly the entirety of their 2022 offensive line into 2023. They already signed Jake Matthews to an extension last year, they did the same for Chris Lindstrom this year. Drew Dalman returns with a couple years left on his rookie deal, and the Falcons signed Kaleb McGary to a three-year deal this offseason, too. The only spot up for grabs is at left guard.
Outside of Bergeron, the Falcons may look to Matt Hennessy to fill the open spot. Hennessy played left guard sparingly at the end of the 2022 season, and he could be a good option for the Falcons to start the 2023 season with as Bergeron comes into his own at a new position.