FLOWERY BRANCH, Ga. – On the Friday before Matt Ryan's first-ever NFL game back in 2008, the Falcons quarterback met with then-offensive coordinator Mike Mularkey after practice to go through the first 15 plays from scrimmage.
"I'm kind of a notoriously a slow starter," Ryan said he told Mularkey. "If you could, on that first pass play, just get me a completion – get something under my belt."
Sure enough, on the Falcons' third play of the game against the visiting Lions – a first-and-10 on their 38-yard line – Mularkey dialed up a pass play with a fitting name: 62 comet sink.
"Mike Jenkins was lined up on an edge split," Mularkey said. "He ran a skinny post. Matt had the read on free safety – on whether he could bang it to Mike Jenkins and it was about as pretty a pass ..."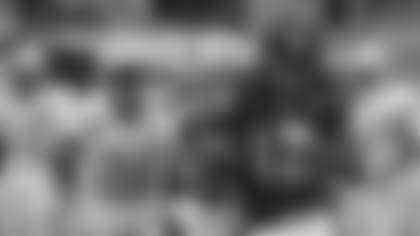 Sixty-two yards later – just 1:27 into the game – Ryan connected with Jenkins (pictured above) for a 62-yard touchdown. According to the Pro Football Hall of Fame, Ryan became the first quarterback to throw a touchdown on his first NFL pass since 2000 when the New England Patriots' Michael Bishop did so against the Indianapolis Colts.
Ryan, who joined Mularkey, Dirk Koetter and myself on the podcast, goes on to tell what he saw and how the play unfolded during the episode while covering a number of other topics and sharing some fantastic behind-the-scenes stories. You can listen to the entire podcast below.