Last season, Atlanta spoiled Carolina's bid for a perfect record by winning a fierce, highlight-filled contest in Week 16. The game's conclusion was one to remember: A little more than a minute was left in the fourth quarter when Vic Beasley Jr. strip-sacked Cam Newton to force a turnover, all but sealing a 20-13 victory for the Falcons.
This week's Madden 17 simulation had an eerily similar outcome. Atlanta once again took a seven-point lead into the waning moments of regulation. Once again, the Panthers were on offense. And once again, Beasley tracked down Newton in the backfield and knocked the pigskin loose.
The 2015 first-round pick recovered the ball, allowing the Falcons to run out the clock and beat their NFC South rival, 27-20.
After Carolina jumped out to a 10-3 lead in the second quarter, Devonta Freeman evened the score with a 39-yard touchdown run. The Panthers weren't fazed, though, and scored the next 13 points to go ahead 20-10.
But the Falcons weren't done.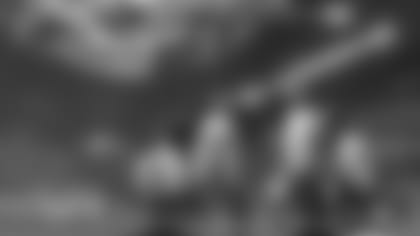 Julio Jones ignited a comeback in the third quarter with a 28-yard touchdown catch. Then Atlanta dominated the final frame, as Matt Bryant kicked a clutch field goal, Freeman scored his second TD run of the day — this one coming from two yards out — and the defense, which held Carolina to 237 total yards, finished the job.
Top Falcons Performers
Devonta Freeman: 27 carries, 181 rushing yards, 2 TDs
Mohamed Sanu: 5 catches, 94 receiving yards
Julio Jones: 3 catches, 63 receiving yards, 1 TD
Vic Beasley Jr.: 6 tackles (four solo), 1 sack, 1 forced fumble, 1 fumble recovery
Plays of the Game
Freeman scored Atlanta's first touchdown of the afternoon with a 39-yard run.
Let's take a closer look at that spin move...
Beasley comes through in the clutch.