Arizona's David Johnson has emerged as one of the NFL's best running backs, and in our latest Madden 17 simulation, the second-year pro out of Northern Iowa shined in a big way, scoring two touchdowns and leading the Cardinals to a 21-19 win over the Falcons.
Johnson opened the sim with a one-yard touchdown run in the first quarter to cap off a lengthy drive. Shortly thereafter, Carson Palmer threw a TD pass to Jaron Brown; the Falcons responded with an Austin Hooper score and a Matt Bryant field goal, putting them within four points heading into the fourth quarter.
But Johnson kicked off the final stanza with another touchdown, this one from 16 yards out, and after Bryant booted another field goal, the Cards marched into the red zone with an eight-point lead and two minutes left in regulation. At the Falcons' two-yard line, it looked like Arizona was ready to put the game out of reach.
De'Vondre Campbell and Vic Beasley Jr. had other plans, however. On a 2nd and goal with 2:00 on the clock, Campbell strip-sacked Palmer, and Beasley scooped up the loose ball and ran it 92 yards into the end zone.
The Falcons needed a two-point conversion to tie the contest, but Ryan was sacked by safety Tyrann Mathieu on a safety blitz. Arizona then fielded the on-side kick, ran out the clock and escaped with a narrow win.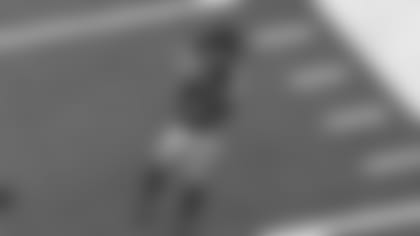 Top Falcons Performers
Austin Hooper: 6 catches, 92 receiving yards, 1 TD
De'Vondre Campbell: 8 tackles, 1 tackle for loss, 1 sack, 1 forced fumble
Vic Beasley Jr.: 1 fumble recovery, 1 TD
Plays of the Game
Beasley picks up a fumble and scores.
Jonathan Babineaux breaks through the offensive line and sacks Palmer.
Hooper hauls in a pass for Atlanta's first touchdown of the game.