During the 2016 regular season, head coach Dan Quinn's second campaign at the helm, Atlanta's pass rush took a big step forward by recording 35 sacks – 16 more than it gained in 2015. Madden 17 seems to have noticed this uptick, as it projects the Falcons will continue that trend in the playoffs.
In our 17th – and first postseason – sim of the year, the Falcons sacked Russell Wilson three times and held him to 261 total yards. Adrian Clayborn and Grady Jarrett were each credited with a sack; Deion Jones and Vic Beasley Jr. combined for another. Atlanta succeeded at stopping the run, too, holding Seattle to just 64 yards on the ground.
That strong defense, along with big plays by Taylor Gabriel, Julio Jones and Devonta Freeman, helped the Falcons earn a dramatic 21-18 victory over Seattle in the Divisional Round.
The Seahawks got on the board first with a Jermaine Kearse touchdown in the second frame, but Atlanta quickly answered when Taylor Gabriel eluded DeShawn Shead and reeled in a pass in the end zone. After a Steven Hauschka field goal, Julio Jones caught a TD pass of his own to give the Falcons a lead.
Both defenses stepped up in the second half. Then, right after the two-minute warning, Devonta Freeman propelled Atlanta to a two-possession lead with a 56-yard TD run – during which he spun away from two Seahawks and sprinted down the left sideline.
Kearse added another score with 26 seconds left in regulation, and a two-point conversion shaved the Falcons' advantage to three. But Tevin Coleman recovered the ensuing onside kick, and Atlanta was able to run out the clock.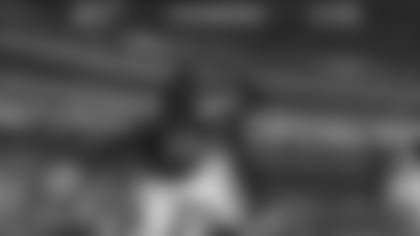 Players of the Game
Devonta Freeman: 19 carries, 133 yards, 1 TD
Julio Jones: 3 catches, 37 yards, 1 TD
Taylor Gabriel: 3 catches, 36 yards, 1 TD
Grady Jarrett: 4 tackles, 1 tackle for loss, 1 sack
Adrian Clayborn: 3 tackles, 1 sack
Plays of the Game
Gabriel gets the Falcons on the board.
Jones gives the Falcons their first lead of the game.
Clayborn gets one of Atlanta's three sacks against Wilson.
Freeman scores the game-winning touchdown.