FLOWERY BRANCH, Ga. – When Jonnu Smith and Arthur Smith embraced for the first time in a while at the Falcons training facility on Wednesday afternoon, it felt like long lost brothers, the newly acquired Falcons tight end described.
"It's poetic honestly," Jonnu Smith said. "It was so good to see Art, man. Just to see him accomplish all of this [becoming Falcons head coach], he deserves every bit of it. He's the hardest worker in this business that I know at that position and he's going to continue to reap the benefits of it."
Jonnu Smith was acquired by the Falcons from the Patriots in exchange for a 2023 seventh-round pick, the organization announced on Wednesday afternoon when the free agency signing window opened. The seventh-year NFL vet said joining the Falcons and being reunited with Arthur Smith counts as the most exciting moment of his NFL career.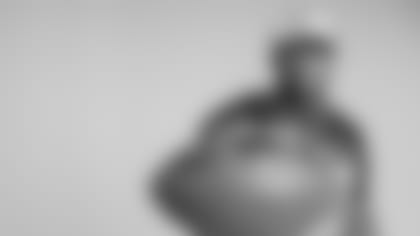 The two Smiths first met when the Tennessee Titans drafted Jonnu Smith 100th overall in the third round of the 2017 NFL Draft. Arthur Smith served as Tennessee's tight ends coach in Jonnu Smith's first two years in the league, playing a vital role in his upward trajectory as a player.
"He just came in with so much desire and determination to make me a better player," Jonnu Smith said. "And not only that, but he was just like a big brother to me. We took on that relationship all throughout my entire career and he's just been so instrumental through this process and through this journey and we made it happen."
During Jonnu Smith's four years with the Titans, he amassed 1,302 receiving yards, 114 receptions and 16 receiving touchdowns. Following the 2020 season, Arthur Smith left Tennessee to take the head coaching job with the Falcons and Jonnu Smith signed with the Patriots, spending two seasons in New England from 2021-2022.
Gleaning from Patriots head coach Bill Belichick allowed Jonnu Smith to view the game from a different lens.
"Bill is kind of defensive-minded, but he knows offense just as well," Jonnu Smith said. "Just being able to see it from a defensive side and kind of get into a mind of a coordinator and see what they're thinking -- he gave me a heads up and a few nuggets here and there to help my game that much more."
On Monday morning, Jonnu Smith was notified by his agent that he and his family would be heading south to Atlanta. This move marks a fresh start for the Florida International University product as he enters his seventh-year in the league. Jonnu Smith joins the tight ends room already familiar with a few different faces including Parker Hesse and MyCole Pruitt who he played alongside during his time in Tennessee. And now he's joining forces with Kyle Pitts, a fellow Philadelphia native.
"We're from the same area so we kind of understand a lot of the same things and see things from the same perspective," Jonnu Smith said of Kyle Pitts. "It's going to be great working with Kyle man, and I'm excited to work with not only him but everybody in that room."
Jonnu Smith always prided himself on his run-after-the-catch ability, being able to be dynamic with the ball in his hands and being able to stretch the field using his speed and athleticism. All of which he plans to bring to the Falcons tight ends room.
"All those guys have different skillsets. I think that's the most unique thing about this game," Jonnu Smith said. "It's not individual players out there playing. We're playing together as one and we've got to be in sync. We all bring a different dimension to the game and each one of our abilities, talents, and skillsets are going to allow us to go that much further."
When asked why the Falcons were a perfect fit at this point in his career, Jonnu Smith answered with conviction knowing this next step was the right one.
"I believe in Arthur Smith and everything that he has going on here," Jonnu Smith said. "I believe in the guys that he's put in his locker room. Guys that are willing to be on the same page, willing to sacrifice for one another, willing to not always look for the glory or the glamour but to be a selfless teammate.
"That's who I am. I think I fit right in; you know. I walk in this building and just get great energy, great vibes. I'm just excited to be here. And to me, it feels like the perfect fit."