The NFL is in the midst of an offensive revolution.
During the 2018 regular season, NFL teams scored a combined 1,371 touchdowns, the most in a single season in the history of the league. The four highest-scoring teams in the league were the four teams that reached the conference championship games, and the NFL's MVP was a second-year quarterback who threw for over 5,000 yards and 50 touchdowns.
There have been a number of rule changes in recent years that may have played into this offensive eruption. The "helmet rule," which was put into place prior to the 2018 season is meant to prevent defenders from initiating contact with their helmet. Other rules such as those prohibiting contact by defenders downfield have also become a greater point of emphasis for the NFL.
With the league favoring offenses seemingly more now than ever, and NFL teams increasingly seeking to capitalize on the opportunity that presents, are defenses doomed to just try and prevent NBA-like point totals?
Few are better equipped to answer that question than Falcons head coach Dan Quinn, who will assume defensive coordinator responsibilities for the team beginning in 2019. In this era of offense, Quinn led one of the best defensive units in NFL history: The Legion of Boom.
In 2013, Quinn's first as Seattle's defensive coordinator, the Seahawks defense allowed the fewest yards (273.6), points (14.4) and forced an NFL-high 37 turnovers. The Seahawks became the first defense since the vaunted 1985 Bears to lead the league in all three categories and win the Super Bowl, which they did by holding a Denver Broncos team that scored more points than another other in NFL history to just eight points.
So, as Quinn looks at the offensive explosion taking place around the league, what does he see?
Now more than ever NFL offenses are equipped to do a variety of things on any given play and empowering quarterbacks to make changes at the line of scrimmage. That versatility doesn't stop with the play calls, however, offenses are prizing players such as Carolina's Christian McCaffrey and New Orleans' Alvin Kamara who present numerous matchup problems for teams to leverage.
When a quarterback walks up to the line of scrimmage and sees what a defense presents him, he can check out of the called play and into one designed to exploit a mismatch. This gives the offense an advantage before the ball has even been snapped, and it's now changing the way defenses have to respond.
"The ability to [be versatile on offense] has forced defenses to do that too," Quinn said. "You better not just stay in one specific [look] where if they can align in a formation to get all of their information pre snap, their likelihood to do well on that play and have a successful offensive play is higher."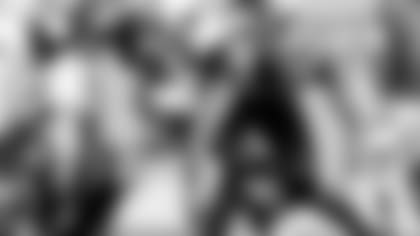 That player versatility is a staple of Quinn's defenses, and linebacker Deion Jones is the prime example. Viewed as an undersized player coming out of college, Jones has become one of the league's premier coverage linebackers and a leader in the heart of Atlanta's defense. His ability to cover running backs like McCaffrey and Kamara out of the backfield helps neutralize a mismatch that offenses might look to exploit against bigger, slower linebackers.
The "off-ball" linebacker has become a new trend around the league. Linebackers used to be coveted for their size and tenacity as run defenders. As the league shifts towards a more pass-friendly approach, however, what were once prized traits have now become liabilities.
As offenses seek to target those liabilities, defenses are having to find players who negate those mismatches.
"I think the size of defensive players, oddly enough, I think has gotten smaller," Falcons quarterback Matt Ryan said. "There's been a greater emphasis on speed. When I came into the league, you know, you have 265 middle linebackers. Currently, you just don't see that.
"That's kind of the new age of the NFL. Not quite as big and bulky, but faster and more athletic. You see that from the combination positions whether it be linebackers, outside linebackers, those guys are just so athletic."
The versatility of a defense comes from the versatility of players who make up that defense. No longer are terms like third-down linebacker used when defenses operate out of nickel packages on a majority of their snaps.
With rule changes giving offenses greater advantages than ever before, teams strive to create and exploit space against defenses. That's where versatile running backs and elusive slot receivers become so valuable. Of course, size and length with always have its place in the league.
Tight ends such as Travis Kelce and George Kittle who combine tremendous size with equally tremendous athleticism have become the new favorite toys for some of the league's leading offensive minds. Their ability to use their combination of height, length and receiving skills give quarterbacks bigger windows than most other players could.
"When there are big guys to match up against who are 6-foot-4 or 6-foot-5, you better have a good plan, because he's tough to guard," Quinn said.
That plan could be another revolution that we're seeing take place in defenses. Just as teams have begun to use a hybrid of safety and linebacker to match up against quicker running backs, that same hybrid could be used to match the size and athleticism of the league's best tight ends.
De'Vondre Campbell and Keanu Neal are the Falcons players who have primarily been tasked with matching up against opposing tight ends. Campbell, who is 6-foot-4 and 232 pounds, is much lighter than linebackers of bygone eras, his length and speed make him the perfect option to cover tight ends.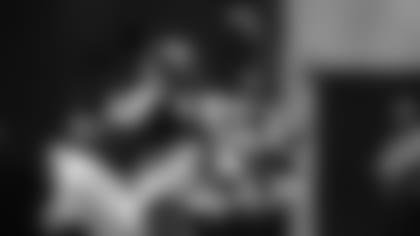 What's different about Jones, Campbell or Neal – players all selected by the Falcons in the 2016 draft – is that they aren't specialized players who occupy one role for Atlanta as they might have 10 or 15 years ago. They're very much the foundation of the Falcons' defense under Quinn.
"I think what you're seeing more now is some of the best defenses have very good versatility," Quinn said. "It's not just going to be one thing, it's going to be a combination of things to get to the offense, because they're doing a combination of things."
Ultimately, as with everything in the NFL, it all circles back around to the quarterback. If a defense possesses the versatility to avoid specialized players while still preventing mismatches, it prevents an opposing quarterback from getting key signifiers prior to the snap.
For example, the Falcons have invested time in developing Campbell as a pass rusher. If Campbell lines up on the line of scrimmage, giving the same look as an edge defender would in a 3-4 base defense, which the Falcons often do, a quarterback has to account for the possibility that he will blitz or drop into coverage. He won't know the answer to that until the ball is snapped.
"Offenses have concepts that they like and they work them from different formations," Quinn said. "Defenses have to have pressures and coverages that they like from different locations. You can have the same play run, offensively, from a different formation five, six, seven plays in a row. It could be different, different, different, but the concept could be the same. So, defensively, you want to have something that looks alike as a disguise but could play out differently. And if a quarterback has to [recognize] that when he gets the ball, that's better than [him recognizing it pre snap] and then getting the ball."
As offenses seek to gain precious pieces of information prior to the snap through things like personnel groupings and pre-snap motion, defenses who have multiple players capable of handling a greater number of responsibilities will likely find more success. And defenses who can prevent a quarterback from getting that information before the snap, forcing him to process and analyze while the pressure mounts, can thrive.