FLOWERY BRANCH, Ga. -- Nearly 1,200 players will be cut from NFL teams in the coming days, as clubs must scale down to their 53-man active rosters by 4 p.m. ET on Saturday.
For many players who are on the fence, their ability to play special teams could be a determining factor in whether they have a job by the end of the weekend.
"It's like anything else, you're playing for roles," Falcons special teams coordinator Keith Armstrong says of evaluating players for the various special teams units.
The importance of football's third aspect of play is equal to that of offense or defense.
That is a message that Armstrong has stressed to the young players looking to make the Falcons' 53-man roster or earn a spot on the practice squad. While there are many intriguing offensive and defensive position battles, special teams offers players an equal opportunity to make a big play.
"One thing that stuck out to me that (Armstrong) says is, 'When you're out there, you're not playing offense or defense, you're playing football,'" rookie running back Brian Hill explains. "You're not worried about if it's your rep on offense or is this your safety rep; you treat it just the same as if you're about to get that ball on the goal line when you line up on that punt team. I treat it the exact same way. It's football, not a special teams' play, not an offensive play, they're both football plays."
Hill (No. 25 below) is one player who has stood out to both Armstrong and head coach Dan Quinn because of the effort he has shown on special teams. The fifth-round draft pick has been battling third-year veteran Terron Ward for the Falcons' third running back spot, but he will miss the final preseason game with an ankle injury.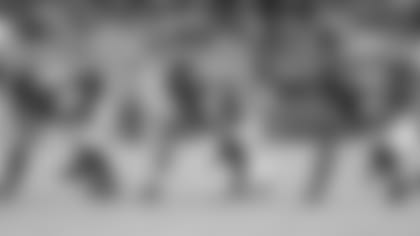 While Hill has made a few notable plays on offense this preseason, it's his tenacity on special teams that has been mentioned the most. Hill and Ward have been battling in practice, but the rookie has also learned a good deal from his main competitor as well. Ward recognizes the importance of special teams, and he has been among the many experienced players who have tried to impart their wisdom on the younger guys.
"Special teams is special, because the whole team comes together," Hill says. "I'm not just learning stuff from the offensive side of the ball. Most of my special teams techniques that I look at, I look at LaRoy Reynolds all the time. He's one of the best special teams players on our squad, so I try to take after him on the special teams side."
Hill isn't the only player who has caught the eye of Armstrong and the coaching staff. There are several guys who have shown an aptitude for special teams, including tight end Eric Saubert, linebackers Duke Riley and Jermain Grace and receivers Reggie Davis and Marvin Hall.
For those players who were offensive or defensive stars in college, special teams may have seemed like an afterthought, if they even played on them at all. In the NFL, they can't afford to think that way.
"I think the biggest message to them is (their) attitude," Armstrong says. "Because it's still football, and if the ball is everything, then on fourth down it's still everything. … They have to understand that in college you may jog or you don't do special teams or you're just helping out on special teams; we don't do that here. It's different. So, now, when you get here, what you've got to understand is this is just as big a play."
Davis and Hall were contributors on kickoff and punt returns during their time at Georgia and Washington, respectively. They have each made big plays on offense throughout camp and the preseason, and they appear to be in contention for one of the final receiver spots available.
Something that Quinn and his staff will look for during evaluations is consistency and improvement from Game 1 to Game 4. On special teams, Davis and Hall have progressed well.
"I'll tell you what, Reggie Davis has improved in the last two weeks," Armstrong says. "He did a nice job (against Pittsburgh) with his kickoff return. Unfortunately, he was in a situation the week before where he had to manage a situation and we didn't take care of it. But to his credit, he came back the following week and did a nice job on kickoff return."
The kickoff that Armstrong is referencing came at the start of the second half against the Steelers. Davis fielded the ball about three yards into the end zone. Ward, offensive lineman Cornelius Edison and defensive tackle Joe Vellano formed Davis' primary trio of blockers as he returned the kick.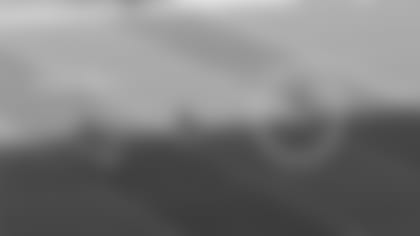 What helps Davis succeed in this return is his patience to let blocks develop and his vision to find the seam down the middle of the field created by the well-executed blocks.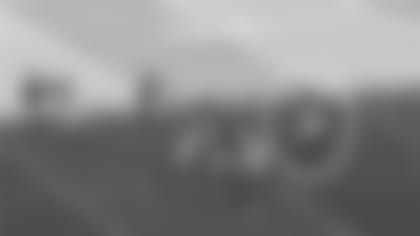 Surrounded by a pocket of teammates and opponents, Davis reaches out to place his hand on Wards' back and get a better sense of where his blocker will go. The result is a 32-yard return to the Falcons' 29-yard line.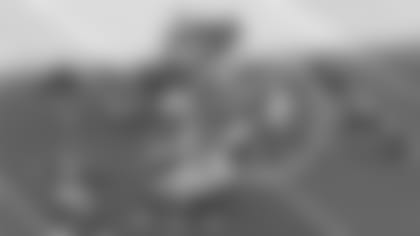 Improvement hasn't occurred by itself, however. There's a lot to learn during the first few weeks of practice for an NFL season, but Davis and Hall say they've tried to be as coachable as possible.
"Taking coaching," Hall says when asked what's helped his growth. "I feel like both (Reggie Davis and I) were able to take coaching. Not only listening to people in our position group but people on the outside of our position group who can help us with any position on special teams. We're open to listen, we do exactly what they tell us to do and try to help the team as much as possible."
While the two receivers have gotten work in the return game, they are also seeing several snaps as gunners on coverage. Quinn has said that speed is an important quality for a gunner to possess, neither Davis nor Hall would ever be accused of being too slow.
It may seem as though Davis, who is 6-feet tall and 170 pounds, and Hall, who is 5-foot-10 and 190 pounds, are too small to fight past blockers and make an open-field tackle on a returner, but size doesn't matter as much as the intent to go all-out.
Former Falcons receiver Eric Weems proved as much during his eight seasons with the club. The 5-foot-9, 195-pound Weems was a staple on nearly every aspect of special teams and displayed the level of tenacity that Armstrong looks for. Weems is gone now, but there are players stepping up to take his place.
"That's part of the Brotherhood," Armstrong says. "Eric will always be a part of this Brotherhood. So, he did leave, now it's time for someone else to step up. It's time for a Justin Hardy to replace him and take that position. It's time for LaRoy Reynolds to step up and take that position. The older guys are stepping up and filling in and getting that done for us. We'll need that leadership as we go."
Those leaders on special teams may have a better idea of where they stand with roster cuts looming, but they know just how important their roles in that facet of the game are. With one preseason game left to play, the younger players have come to discover that importance for themselves.
"In the NFL, it's a spark," Hall says. "If you do something really well on special teams, that gets the team going. Especially if it's an opening kickoff or an opening kick return. Even if you're a gunner, or wherever you're playing, if you make that big play on special teams that gets the team rolling. I feel like that's a critical part of football."
Providing that spark against the Jaguars may help a player like Davis, Hall or Hill earn a role with the Falcons this season. On Sundays, special teams are as important to achieving the desired outcome as offense or defense.
With one final chance to make a statement, however, special teams may provide the best avenue for a player looking to carve out a role. And carving out a role on special teams means a better chance of sticking around. "Special teams, it wins games," Davis says. "It also gets you on the team, especially if you're battling in a tight competition. Special teams makes you more valuable."