As Grady Jarrett prepared for the 2015 NFL Draft at his home in Conyers, Ga., little did he know that his weekend would end up in flames.
Figuratively and literally.
Coming out of Clemson, expectations were high for Jarrett. The 6-foot-1, 304-pound defensive tackle was considered one of the "safest prospects" in this draft class and some even compared him to Rams All-Pro Aaron Donald. Put another way, being picked in the second or third round – the spot where many draft pundits projected Jarrett to be drafted – did not seem beyond the realm of possibility.
But it is the NFL Draft, and anything can happen. And while dropping down teams' draft boards might seem like one of the worst things that could happen to a prospect on draft weekend, Jarrett soon realized things could get much worse.
While gathered downstairs in their piano room with about 70 of his closest friends and family to watch the second day of the draft on TV, Jarrett and his mother, Elisha Jarrett, smelled something burning. Most people at the house suspected the smell was coming from the kitchen but when they went to check it out, they realized the smell was coming from someplace else.
They went back to the piano room where they were watching the draft and as Grady and Elisha looked up, they saw smoke.
When the two finally got upstairs, they saw their game room which held all of Grady's football memorabilia compiled over the years engulfed in flames. A collection of jerseys, letters of scholarship offers, trophies from over the years were all gone. Up in flames.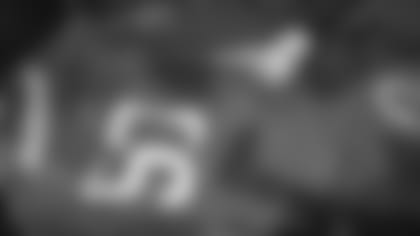 "We went into survivor mode," Elisha said. "The fire was coming in and it was coming fast."
As the large group of family and friends evacuated the house, the fire trucks began to arrive. As the house burned, many of them ended up sitting outside in lawn chairs at the bottom of the driveway. Some watched the draft on their cell phones.
Despite all the chaos and disappointment that day, Grady said he thought Day 2 of the draft would still end with some positive news.
"The third round is going and in my head I'm like, 'There [isn't any] way I'm getting past the third round so it's coming sometime soon,'" Grady said.
But it wasn't to be. The Cleveland Browns selected Washington State defensive tackle Xavier Cooper with the No. 96th overall pick, the last defensive tackle taken in the third round.
At that point, Grady was at a loss as he tried to wrap his head around it all.
"I'm emotionally dealing with the fire; I'm emotionally dealing with still having not gotten drafted yet," he said. "In a span of hours, things go from high and hopeful to, 'What is going on?'"
The next day, Grady and his family watched the final rounds of the draft in Covington, Ga., at their cousins' home. By the time the fourth round ended, two more defensive tackles had come off the board.
Grady found himself lying on the floor of the room with tears rolling down his face.
Part of the reason he was so perplexed was because throughout the entire pre-draft process he received nothing but positive feedback in terms of what NFL teams thought of him. Yet there he was with the fifth round about to start and he still hadn't heard his name called.
How could this be happening, he thought.
And just as Grady began to think about the possibility of going undrafted, his phone rang.
When he answered, Atlanta Falcons general manager Thomas Dimitroff and head coach Dan Quinn were on the other line telling him the club had traded up to select him with the 137th pick.
Grady's family couldn't hear who he was talking to, so they had no idea if it was a team or not.
As he hung up the phone, he said to his family with a smile, "I'm staying in Atlanta."
After everything the Jarrett family had endured that weekend, finally some good news. A dream come true, in fact. It was a moment Grady and Elisha will cherish forever.
Elisha has never missed one of her son's football games – from youth football through college – and every time he stepped on the football field, she was in the stands, right by his side every step of the way.
And now when Elisha would need Grady, he would be right there, to help with anything she needed. The two share a special bond, one that that has shaped who Grady is as a person to this day.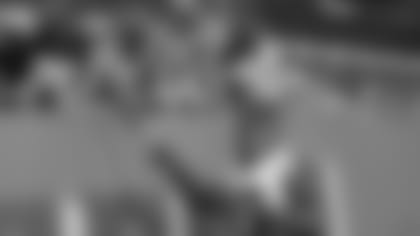 "Without a doubt, I wouldn't be the man, player or whatever role I serve in life to somebody, I wouldn't be any of that if it weren't for the things she instilled in me since I was a little boy," Grady said of the bond he shares with his mother.
Moments after the Falcons selected Grady, they found out about the house fire and everything the family went through that weekend. In addition to the game room being destroyed, several other rooms were damaged.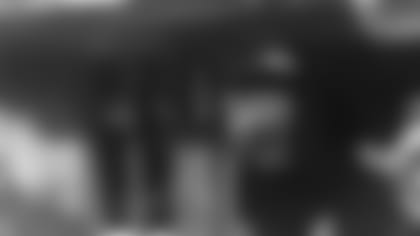 Falcons owner Arthur Blank, Quinn, Dimitroff and senior director of player affairs Kevin Winston wanted to help in any way they could.
The team ended up sending bags of Falcons equipment to the Jarrett family in addition to assisting them with short-term living plans. They also sent some gift cards to help replace what was damaged.
"We just wanted to make sure as an organization to go into action and go in and support him because now he's a Falcon and that's what we do," Winston said. "We just did what was our normal protocol. We help one of our family members."
The experience changed Grady's perception of himself for the better. He almost views what happened as a reality check for himself as he was about to start his NFL career. Had it not been for what happened, Grady said he might not be in the position he is in today.
"For me it also keeps me grounded," Grady said of how the weekend changed his life. "Because I never had an ego, but I could feel myself pride almost start to elevate a little bit before the draft and it brought all the way back, real fast. I'm thankful for that because it reminds me no matter how much success I have or how high I get, always stay grounded because at the snap of a finger, that all can be taken away from you and that makes me very appreciative of all that I have."
With a solid foundation around him, the Jarretts began rebuilding their home. And although he lost a lot that weekend, Grady said the experience has been invaluable as to how he approaches life and his football career.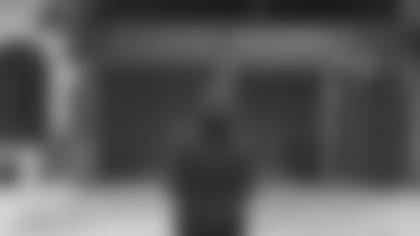 "Never get comfortable," he said. "I've developed a way of forgetting the good almost. Always finding somewhere to get better and try always improve. I'm almost have to be reminded of the good things I have done because I'm really tough on myself. My standard that I set for myself is higher than any standard anyone else sets for me."
That standard has helped Jarrett become one of the Falcons' best defensive players and someone the team would like to keep around in the future, Dimitroff has said this offseason. In three seasons, he has compiled 127 tackles and eight sacks.
The highlight of his young career may have come in Super Bowl LI, when he caught the rest of the league by storm sacking Tom Brady three times. He continued on to have his best season to date in 2017 recording 55 tackles and four sacks, and according to Elisha, the best is still to come.
As Grady continues on his journey with the chip on his shoulder, the 24-year-old said he's constantly reminded of the lessons he learned on draft weekend three years ago.
"It can all be gone so fast, so why not make the most of every moment? Why not try and give your best or your all, because it [doesn't] last forever. That's my way of fighting the fire."