SEATTLE -- The Falcons need a breakthrough. Arthur Smith said it after Sunday's loss, and it's been a running theme through just about every conversation with a Falcons player or coach in this week's preparation to face the Seahawks on Sunday.
Seattle is 1-1 through two weeks, with a one-point win over the Broncos in Week 1. The Seahawks had trouble getting into the endzone last week against the 49ers, and lost because of it, which is not completely unlike Atlanta's last game with the Rams.
That being said, let's take a look at five things to keep in mind as this Week 3 matchup gets underway on Sunday.
1. Ramifications of Elijah Wilkinson's absence
Arthur Smith said on Friday that the Falcons do not expect Wilkinson to be out long term. He added he expects Wilkinson to be back on Monday when the Falcons return from their west coast trip.
In Wilkinson's place, the Falcons will choose between Colby Gossett and Chuma Edoga at left guard with Jalen Mayfield still on injured reserve. Smith said on Friday the coaching staff will make a final decision on Saturday as to who gets the start between the two. Both were taking snaps with the first-team offensive line on Thursday and Friday.
Gossett started in place of Mayfield at left guard last year when the then-rookie injured his lower back against Buffalo in Week 17. Gossett slid into that starting spot in the final week of the season. Chances are this could be the direction the Falcons go in again.
How the Falcons adjust to Wilkinson's absence will be something to monitor, particularly early on Sunday.
2. One final word on Kyle Pitts
I'm going to be honest, I feel as though I have said everything I can possibly say about the matter that has clung to the Falcons since the end of the Rams game. I know Pitts' lack of targets is the primary talk of the town in regards to Falcons matters this week, but I feel like it shouldn't be as big a deal as it's been made out to be.
Instead of reiterating what I've already written again and again, I am going to encourage you to go back and read these two stories I wrote on Pitts this week. If you take anything from either, take this: Don't freak out about Pitts' production yet. Remember, we were having this same conversation at this point last year. Two weeks later? Pitts recorded his first career 100-receiving yard game.
Don't believe me? Read these two stories: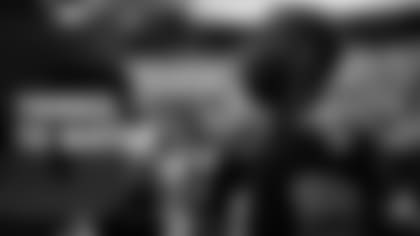 3. Playing fast and loose
Dean Pees said on Thursday during his weekly availability that if the Falcons put together the first three quarters of the Saints game and the final quarter of the Rams game that you see what the Falcons want to be. There is a high level of truth in that, too. So, what's standing in the way of the Falcons doing that?
Pees seems to think it's a mentality based in rigidity.
"What we have to do is we have to find that personality inside of us," Pees explained. "In the first half of the Saints game, I thought we played loose, free, not worried about anything, turn it loose, let's go. We played like that. Then, all of a sudden, we tightened up a little bit and didn't' play fundamentally like we did the first three quarters. Then, this last game, it was the other way and we were down 28-3. Now, it's not like we're playing in a really tight game so all of a sudden we're playing a lot more free and I thought we played better."
In other words: "What we need to do is figure out how we can make ourselves play loose for all four quarters and let the thing go," Pees concluded.
It's not just the defense that may need this advice. It's likely the offense, too. If the Falcons can play more free, perhaps better outcomes are in store.
4. Increasing productivity in the redzone
I won't harp on this too much because you know and I know this has to change. The Falcons have a 50 percent touchdown conversion rate in the redzone through two games. That percentage has to increase.
Smith has spoken on a few occasions about how the penalties and crucial turnovers in the redzone must cease before the Falcons can find success. The Falcons need to take care of the ball in the redzone, and they have to stay on schedule. When they do, they're productive. When they don't, well, it leads you to that 0-2 record.
To get their first win, productively in the redzone has to change, and change for the better. At the end of the day, this lack of productively when it matters most is what stands directly in the way of the success the Falcons feel they can have as an offense, and as a team.
5. Playing a complete game
The best quote I got all week came from Lorenzo Carter when he said people have seen flashes of who the Falcons know they can be. No one - however - has seen flashes turn into four quarters of consistent play.
Going off of what Pees noted a couple sections above, the Falcons haven't put together a complete game. And for what it's worth, a complete game isn't an allusive concept. But wins will continue to be allusive if the Falcons cannot find consistency in their play from start to finish.
They have a chance to do so against the Seahawks on Sunday. If they can, it'd be a step in the right direction for this team in 2022.