SEATTLE – Mykal Walker and Rashaan Evans dropped into coverage, with one of them picking up Rams running back Darrell Henderson depending on which way he ran.
Evans ended up following Henderson, leaving Walker to ready the quarterback and try to make a play. Walker "punched out" to his right, making it seem like Matthew Stafford had an open passing lane to Cooper Kupp.
He didn't. Walker cut the lane off quickly, stepping in front for an huge interception that set up Drake London's first NFL touchdown. The interception was part instinct, part athleticism, part scheme mastery and savvy, making a passing lane look open when it never was.
"Some of it is instinct. Some of it is knowing your job description," Walker said. "[Inside linebackers coach Frank] Bush does a great job with that. As soon as Rashaan took the back, I knew I had to punch out the opposite way. Now the quarterback thinks he has a guy open. After that, it's about instinct and reading the quarterback. That initial punch out got him to the throw the ball. That's something the coaches instill in us, making sure you hit your landmarks. I did that and was in position to make a play."
Walker has made a bunch of plays in the early going. The third-year pro has 13 tackles, a sack, a forced fumble and the interception described above in 119 defensive snaps, per TruMedia.
Contrast that to 2021, when he played 178 all season long. He was a reserve behind Foye Oluokun and Deion Jones, two three-down linebackers who rarely left the field. It was a sharp decline for Walker, who played a lot more as a rookie due to injuries at the position.
"It was a frustrating situation because I felt like I could be out there, but I really trust these guys. I trust [defensive coordinator] Dean [Pees] and I trust [head coach Arthur Smith]," Walker said. "I understood their plan, and I just had to keep getting better and be ready when my number was called. It was frustrating but you have to keep believing in yourself and preparing for when your time does come."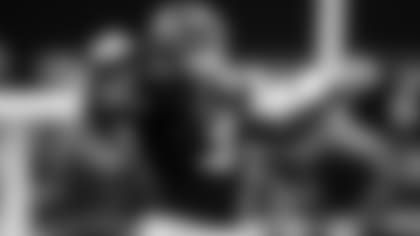 Walker's time has come. Oluokun signed with Jacksonville in free agency and Jones has been dealing with a shoulder issue since the spring, creating a changing of the guard at inside linebacker.
Walker has stepped in next to Rashaan Evans to form a partnership productive at this early point in the year.
"It has been great," Evans said. "We were able to work things out of OTAs and in camp, which helps us really get to know each other and how we can operate well together. We're at the point where we don't even have to speak. Sometimes it's a hand signal and we're set. It's already easy for us, and that's a good thing."
Despite Evans seniority and experience in Pees' system [while playing in Tennessee], coaches gave Walker the green dot. He's calling plays and signals and has proven as essential as anyone to this Falcons defense.
Pees has praised Walker as a "great communicator" with excellent scheme knowledge, fully capable of the large role he now assumes. How he's playing thus far is impressive; it's not a surprise to those who have seen him work over the past two years.
"We had a lot of faith in him, the way he developed last year and the games that he had to play in there, especially stack linebacker behind the ball," head coach Arthur Smith said. "Now, he has the green dot, he's continued to develop. I like his football IQ and he's making plays; he made a hell of a play [against the Rams] on the interception."
Walker always knew he could do this. He carries a quiet confidence into everything he does, truly believing he belonged. You can see it in how he operates on the field, trusting the hard work he puts in off of it. You can see it in press conferences, where he looks, sounds and speaks like a leader.
We're now seeing all that on a regular basis, but that belief was there even when working outside the spotlight.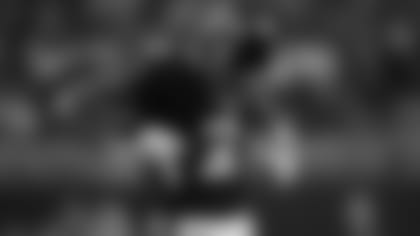 "Deebo and Foye are some of my best friends. When I came into the league, they really took me under their wing," Walker said. "I watched everything they did because, in my opinion, they're two of the best in the league at what they do. I also felt like I could play with them. I came in every day and competed, and I knew I do perform at this level. It was just a matter of waiting for my time."
That time is now. And it's time to perform consistently over 17 games and build off a strong start that has helped the Falcons defense look better than it did a year ago. Walker has zero doubt that will happen, because of all the work he puts in when no one's watching.
He tries to maximize each day, repeating a saying Bush came up with that helps him stay on point.
"My confidence level has always been high, but they really instilled it in me over OTAs. They told me that I could be the guy. Every time I go out there, Coach [Frank Bush] tells me, 'be that guy today.'
"It's something little but I take it literally. I take it seriously, and strive to be 'that guy' today and every day."
Walker has always believed he could be that guy. Now we're starting to see it.
"I've always believed that I could do this," Walker said. "Now people are starting to realize it, but it's nothing that happened overnight. It's about what I've been doing and the work I've put in preparing to be the guy. This year, I've gotten that opportunity to be on the field." Sundays In Atlanta, GA Reserved For Dirty Birds
Doesn't get better than a Falcons Sunday in the city! Shop the Kickoff Collection today online or in-store at Atlantic Station.